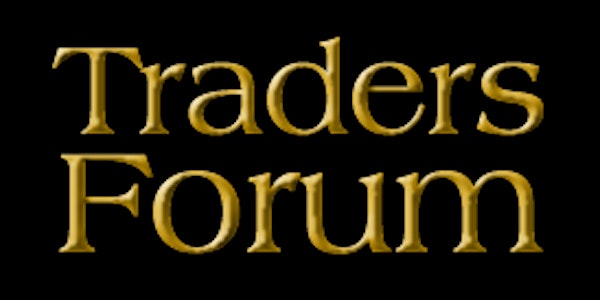 The London Traders Forum Autumn 2018
When and where
Location
Victory Services Club Allenby Room 63-79 Seymour Street London W2 2HF United Kingdom
Refund Policy
Refunds up to 7 days before event
Description
Fellow Trader,
After the success of the Q3 Online Traders Forum it's now time to focus on our main event of the year! So please put the following date in your diary for the Autumn 2018 London Traders Forum, which will take place on Saturday, 6th October 2018.
For those who've never attended one of the Traders Forum events we aim to bring you an enjoyable, relaxed and informative day for meeting market professionals in person and networking with your fellow traders and investors.
There will be sessions during the day that will educate and stimulate and help you generate suitable returns to off-set the day. We want the LTF to be a good risk-to-reward trade for our attendees! The following speakers and sessions are already confirmed for Saturday 6th October:
2018 Market Analysis: It's been a very interesting 2018 so far! Kevin Barry of the Traders and Investors Club will be providing us with his excellent market round-up. This is a chance to view the dominant themes so far and discuss the remainder of the year. As always Kevin's insight into the bigger picture is always fascinating and is worth the entry fee alone.
A Practical Guide To Elliott Waves - The Alternative View
Martin Walker will introduce Elliott Waves and how they relate to us, then show you how they can be traded, how to take a relatively simple approach, how to manage your trade expectations and where to look for trades within the wave(s). Attendees will also get access to some supporting documentation.
Rebooting your trading: Fund Manager Simon Cotterill will be talking about resetting your trading to help you have a consistent and profitable end to the trading year. Simon will be sharing his experiences form his 8 years of trading to show how a focus on Discipline, Routine and Patience can help you improve your psychology and your profits.
Using Fibonacci ratios effectively: Fibonacci ratios are commonly used in the financial markets to identify support/resistance levels. But the truth is that they are seldom used correctly. And ironically, even though it is one of the most effective tools of technical analysis, it is also the most misunderstood. A little known secret is that the Institutes/Banks use these Fibonacci ratios as a trap, since they are aware of the common way that the novice traders use these ratios. Sunil Mangwani has been trading the forex market for the last 18 years and has an in depth knowledge in trading currencies. He specializes in trading with the advanced Fibonacci based techniques like Harmonic patterns, Divergence, Wolfe waves etc. Sunil will discuss 2 specific Fibonacci techniques that the professionals use to trap the retail traders.
Aggressive Intra-Day Trading – lets face it, plenty of people are attracted to intra-day trading, but how many can achieve it consistently? It's a tough gig. Paul Wallace will explain what he looks for during his intra-day trading, and some of the tactics he uses to be aggressive in his trading.
There are more exciting speakers being introduced over the next few weeks.
The London Traders Forum will be an event that will cater for an engaged trader and investor who is eager to learn more and meet like-minded souls. You have asked us for it and here it is. We are aiming to foster a Mastermind-type environment, which will encourage a free exchange of ideas in a stimulating environment with plenty of opportunity for networking.

Our mission is to bring you a memorable day in comfortable surroundings at a reasonable cost. Therefore, we will be holding the price for the day down to just £157. Alternatively you can purchase one of the 10 early bird-tickets for the knock-down price of £117.

After the event, we shall continue the debates and discussion at a nearby hostellery where Paul will be buying the first round! This is a great opportunity to spend a whole day in the company of market professionals as well as your fellow traders and investors.

This event will not be recorded so don't miss this opportunity to be part of something special. This will be the only live event this year.

Admission is by ticket only and there will only be so many places available. After the success of the first event tickets will sell fast so, to avoid disappointment, I strongly recommend that you reserve your place NOW by purchasing your ticket here:

We are looking forward to seeing you on 6th October for a memorable day that is guaranteed to change the way that you see the market.