The Locker Room Series NY Jets: John "The Terminator" Conner & Joe McKnight

Monday, November 14, 2011 from 8:00 PM to 11:30 PM (EST)
Event Details
The Locker Room Series NY Jets: John "The Terminator" Conner & Joe McKnight
Monday, November 14, 2011 from 8 PM to 11:30 PM (ET) New York, NY

Have you ever wanted to be in the locker room of your favorite NFL team to hear what the football players are saying and thinking after a game? On November 14th 2011 Tonic Times Square in collaboration with CBS Local and Budweiser are providing NY Jets Fans with a chance to "get in the huddle" with Jets Players John "The Terminator" Conner and Joe McKnight for Monday Night Football. Not to mention recap Sunday night's game between the Jets and Patriots.

No Cover! Free All night!

- Happy Hour till 10pm includes: $4 Drafts / $5 Cocktails
- Photos Taken + Instantly Printed + Autographed with players (free)
- Watch the Packers vs Vikings w/ Jets Players Live Commentary
- Post Game Discussion : Jets vs Patriots 
- Free stuff from Verizon, Pepsi, Jets Memorabilia, Voli Vodka and others

RSVP HERE >>> http://toniclockerroom.eventbrite.com/ <<


The Jets players will be discussing the rival rematch game Jets at Patriots game taking place the night before on Sunday November 13th. A select number of fans will be chosen to hang out in the private lounge with the players. There will be a Q & A session during half time and many fans will get a chance to have their questions answered, photos taken, and of course in all the giveaways.

John "The Terminator" Conner, (University of Kentucky) considered one of the best fullbacks available in the 2010 NFL draft, John Conner was selected in the fifth round by the New York Jets and has quickly become a team and coach favorite among the Jets with his blue collar attitude and crushing physical play.

Joe McKnight (University of Southern California) was drafted by the New York Jets in the fourth round of the 2010 NFL draft. In McKnight's first game as the starting running back McKnight ran for 158 yards and caught 2 passes for 15 yards with no fumbles. During the Jets 2011 opener, McKnight blocked a punt on a critical play resulting in a Touchdown and ultimately a win for the Jets. During the Jets rival matchup against the Ravens, McKnight returned a kickoff for 107 yards. It was the longest play in Jets History.

This is a sports fans chance of feeling the raw emotion during a live game, with a full service bar and great dinner menu. Join us for this exclusive event to share the company of two rising stars in the New York Jets.

If you have any questions or comments feel free to call Marsha Thompson Events Coordinator, Tonic Times Square at 212.382.1059.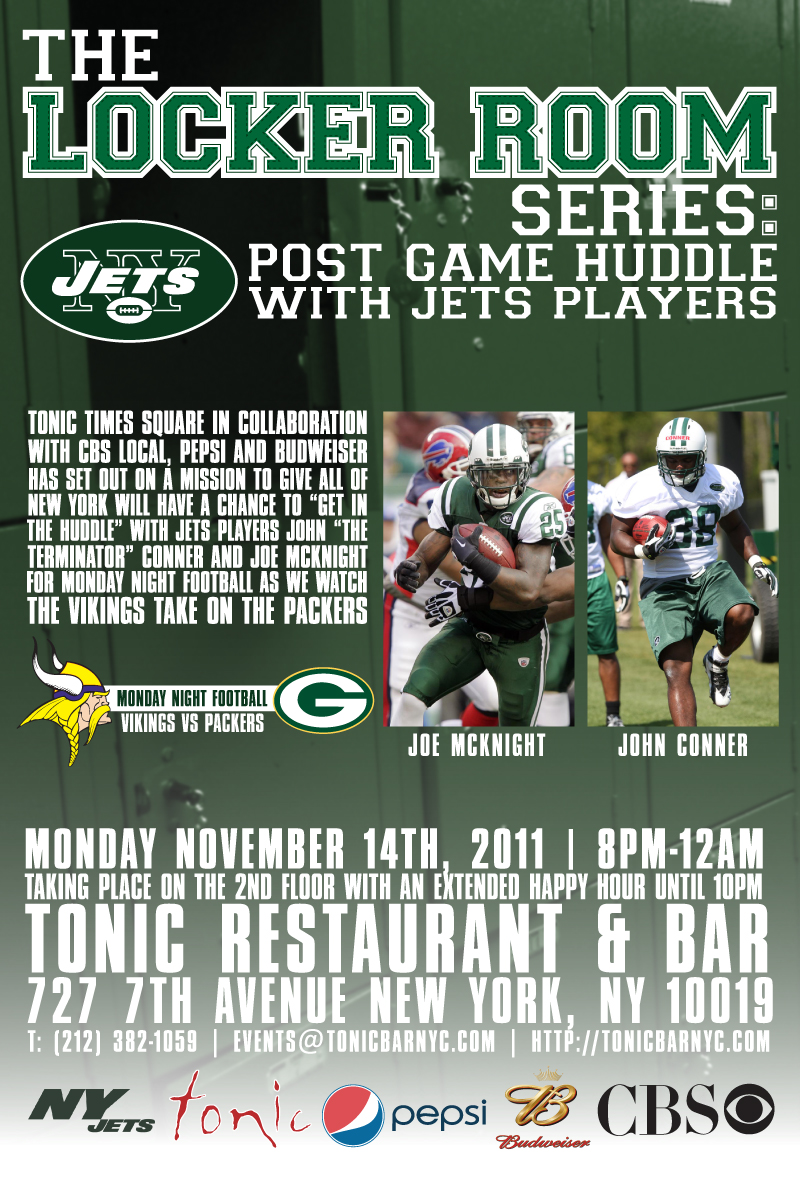 When & Where
727 7th Avenue
New York, NY 10019


Monday, November 14, 2011 from 8:00 PM to 11:30 PM (EST)
Add to my calendar
Organizer
Tonic Bar & Restaurant - Times Square
This three-level bar, lounge and restaurant brings the bright lights and flashy TVs of Times Square inside. Giant TVs hang behind the first floor bar, where local business folks mingle with tourists. A striking red dominates the cavernous main floor, while the second and third feel more intimate with booths and comfy seating.
For beer lovers, the tap selections cover ample ground, from Corona to Yuengling (30 in all). Of the fruity, brightly colored martinis, the mandarin delivers a nice kick without tasting too sweet. The lengthy martini menu pales in comparison to the food menu that covers ground from onion rings and wings to rib tips and tuna steak. 
The Locker Room Series NY Jets: John "The Terminator" Conner & Joe McKnight