Event Information
Location
VCET
266 main street
Burlington, VT 05401
Could it be? The Loaf returns? Games, conversation, and snacks for the masses!
About this event
It's back!
After a year of darkness, The Loaf returns! Celebrate the spirit of independence with a return to celebrating local independent video games! For return attendees, please note that we have moved to VCET (huge thanks to Rad Magpie for hosting!) and there are new rules for access to help mitigate Covid-19.
"But wait... what's The Loaf?"
The Loaf is a series of meetups for local gamedevs! What started as an event hosted by Sundae Month (Diaries of a Spaceport Janitor, Dad Quest, Pupperazzi) has spun off and created it's own independent meetup community. Bring your games to show off (please see below for rules) or simply bring yourself and take part in the discussion and make new connections.
In a time where folks are so close yet so distant we hope to rekindle the community spirit and encourage collaboration and informed critique.
We have a Patreon to help cover expenses and expand the events to new horizons! Please check out the "How to Support" section below to learn more.
If you have a game you'd like to show, please send an email to FISHER[dot]WAGG [at] GMAIL[dot]COM and let us know since there are limited spaces for demos. If you set up your game without asking first, we will ask you to put it away.
This is an alcohol-free event to allow for students and high school age folks to attend. Hobbyists, career developers, and the simply curious are welcome. All games are valid (including tabletop and physical) but you are responsible for bringing your own hardware.
We hope to see you there!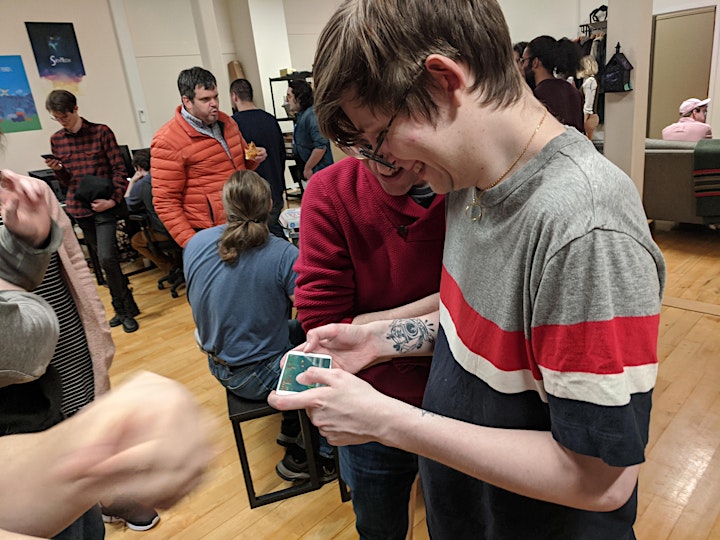 How to Support:
- Come to the events!
- Bring your friends!
- Consider becoming a patron on our Patreon!
-Join the Feeler.Farm Discord!
HOW TO GET IN (It's different this time!):
There is metered street parking nearby, as well as the church street parking garage. Find the building at 266 Main Street (it has a big sign on it that says Consolidated Communications) and see the locked door for contact info to get in.
Please bring a mask. If you have a vaccination card or evidence of your vaccination, please bring this as well! We may ask to see it or be asked by authorities to provide it for attendees. We do reserve the right to turn noncompliant folks away.
There will be photography at this event. If you would not like to be photographed or would like a photo of you to be removed, please get in contact with me at fisher[dot]wagg[at]gmail[dot]com
Date and time
Location
VCET
266 main street
Burlington, VT 05401