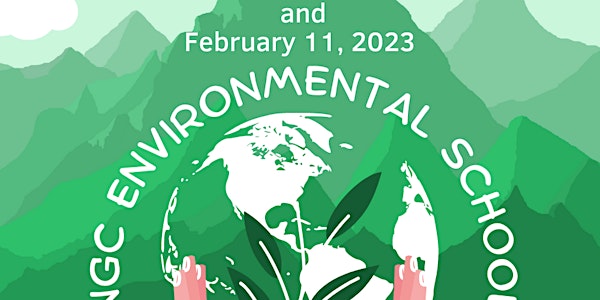 The Living Earth NGC Environmental School Series Z-001 Course 3 Via Zoom
Investigate, challenge and explore aspects of ecology, pollutants, land management.
About this event
Tulsa Garden Club and Cushing Gladiolus Club present the National Garden Clubs, Inc. (NGC) Environmental School, Series Z-001 Course 3. This virtual Course offers this exclusive opportunity to learn more about environmental literacy to help us cherish, protect and conserve the living earth.
Register today to save your spot in "your own ecosystem!" (February 3 deadline.)
Plan for two Saturdays: February 4, and Saturday, February 11, 2023.
Class schedule is subject to change
All times CENTRAL
Saturday, February 4, 2023
8:45 a.m. Welcome, Orientation
9 - 10 a.m. Ecology - Air
10 – 11 a.m. Plants – The Rain Forest
11-12 Lunch
12 – 1 p.m. Environmental Ethics
1 – 2 p.m. Break
2 – 2:15 p.m. Environmental Science – Pollution (outdoors)
2:15 – 3:15 p.m. Environmental Science – (indoors)
Saturday, February 11, 2023
8:45 a.m. Welcome, Announcements
9 – 10 a.m. Wildlife – Endangered Plants & Wildlife
10 - 11 a.m. Initiating School Programs
11 a.m. – Noon Lunch
Noon – 1 p.m. Supplemental Subject
1 – 2 p.m. Material Sources & Citizen Education Programs
2 – 2:15 p.m. Break
2:15 – 4:15 p.m. Nature Discovery Field Trip
Exams will be administered online using Google Forms after each class
PERMITTED EQUIPMENT
Desktop or Laptop computer
Tablet or iPad
OPERATING SYSTEM*
Microsoft Windows
Apple MacOS
Apple iOS on iPad
Android on Tablet
ZOOM 5.0
*Meets Zoom.com System Requirements
Smartphone not permitted unless it is for "Hotspot" connectivity
Consultants refreshing or students not wishing to become NGC Environmental Consultants need not take the exams.
STUDENTS MUST:
Have a desktop or laptop computer, tablet or iPad with audio and video capability
Attend a test/practice session (date announced with registration confirmation) to confirm Zoom capability
Do a test check the week before School
GENERAL INFORMATION:
The signed approval section of Form 6 will be completed and sent to NGC members after completion of Environmental School Courses 1-4 with a passing grade of 70 or more on every exam.
Consultant cards are no longer issued.
These four courses must be completed within seven years. Exams are optional. However, if you wish to be an accredited Environmental Consultant, you must take the exams. After passing two courses, a student may become a Provisional Consultant and join an Environmental Consultants Council. To remain in Good Standing, every five years Environmental Consultants must attend ES Refresher or an ES Course, no exam required.
After a Consultant's fourth refresher, the Consultant becomes a Master Consultant. Consultants or Master Consultants may earn refresher credit only once within a calendar year.
Cancellation Policy
The School Committee will announce any cancellations and address refunds as needed.
Sponsors Cushing Gladiolus Garden Club and Tulsa Garden Clubs are Members of North Central and Northeast Districts of Oklahoma Garden Clubs, Inc., South Central Region Garden Clubs, Inc., and National Garden Clubs, Inc.