Description
Come Enjoy an Arts and Music Festival in the East Village! The Living Gallery Outpost is celebrating its one year anniversary with a BYO Art Opening, live music and an open mic. Bring some art to hang or a song to share! If you are interested in performing or have questions email TheLivingGalleryOutpost@gmail.com. Attendance is free, a $10 donation for participation is appreciated but no one will be turned away.
BYO ART 1-6pm: Please bring one work 24 in x 24 in or smaller. We will have hanging supplies. You can bring your work at 1pm to hang and stay for the music and poetry. *We will not take commission on works sold during this event.
OPEN MIC 1-3pm: The Open Mic will take place on the stage at the 6th Street and Avenue B Community Garden. Each performer will have at least 10 minutes. *Please note, this is a family friendly space and we ask that all performances be appropriate for children.
LIVE MUSIC 4-6pm: Spelz, Caldor Kids, Stephen McInnis and More!
WHEN: Sunday, August 12th from 1pm-6pm
WHERE: The Living Gallery Outpost, 246 East 4th Street, New York, NY, 10009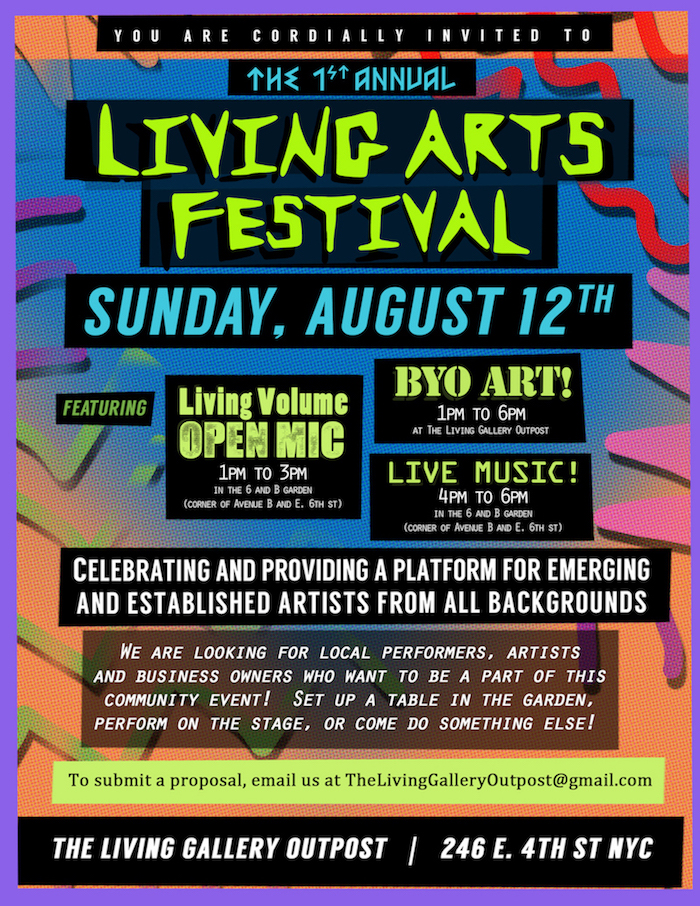 Sponsored By ABC Beer Co.