Description
In the past, The Little Miss Knasty Pageant has chosen candidates for president, has resisted the march onward towards entropy, and has created real unicorns from mere imagination. We are Women. We are Knasty, and We are Sassy. Join Cher D. Blame and her tiny, precocious friends for the 2018 Little Miss kNasty Pageant. Eight contestants will vie for the prize, and only one will win.
Buyer Beware:
Most of our performers are burlesque performers. This means they will likely be removing clothing to music until they are only wearing pasties on their nipples and will sometimes strip down to a thong. If you are afraid of the human body, please do not buy a ticket, as you will likely see the human body. Be advised that we will not issue refunds for any reason at any time, and accidentally seeing skin is no exception.

Times and Dates:
Date: January 20, 2017
VIP Meet & Greet: 7:30pm
General Admission Doors Open: 8:00pm
Showtime: 9:00pm
Reserved Seating:

You will be able to choose your seating preferences when you purchase your ticket if you purchase using a Desktop browser. Please be aware that the stage and runway are raised, so every seat will have an unimpeded view of the show. The pink arrows indicate the direction the seats will face. If you purchase the wrong tickets by mistake, we will be more than happy to scoot you around.

VIP - Rows A-F #'s 9,10,11,12 (Green Below)
Floor - Rows A-F (not counting VIP)
Risers - Rows G-L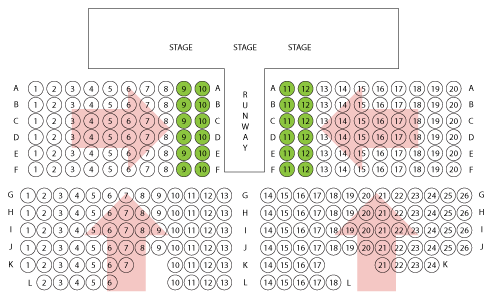 Alcohol:

Alcoholic beverages will be served to those 21 years of age and older (IDs will be checked). Cash and Card will be accepted for purchases of alcohol. Last time, there was only one bartender, and this time we should have two!

Vendors:
Some vendors will only be able to perform cash transactions. Please plan ahead and bring cash– you never know what you'll see in the vending areas that you just HAVE to have. We are planning on having many unique and exclusive vendors, and once we get closer to the date, we will be featuring them on our facebook event page.

Other Information:
This show is an 18+ show, but you must be 21+ to drink alcohol.
Non-alcoholic beverages will be available for sale, as well as snacks and other food items. We have decided to provide gluten-free and vegan options if time and budget allow.
We will have a coat check at the door. Please do not store any valuables in your car or coat.
Please bring a print-out or have your ticket stub on your phone – so you will know your seat number and letter.
Please do not bring in outside food or drinks, and do not carry alcolohic drinks outside the venue.
Please bring a government-issued photo ID that shows you are 21 years of age if you wish to purchase and consume alcohol.
VIP Ticket information:
Please arrive between 7:15 and 7:30, some of the perks of VIP are time sensitive. You may be let in earlier than 7:30 if we are ready at that time.
Guaranteed Front 2 Rows Assigned Seating
Meet & Greet with the Cast before the show (7:30pm-8:00pm)
Early crowd-free access to purchase merchandise and raffle tickets
Photo-Op with the Cast (Bring a camera phone!, only between 7:30 and 8:00)
VIP swag bags full of spooky EXCLUSIVE goodies!
General Admission Floor & Riser Tickets:
Will not be admitted past ticketing booth until 8:00pm
The show will begin at 9:00pm. If you arrive after 9:00pm, you will be allowed into the theatre in between numbers so that no one's performance is interrupted.



Facebook Event Page

kcperform.com Event Page Coming Soon!