About this Event
On Saturday, November 9th, college students from around the city will say "thank you" to the Tallahassee community at our annual fall service initiative, 'The Little Event,' in preparation for The Big Event 2020 on March 28.
While this isn't the actual 'big event' we think it's a great way for passionate students to make a difference in our community throughout the year.
Team Leader Registration Instructions
Click Register
Click Team
Click Create Team
Enter Your information
Click Sign Up
Enter login information to create an account
Click Sign Up again
Enter the full standard name of your team
Click Register
Select your school
Click Checkout
Fill out the form
Click Complete Registration
To Invite Team Members after Registering:
Open the ticket email
Under Order Summary in the email, click view and manage your order online
Enter your email address and login information
Click Get Started
Check your email for a password to securely access your team's page
Once logged in, click on the user icon in the upper right corner and click tickets
Scroll down and click on your team
Click on The Little Event 2019
Click on your Team Name highlighted in blue to the right of the gold trophy sticker
On the left-hand side under team captain, click invite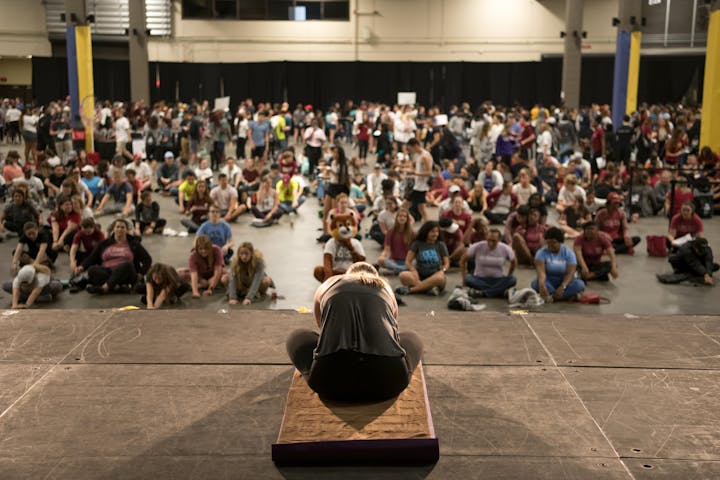 Your Impact
As volunteers, you will have the opportunity to join hundreds of diverse students and faculty from FAMU, TCC, and FSU as you engage in meaningful service throughout the Tallahassee community. Through our partnerships with residents and nonprofits in Tallahassee, there are a variety of ways for everyone to be able to give back to their community in a unique and positive way.
Whether you are volunteering individually or with a team, please click the "Volunteer Registration" button below and follow the directions found there in order to register.
The Run Down
The day will begin with a short kickoff ceremony at the FSU Old IM Fields, featuring activities to engage participants with community leaders. Afterwards, volunteers will depart in teams to sites around Tallahassee to participate in a variety of service related activities including park cleanup, food pantry packaging, senior home assistance, and much more.
If you have any questions, comments, or concerns, feel free to contact FSU Recruitment Coordinator Jack Brooks, FAMU Recruitment Coordinator Dominique Alexis, or TCC Recruitment Coordinator Emily Symeon.