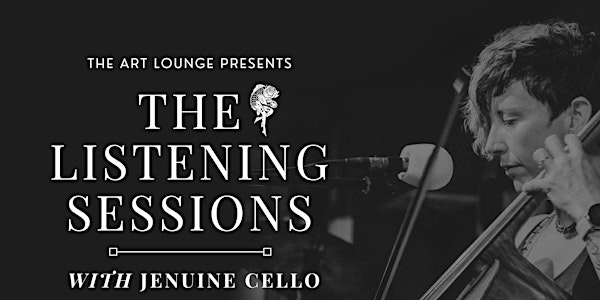 The Listening Sessions FINALE: a Live Concert Series at The Art Lounge, SPI
Celebrate the end of the season with a farewell solo show featuring Jenuine Cello for "The Listening Sessions FINALE at The Art Lounge, SPI"
By Jen Mulhern aka Jenuine Cello
Date and time
Saturday, May 20 · 7 - 10pm CDT
Location
The Art Lounge 33256 State Park Road 100 South Padre Island, TX 78597
Refund Policy
Contact the organizer to request a refund.
Eventbrite's fee is nonrefundable.
About this event
May 20, 2023 (1 show only) @ 7pm (Doors open at 6pm)
BYOB, General Admission
Jenuine Cello's Farewell Solo Show at The Art Lounge, SPI, TX
SPI's new monthly concert series, "The Listening Sessions," ends the 2022-2023 season witha final show featuring cellist Jen Mulhern (aka Jenuine Cello). Jen will be in Buffalo, NY for the summer-but we are looking forward to starting a new season on October of 2023. Music-lovers who want to appreciate music in a quite, intimate atmosphere are invited to join us for this special evening at The Art Lounge!
"The Listening Sessions" monthly series at SPI's 'The Art Lounge' is a chance for music and art enthusiasts to gather in an intimate space and experience performances in a quiet listening room surrounded by an environment of inspiring contemporary art. All events in the concert series will include music curated and performed by Jenuine Cello and will feature a variety of guest musicians whose performances are best enjoyed in this amazing silent space. Our intent is to bring together quality musicians and performers with attentive music-lovers who seek a distraction-free concert-going experience.
About the performer:
Jen Mulhern aka Jenuine Cello, South Padre Island, TX
Native Texan Jenuine Cello, aka Jen Mulhern, is a captivating model of a modern one-woman band who is constantly embracing her journey from symphony musician to solo performer and songwriter. After earning a degree in Music Performance from Texas State University, she started her odyssey into the world of contemporary music with an array of collaborations, performing live with bands and artists from the Austin music scene during the early 2000's. It was during these years that she began experimenting with instrumental songwriting using a looper.
In 2014, the solo project called 'Jenuine Cello' was born. The early shows at Cafe Creme in East Austin were a testament to the ideology that the audience should be allowed to eavesdrop on the creative process as each song is built from scratch. Mulhern dedicated her compositions to improvised form and content rather than rehearsed replication. Her live recordings and performances take listeners on a road trip free from genre, saturated with an array of influences. With undercurrents of Bach, Blondie, the Beatles, Bjork and everything in between, Mulhern's music combines classically-infused inspiration with raw textures to create a unique sound of layered soulful puzzle pieces. Equipped with a cello and a mic, a looping pedal, a 6-string electric cello and knack for glitchy self-made beats using cajon and beat-boxing, Jen Mulhern creates a symphony of spontaneous sound painting that tugs at the soul and awakens an ancient desire to howl at the moon...
After nearly 20 years in Austin/Central Texas as a freelance cellist and private cello instructor, Ms. Mulhern moved to South Padre Island in 2017 to pursue Jenuine Cello as a full time solo career. She is currently preparing for her upcoming LP release in 2023 and resides in both SPI, TX and Buffalo, NY.