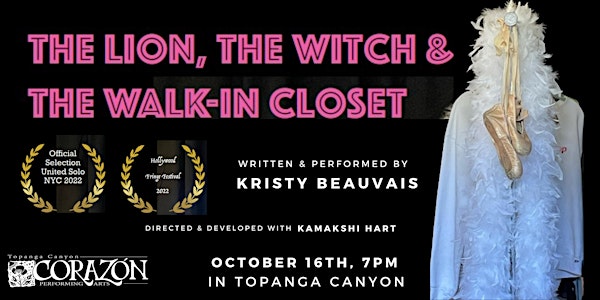 The Lion, The Witch & The Walk-In Closet | Kristy Beauvais
Fame comes easy for Kristy in that walk-in closet. But this isn't a coming out of the closet story... more of a going in.
When and where
Location
Corazón Performing Arts 125 South Topanga Canyon Boulevard Topanga, CA 90290
Refund Policy
Contact the organizer to request a refund.
Eventbrite's fee is nonrefundable.
About this event
🇼‌🇪‌🇱‌🇨‌🇴‌🇲‌🇪‌ 🇹‌🇴‌ 🇰‌🇷‌🇮‌🇸‌🇹‌🇾‌'🇸‌ 🇼‌🇦‌🇱‌🇰‌-🇮‌🇳‌ 🇨‌🇱‌🇴‌🇸‌🇪‌🇹‌, 🇼‌🇭‌🇪‌🇷‌🇪‌ 🇧‌🇦‌🇷‌🇧‌🇮‌🇹‌🇺‌🇷‌🇦‌🇹‌🇪‌🇸‌ 🇨‌🇦‌🇳‌ 🇹‌🇦‌🇱‌🇰‌ 🇦‌🇳‌🇩‌ 🇼‌🇮‌🇫‌🇫‌🇱‌🇪‌ 🇧‌🇦‌🇱‌🇱‌ 🇧‌🇦‌🇹‌🇸‌ 🇨‌🇦‌🇳‌ 🇼‌🇦‌🇱‌🇰‌. 🇫‌🇦‌🇲‌🇪‌ 🇨‌🇴‌🇲‌🇪‌🇸‌ 🇪‌🇦‌🇸‌🇾‌ 🇫‌🇴‌🇷‌ 🇰‌🇷‌🇮‌🇸‌🇹‌🇾‌ 🇮‌🇳‌ 🇹‌🇭‌🇦‌🇹‌ 🇼‌🇦‌🇱‌🇰‌-🇮‌🇳‌ 🇨‌🇱‌🇴‌🇸‌🇪‌🇹‌. 🇧‌🇺‌🇹‌ 🇹‌🇭‌🇮‌🇸‌ 🇮‌🇸‌🇳‌'🇹‌ 🇦‌ 🇨‌🇴‌🇲‌🇮‌🇳‌🇬‌ 🇴‌🇺‌🇹‌ 🇴‌🇫‌ 🇹‌🇭‌🇪‌ 🇨‌🇱‌🇴‌🇸‌🇪‌🇹‌ 🇸‌🇹‌🇴‌🇷‌🇾‌... 🇲‌🇴‌🇷‌🇪‌ 🇴‌🇫‌ 🇦‌ 🇬‌🇴‌🇮‌🇳‌🇬‌ 🇮‌🇳‌.
SUNDAY OCTOBER 16, 7PM doors open | THE LION, THE WITCH & THE WALK-IN CLOSET Written & Performed by Kristy Beauvais in magical Topanga Canyon. Directed & Developed with Kamakshi Hart. Seats are limited! $25 per person
For Kristy, telling her story takes more than just a few journal entries. It requires a bit of song and dance, and a lot of help from her most recent client, Cloris. Yes, that Cloris. When she realizes that the lion and the witch are all part of who she is today, she arrives at the threshold of self-acceptance.
Kristy Beauvais, Flounder & Executive Director FOCUSfish, Writer/Performer/Director/Choreographer
Kristy comes from a family of health and fitness entrepreneurs. Her mother was one of the original New Orleans Saints dancers who operated her own successful dance studio. Kristy's father was a professional bodybuilder who opened and ran his own gym in New Orleans. Choreographing competitive posing routines for large, pumped up men was a normal childhood activity for Kristy.
Kristy has tapped all of her previous influences and experiences, including musical theatre, Bunraku "rod" puppetry, live hosting and improvisation, Butoh dance, aerobics instruction, personal training, aerial training, comedy and on-camera acting, to create FOCUSfish. The FOCUSfish name and philosophies were born through the broad variety of movement, dance and fitness classes Kristy has taught at gyms such as Crunch Gym in New York and Los Angeles, and performance studios such as the Lee Strasberg Theatre Institute in Los Angeles. Now residing in Los Angeles, Kristy has carved a niche for herself with her efforts to provide intelligent, creative physical fitness instruction for children in the area's public & private schools. Kristy has been directing and choreographing children's theatre in Topanga since 2007.
Kristy is happy to back in the theatre as a performer, after her successful run at The Hollywood Fringe Festival 2022. She has been invited to be a part of The United Solo Festival in NYC this November. And, was just asked to be Assistant Director & Choreographer of the production of The Ahab Inside Me, where she will be working alongside her daughter, Gabbi, as performer/singer, starting in Maine, then heading to NYC.
Kristy holds a BFA from Tisch School of Arts at NYU.
She'd like to take a moment to thank her tribe, The Topangans, for supporting this show since the early days in the garage "theatre."
CLICK HERE FOR LINK TO THE LION, THE WITCH & THE WALK IN CLOSET
#kristyfocusfishbeauvais
@kristyfocusfishbeauvais