Description
CynSumLuv Presents THE LINK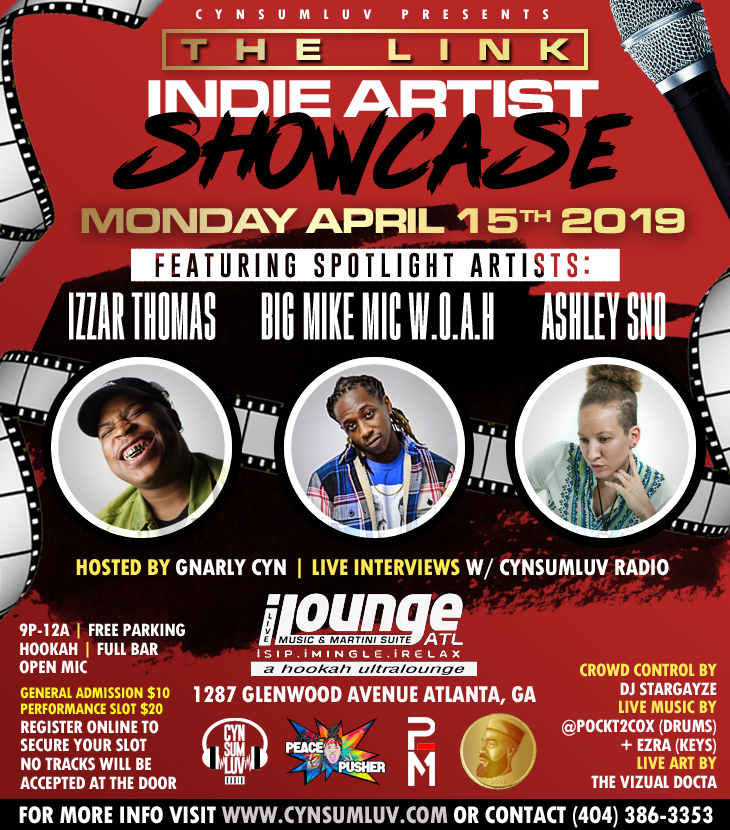 Join us as we experience the visual creativity, hard work and live performances from some of the most talented Indie Artist in the industry. In our continued effort to generate more creative expression platforms, come connect with Atlanta's greatest!
If you are a singer, poet, lyricist or musician looking to be heard, respected and taken seriously, pull up to to 'THE LINK' in East Atlanta and share your vibe. All Genres Welcome!
We've got the Spotlight on
* BIG MIKE MIC W.O.A.H
* IZZAR THOMAS
* ASHLEY SNO
And we'll get to know more about the artist as we take a look into their visual crate, pick their brains about the process and watch a up close performance. It's always more than what you see on the surface, so we're dig'n in!
Hosted By: Gnarly Cyn
Crowd Control by: DJ STARGAYZE
Live Music By: @Pockt2Cox (drums) | Ezra (keys)
FREE OPEN MIC - Perform w/ Live Band (sign list at door)
No Tracks will be Accepted at the Door.
All Artist Must Register Online to Secure a Track Slot!
- Free Parking - Hookah - Premium Bar - Live Music -
DEADLINE FOR TRACK SUBMISSIONS 4/10