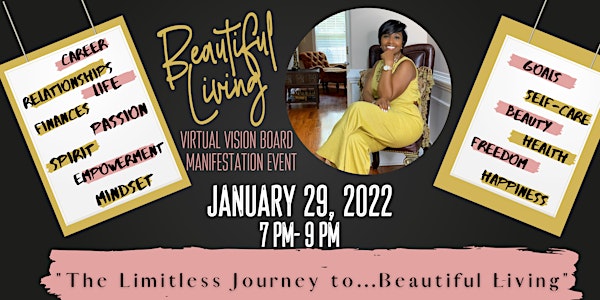 "The Limitless Journey to...Beautiful Living"
Your journey to Beautiful Living™ starts with a vision. Join me & other like-minded people for an inspiring vision actualization intensive!
About this event
Join Motivational Speaker + Certified Professional Life Coach Keisa Campbell for a day to strategically design your beautiful life.
Planning your life is one of the most powerful and effective ways to attain what you want. Nobody plans to fail; they simply fail to plan. Planning your life is equivalent to having a roadmap that helps you reach your desired destination. When you take the time to plan your life, you are taking the steps necessary to not only identify and reach your desired goal but also to do so in the most efficient way.
This is not your typical vision board cut and paste all the cute stuff on a poster board. No, we go deeper. Vision board experiences start off the visioning process but they don't give you the tools to bring it to pass, they don't give you the tools to make it real, or stay accountable to the plan.
Join me for a Virtual Vision Actualization Intensive where we get laser-focused and intentional about our goals through my guided system using the 7 Pillars to Beautiful Living Playbook. We will cover Mental Beauty, Spiritual Beauty, Physical Beauty, Relational Beauty, Financial Beauty, Professional Beauty, and Outward Beauty which represents whole-life wellness.
At the end of this experience you will :
have determined exactly what kind of life you want (your desired destination)
have a roadmap to your destination
have a visual of your desired destination
be in charge of where you are going, giving you more control of your life
goals set for the next 90 days
establish and maintain balance in your life...this will help you to eliminate distractions
Your Investment Covers:
A 2-hour, virtual vision actualization intensive via Zoom, led by Certified Professional Life Coach Keisa Campbell(Value $600)
A digital copy of the Beautiful Living Playbook (Value $25)
Total Value $625
Your Investment: $97
Go VIP (a la carte) Option:
All of the above
Plus 1-hour laser-focus 1:1 coaching with me before the event (Value $300)
Space is limited
Additional Investment: $150 (50% savings)
Get clarity and laser-focus to maximize your planning session by adding 1:1 support to the vision actualization intensive. Select the VIP option to add an a la carte, one-on-one session with Keisa to your registration (a Limited Journey participant exclusive opportunity and rate.).
Join me in planning the vision for your future in this focused, creative online event!
Your journey to Beautiful Living™ starts with you giving yourself permission to live a fulfilled life.
I look forward to seeing you in class and creating a fantastic 2022 together!
Beautiful Living Awaits You On the Other Side™!
Xx,
Keisa