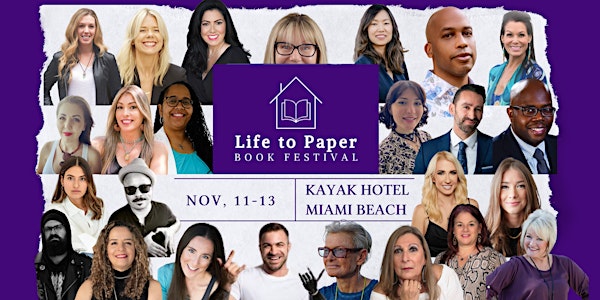 The Life to Paper Book Festival - All Access Weekend Pass
The Life to Paper Book Festival Returns for Another Year of Literary Fun!
When and where
Location
KAYAK Miami Beach 2216 Park Avenue Miami Beach, FL 33139
Refund Policy
Contact the organizer to request a refund.
About this event
Some are calling it the semi-official kick-off event to the Miami Book Fair; but no matter what you call it, one thing is clear: The Life To Paper Book Festival 2022 #LTPbookfest2022 is not one you want to miss if you love books!
Curated with every type of reader in mind – from aspiring authors attending workshops and panels moderated by local literary celebrities including Oscar Fuentes (The Biscayne Poet) & Billy Jones (local author and Host of Everyday Folks Radio (EFR)), culinary enthusiasts savoring a meal prepared by local legendary chef John Iatrellis (@chefiatrellis), fans excited about keynote speeches delivered by publishing powerhouses like Jim Gifford (editorial director of non-fiction at Harper Collins) & Don Loney (President of Loney Publishing group and Former Executive Editor of Wiley & Sons), and conversations with Ruby Warrington, Ann Shin, Rasheed Newson, Asha Frost, Jo Ferrone, D.L. Jennings, Meg Nocero, Liza Kindred, Beverly Melasi-Haag, Rocio Vargas, Cardsy B, and more!
#LTPbookfest2022 has something FOR EVERYONE who loves BOOKS.
Purchase your all access festival pass today, and we'll see YOU this November 11th - 13th in beautiful Miami Beach!
Your all access pass includes:
Festival tote bag
Notebook
Pen
more giveaways
Access to all panels
Access to all workshops
Event List:
FRIDAY NOVEMBER 11, 2022
1- Sip n' Celebrate the Book Festival - Friday November 11 @ 6PM
SATURDAY NOVEMBER 12, 2022
2- Workshop: Marketing For the Author-preneur - Saturday November 12 @ 10AM
3- One-of-a-KIND Stories Author Panel - Saturday November 12 @ 11AM
4- LUNCH 7 LEARN: Technology & Storytelling: The Creative Process - Saturday November 12 @ 12PM
5- Espanola Way Author Panel - Saturday November 12 @ 1PM
6- Write Your Legacy Workshop - Saturday November 12 @ 2PM
7- The Good Life Author Panel - Saturday November 12 @ 3PM
8- Writing Your Authentic Self Workshop - Saturday November 12 @ 4PM
9- Magick Stories Author Panel - Saturday November 12 @ 5PM
10- BIPOC Author Panel - Saturday November 12 @ 6PM
11- Literary Community Dinner - Saturday November 12 @ 8PM (tickets sold separately; limited number)
SUNDAY NOVEMBER 13, 2022
12- Fantastic Fiction Panel - Sunday November 13 @10 AM
13- Publishing Across North America Panel - Sunday November 13 @ 11AM
14- Found Purpose Author Panel - Sunday November 13 @ 12:30PM
15- The Intuitive Way to Plan Your Book Writing Workshop - Sunday November 13 @ 1:30PM
16- Poetry Author Panel - Sunday November 13 @ 3PM
17- Own Your Power: Meditation Session - Sunday November 13 @ 4PM
18- Open Mic Event - Sunday November 13 @ 5PM
19- Closing Party - Sunday November 13 @ 6PM
*If you are interested in participating in the festival as an author, publisher, bookseller, or community partner, please contact Tabitha Rose at info@lifetopaper.com