The Life & Purpose Clarity Combo

Saturday, December 12, 2015 at 1:00 PM

-

Thursday, December 31, 2015 at 11:30 PM (GMT)
Event Details
THE TRANCEFORMATION™ LIFE & PURPOSE CLARITY COMBO
"Hi Marilyn! Many thanks for the Angel reading yesterday. Amazing insight!"
Like the Angel Tarot & Huna Big Clearing Call, these sessions, as Oprah Winfrey would say, includes some of my favorite things.  If you follow my eNewsletter and website you might have already taken part in some of my 'jaw dropping' (participants words, not mine) Huna and Access Consciousness Teleseminars.  And if you follow me on Facebook you might have seen or taken part in some of my 'spookily accurate' group Angel Tarot Readings.
These private one-to-one Life Purpose & Clarity Sessions are based upon the model for my Angel Tarot, Huna, and Access Consciousness Angel Tarot Calls, and are available by appointment.
WHO ARE THESE SESSION FOR?
I've noticed that many people are pondering life's big questions; What is their life purpose?  What's in store regarding relationships?  Or looking for clarity in certain areas of their life, and wanting to understand more about the calling of their soul and their soul destiny.  So if you are looking to:
Have greater clarity

Help make sense of certain issues

Establish a clearer sense of direction in life

Identify old stuck issues and resolve them

Remove old blocks, barriers, and limiting beliefs

Move beyond past blockages and actually get a sense of your potential future
If any of those are a 'yes' then these sessions are for you.
These private telephone or Skype sessions not only help to give clarity around these issues, they can also to remove any blocks. barriers, and limiting beliefs using a unique combination of Hawaiian Huna, Ho'oponopono, Access Consciousness, Angel Tarot Readings, and the brand new Core Issue Therapy indentification process and the Soul Transformation work.  At the time of going to press, Marilyn Devonish is one of only 11 Soul Transformation Core Issue Therapy Pracitioners in the UK, and indeed the world outside of Japan. 
WHAT SORT OF THINGS HAVE HAPPENED USING THIS COMBINATION OF PROCESSES & TECHNIQUES? 
I received this e-mail from one of the Huna, Access, and Angel Tarot Teleseminar participants a couple of weeks after taking part in the call, and if this is what happens after 10 minutes on a group call, just imagine spending an hour or 2 where it's just focussed on you?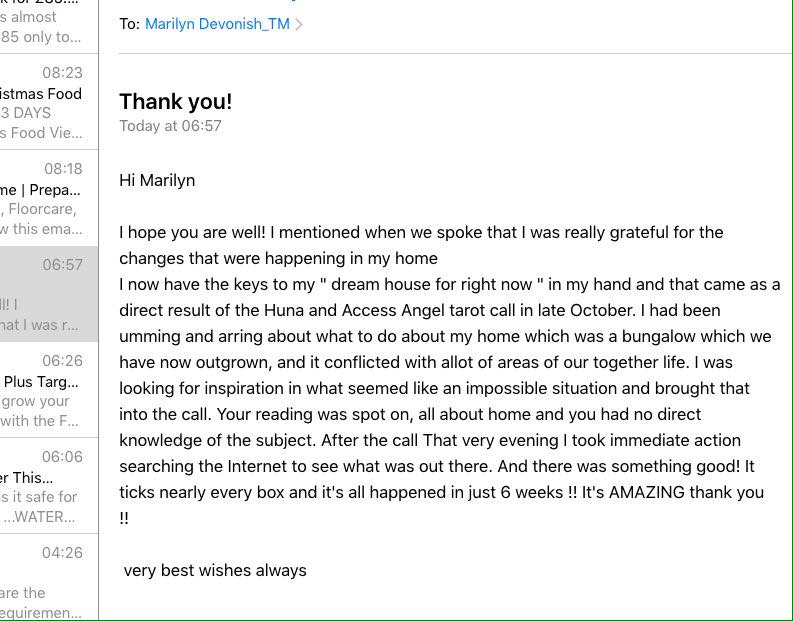 There are 3 options available for these private one-to-one Sessions:
Angel Tarot Reading & Huna and Access Consciousness Energy Clearing Session.

Angel Tarot Reading, Huna and Access Consciousness Energy Clearing Session,

Core Issue Therapy Reading & Soul Transformation Process

.  

Angel Tarot Reading, Huna and Access Consciousness Energy Clearing Session, 

Core Issue Therapy Reading & Soul Transformation Process

, Past Life Regression or Future Life Progression Session.

 

  
The Introductory combo prices are available until Sunday 20th December.  You can book the Angel Tarot, Huna and Access, Core Issue Therapy, Soul Transformation, Past Life Regression, and Future Life Progression Sessions separately and they start at £150 per modality.  
HOW ARE THE PRIVATE SESSION STRUCTURED AND DONE?
The Sessions can be done via telephone or Skype and are arranged by mutual appointment.  The testimonials below outline the results of previous sessions.
WHAT AREAS DOES THE ANGEL TAROT READING FOCUS ON? 
You can do a general 'identifying key issues' Angel Tarot Reading or choose a specific type of reading to focus on a particular issue.  Specialist cards and topics include:
Life Purpose Reading

Relationship Reading

Health & Wellbeing Reading

Past Life Reading

Bereavement Reading

Power Energy & Self Esteem Reading
This list above is a small selection based upon some of the specialist card decks available, and the general Readings may encompass elements of some of the above.
WHAT HAVE PREVIOUS ATTENDEES SAID ABOUT THIS COMBINATION OF PROCESSES?
Below is some feedback from those who attended the Angel Tarot, Huna, and Access Consiousness Teleseminars that I have run:
"A massive thank you Marilyn - I'm very happy with that!
VERY COOL!!!
Loved it! Great way to have spent the latest one and a half hours of my life, can't think of anything else I could have done that would have been better!
Certainly spot on with the Tarot Card reading, I have spent a long time inwardly searching and now feel ready to walk the bridge with a certain confidence in my steps gained from listening to you this morning.…. as you finished the call the thought that came to mind was 'Get out of my own way!' - so that's telling me!
Thank you SO much, I always love to sit and bask in your energies and my heart is feeling full…..more than happy for you to share…. just found myself singing the nursery rhyme 'Hey diddle diddle…' and when I reached the line 'the little dog laughed to see such fun' it struck me as a sign! it is all going to be such fun over the bridge as I suspect it was referencing the dog in the 8 of Raphael……"
Another said:
"Perfect, perfect, perfect x  More than worth a tenner.  Couple of funnines for you.  The second card you said for me was totally about what my thoughts were . . . . ."
Within an hour of the live call I received this:
"Marilyn I really can't make this shit up!!!!   HOLY CRAP!!!!  That was fast!!!!"
WONDERING IF IT REALLY CAN BE THE EFFECTIVE REMOTELY?
"Marilyn
 I have just listened to this as I was called out unexpectedly this morning.  AllI can say is Wow! as always you were spot on with my reading.  Thank you so much and for the huna etc.  Much appreciated, it was amazing."
As you will already know if you've listened to any of the Huna mp3 recordings, there are still massive energetic shifts when just listening to someone else and their issues, which is one of the things that I love about this type of work.  Also, as the quote above from someone who signed up but wasn't able to dial in live shows, it can still be 'spot on' and 'amazing' whether you are there in person or not.  
And, the energy also travels through the airwaves so you don't even have to join us live. 
Below is a summary from a participant who couldn't make one of my live Huna and Access Consciousness calls but listened to a recording instead:
Hey Marilyn
Just finished listening to your recording. (funnily I started listening to it about 2am, and finished around 3am).
Energetically, it was full on!
As soon as you had finished describing the explanation of the statement, and I gave my consent, I suddenly connected with this massive flow of energy (it may also have been because I then applied it directly to my health right after you had finished describing it).  But then as you finished describing Huna, and were about to start the 'actual' process, I figured I had better sit down, and really focus! (Was washing up dishes when I started listening!)
Anyways, as I connected, and you started the process there was so much inter-dimensional stuff I was connecting with, as well as all the other participants.  As outside of the dimension of time, I was connected to the same collective group energy and resonance, it was most surreal. At moments, I literally saw the edges of people's spaces.. or their energetic biosignatures, and holographic, multi-dimensional beingness, as the statements were unravelling, and things were shifting with each statement.
It literally felt as if you were addressing me directly, and that everything was personal, to me, and my issues, so definitely value in using and re-using the recording with others.
Happy to have a chat on the phone/skype if you'd like to discuss/connect with my experience of the recording in person.
Will keep you posted on anything related to the outcome/results, as I see them!
Thanks for sharing this.  Look forward to feeling the effects over time!!  I'm excited!!
Kind regards
Farhan
WHAT HAVE PEOPLE EXPERIENCED WITH THE GROUP ANGEL TAROT READINGS? 
During the readings I do online I'm not even addressing people directly because I often don't know who they are, however this is a small taster of the feedback that I've had with the general group anonymous, and what are referred to as 'cold' Angel Tarot Readings on my Facebook page:
"Spot on you are very spooky!  Mine was 3 and yup it's all about daring to be different at the moment. Thank you  x"
"Spot on, thank you mine was no 3!!
"Thanks sweetie! Spot on as always lol x"
"I don't know how you do it. But your words are so spot on at such perfect timing. Thank you" 
"That's quite amazing.  thank you"
"Thank you Marilyn. Spot on. Could not be more relevant." 
"Looking at the other cards, none of the apply just number 3."
"Thank you very much for card reading number 3. Very exciting and quite true. Have a super day."
"#4 is so pertinent to my current situation hun! When I chose the card, I closed my eyes & it was as if the angels were shining down on it, so I knew how potent the message would be." 
"I thank you so much Marilyn Devonish for the wise words to define No2. It is so very true for where I am right now in this phase of my life. I appreciate you xXx"
WHAT HAVE PEOPLE SAID ABOUT MY PRIVATE ONE-TO-ONE ANGEL TAROT READINGS?
HARUN RABBANI, SPIRITUAL MENTAL AND FOUNDER OF UNTANGLED FM RADIO
"Thank you Marilyn for an excellent Angel Card reading today. I began with one issue in my mind, but decided to focus on another issue. I was amazed your reading was specifically answering my main intention and not the one I thought was right. In fact, I got the feeling the latter issue was more of a non-issue in the big scheme of things. Frankly, I was surprised how accurate your readings were as it pertained directly to my radio station, UnTangled FM. You highlighted important points about leadership and staying focused on purpose giving me brilliant clarity about my road ahead. Thank you very much for such an excellent reading. I am most happy to wholeheartedly recommend you as an Angel Card reader as soon as you are ready. Oh, by the way, did I say how impressed I was in your ability to get over 60 minutes of information to me in less than 30 minutes? Fabulous value! I wish you the best of success in this next phase of your life journey."
Love, light and infinite blessings,
Harun Rabbani,
Creator of Untangled FM Website: www.untangledfm.com/
EVE MENEZES CUNNINGHAM, OWNER AT FEEL BETTER EVERY DAY CONSULTANCY
"Thanks so much! That was gorgeous - I wasn't sure how clear I was (in terms of asking the questions) and yet what you came up with made so much sense on both business, love life and another personal issue levels. Love it :) And, by the way, even though today's the first time we've actually spoken, since I've got to know you a bit on Facebookwith your gorgeous mix of energy work and more corporate stuff, you've inspired me to bring more of myself into all I do. Thanks again!"
Eve Menezes Cunningham
Website: www.feelbettereveryday.co.uk
KWAME MCPHERSON, AWARD WINNING AUTHOR, POET, & AUTHORPRENEUR MENTOR
"I heard Marilyn had started Angel Card Readings? What? That's the question I asked myself – what's an Angel Card Reading? Since I had no idea what this reading comprised of, I cautiously volunteered anyway. Marilyn explained how long it would take and what would happen. Lo and behold, and somewhat surprised, it was a painless process. But what truly amazed me about this reading was the uncanny accuracy. The reading highlighted where I currently am in my life and what's about to come and to say that I am not excited is an understatement, in the least.
I also believe…no…KNOW…that as a guide herself, Marilyn is well suited for the role of being an Angel Card Reader and I can see her empowering other lives around her. I say may she long continue to do so. KWAME MCPHERSON (A couple of days after the reading, a particular event that showed up in the cards unexpectedly popped up out of the blue!)"
Kwame McPherson
LISA HOWELLS, JOURNALIST AND FILM MAKER
"Having worked with Marilyn before, I know she is highly perceptive and intuitive, so trusted that the reading would be interesting to say the least! It isn't a case of the cards 'telling your fortune' it's all about them reflecting your current situation back at you, so you can clearly see what areas need to e worked on. Marilyn's interpretation of the cards is clear, concise and understandable, and she is adept at picking up the subtleties of your individual circumstances. I was reminded, as I often am, that when the angels want you to know something they create paths to it. Having the reading solidified my existing thoughts towards what I needed to be addressing and has given me the impetus I need to get back to it. Intuitive, charismatic and non judgmental, Marilyn made the experience wholly creditable and intelligent. Fabulous."
Lisa Howells
WHAT HAVE CLIENTS SAID ABOUT THE CORE ISSUE THERAPY & SOUL TRANSFORMATION PROCESSES & SESSIONS?
OK, where do we begin because there's a lot!  I've just shared a few snippets below, however to read the full accounts go to my Blog where I have summarised the first of the Soul Transformation and Core Issue Therapy Sessions that I've done with clients via phone, Skype, and in person.  Click Here to read the Blog - Mind Blown in Under 59 Minutes. 
" . . . When we started (The Soul Transformation Process) I felt as though I was slouched down in the corner, and during that process I felt myself being lifted up.  I definitely feel that I've moved 4 or 5 levels up on the energy scale because I was down in the black today before this call.
I feel different in my body already and it feels like a weight has been lifted."
Within the first 5 minutes of the session my client said:
"I have to say with that first card and what you explained, it's really spot on and really fits with where I am in my life.  Also the polarity that you mentioned and the internal conflict, I am sabotaging myself so it really resonates. 
Another said: 
"It was very powerful so I'm really speechless and it feels like whatever you need just comes up in the (Soul Plan) cards.  The first card about Assimilation and Structure and harmony is really spot on for me, and the polarity of life and death is almost connected to the Archetypes (which later came up as the required Intervention work).
I have done similar processes with the Archetypes work so this is not new for me but this process today is really really powerful because it's shifted stuff I wasn't even aware of . . .  It's amazing.  Thank you so much Marilyn.  I would say it's been life changing, and I think I need the rest of the week to process this!!" 
WHAT HAVE PEOPLE SAID ABOUT THE HUNA ENERGY CALLS? 
"I listened to the Huna clearing you sent yesterday not expecting anything.  I am very grateful to you as I have felt much more energised today and have been able to do a bit of clearing out - not a lot but it is a start.  There have been some very emotional endings recently so I now feel that with the clearing I am ready for new beginnings! Magic indeed!"
"Amazing results with my PTSD, just listening."
"Talk about Clearing statements and Huna breaths Marilyn, that was amazing!" 
"It was great to connect. I felt the energy and then it moving when Marilyn did her AC and Huna magic. Sparkling Love to all  you angels."
HOW DO YOU JOIN THIS UNIQUE ONE-TO-ONE PROGRAMME? 
Once you have booked your ticket from the 3 options above you will receive and e-mail from Marilyn Devonish to arrange a time and date for the session.  All sessions must be booked and paid for in advance.  If you prefer to pay via bank transfer e-mail: marilyn@tranceformationsTM.com
The Introductory combo prices are available until Sunday 20th December.  You can book the Angel Tarot, Huna and Access, Core Issue Therapy, Soul Transformation, Past Life Regression, and Future Life Progression Sessions separately and they start at £150 per modality.  
FURTHER INFORMATION
To book standalone Soul Plan Readings or Soul Transformation Sessions go to: www.tranceformationsTM.com/soulplan
To book standalong Angel Tarot Readings go to: www.tranceformationsTM.com/angeltarotreadings
Main Website: www.tranceformationsTM.com 
Blog: www.marilyndevonish.com 
When & Where
From the comfort of your own home



Saturday, December 12, 2015 at 1:00 PM

-

Thursday, December 31, 2015 at 11:30 PM (GMT)
Add to my calendar
Organizer
Trance Formations TM
Trance FormationsTM offers Training, Coaching, NLP Facilitation, PhotoReading and Accelerated Learning & Development courses to corporations and individuals.
A pioneer in cutting edge change technologies, and with over 20 years industry experience, Trance Formations offers Coaching and Events that enable people to tap into their own innate potential.
Contact Information:
For details of PhotoReading one to one coaching sessions and corporate training courses, you can contact Marilyn Devonish on: 
Tel: +44 1923 337282
E-mail: Marilyn@tranceformationstm.com  Web: www.tranceformationstm.com