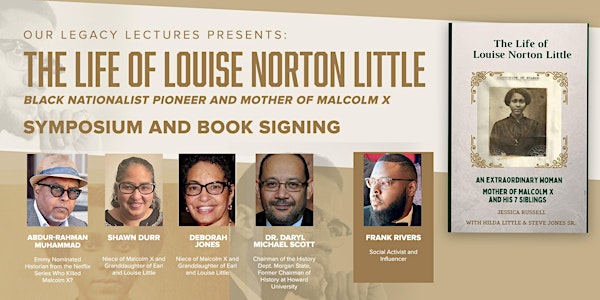 The Life of Louise Norton Little, Symposium and Book Signing
This event is a symposium and book signing on the life of Louise Norton Little, black nationalist pioneer and mother of the great Malcolm X.
When and where
Location
Courtyard by Marriott Washington, DC/U.S. Capitol 1325 2nd Street Northeast Washington, DC 20002
Refund Policy
Contact the organizer to request a refund.
Eventbrite's fee is nonrefundable.
About this event
The afternoon will be dedicated to examining the not well known life of the black nationalist pioneer and mother of Malcolm X, Louise Norton Little, based upon a new book by British author Jessica Russell in conjunction with Louise and Earl Little's oldest daughter Hilda Little and grandson Steve Jones Sr. How did a woman from England earn the trust and confidence of Louise's daughter to write this incredible book?
Attendees will learn all about her previously little known life on the island nation of Granada along with that of her family. This symposium will explore her journey to Canada as a young woman and her marriage there to the American Garveyite, Earl Little.
Abdur-Rahman Muhammad will explore her depiction in the famous book authored by her son (and Alex Haley), The Autobiography of Malcolm X and attempt to fill in the gaps in her incredibly compelling narrative. Special attention will be given to her commitment, along with her husband, to the powerful black nationalist movement established by Marcus Garvey, the Universal Negro Improvement Association (U.N.I.A). He'll look at the critical role Louise played in shaping Malcolm and his sibling's internationalist/pan-Africanist world-view and emphasis on education so central to his career as a spokesman of black freedom.
We'll also look at the struggles and challenges she faced as a wife and mother of eight children in an age of staggering racial oppression and economic depression, and how these conditions ultimately led to the crippling mental illness which forced her into a mental institution for over two decades. Two of her granddaughters, Deborah Jones and Shawn Durr, will explain in detail the state's unjust attempt to appropriate their family's property as a result of her illness and ultimate institutionalization at the Kalamazoo State Mental Hospital! They will also detail the contours of her long life after finally being released in 1963 up until her death in 1989.
Finally, Dr. Daryl Michael Scott will break down the nature of the African American identity by addressing the so-called ADOS (American Descendants of Slaves), FBA (Foundational Black American) "movement" found within some quarters of Black America. He'll explore how the blending of blacks from the diaspora with those from American shores could produce a Malcolm X.
After the symposium Deborah Jones and Shawn Durr will sign copies of the book The Life of Louise Norton Little by Jessica Russell on behalf of Russell and the Louise Little estate.