The Levite JCC of Birmingham Presents a Special Advanced Screening of OPERA...
Description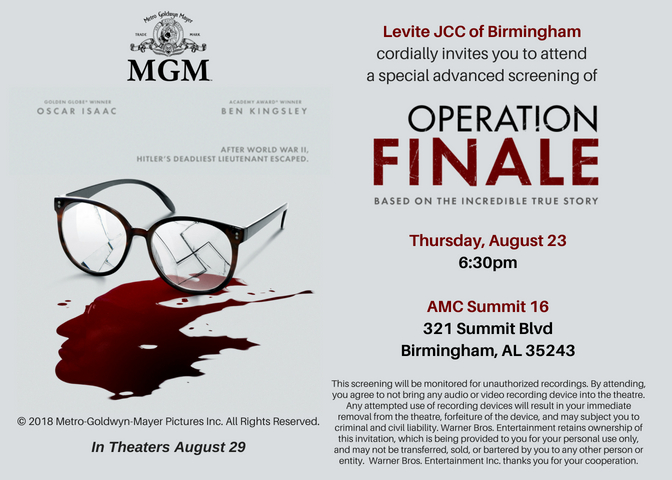 Please join the Levite JCC of Birmingham for a special advanced screening of the upcoming MGM Studios film OPERATION FINALE. An RSVP is required, but does not guarantee admission. Seating will be on a first-come, first served basis.
This thrilling true story follows the 1960 covert mission of legendary Mossad agent Peter Malkin as he infiltrates Argentina and captures Adolf Eichmann, the Nazi officer who masterminded the transportation logistics that brought millions of innocent Jews to their deaths in concentration camps.
DISCLAIMER: This screening will be monitored for unauthorized recordings. By attending, you agree to not bring any audio or video recording device into the theatre.. Any attempted use of recording devices will result in your immediate removal from the theatre, forfeiture of the device, and may subject you to criminal and civil liability. Warner Bros. Entertainment retains ownership of this invitation, which is being provided to you for your personal use only, and may not be transferred, sold, or bartered by you to any other person or entity. Warner Bros. Entertainment Inc. thanks you for your cooperation.