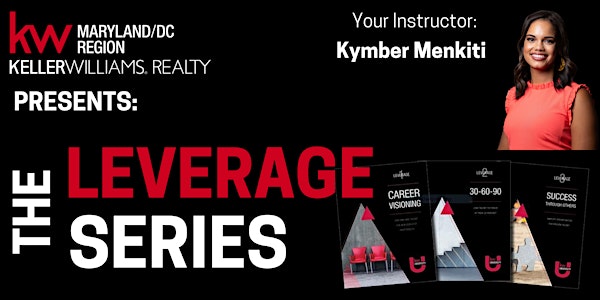 The Leverage Series with Kymber Menkiti (Hybrid)
The Leverage Series with Kymber Menkiti- HYBRID
When and where
Location
Keller Williams Flagship of MD 231 Najoles Road Suite 200 Millersville, MD 21108
About this event
The Leverage Series with Kymber Menkiti
10/05 - Day 1 Career Visioning, 9:00am-3:00pm
10/06 - Day 2 Career Visioning, 9:00 -3:00 pm
10/07 - Day 3 30/60/90 & Success Through Others, 9:00-3:00 pm
PLEASE SELECT YOUR TICKET CHOICE CAREFULLY AS THIS EVENT IS HYBRID. We will have limited in person seating for those who feel comfortable with in person instruction.
Career Visioning, 30/60/90 & Success Through Others
Great businesses succeed in direct proportion to the talent they bring on board. Career Visioning and the KPA provide proven systems to ensure that the best and the brightest – the talent most likely to succeed in the role – join your team or Market Center and take your business to the next level.
Your success will not be measured by how much you get done; it will be measured by how much you get done through other people. Career Visioning is the first in a series of leadership training courses designed to empower you to find, train and lead your future talent. The 30/60/90 course focuses on getting your new team member into their 20% within their first 90 days and Success Through Others will help you create an environment that will allow your top talent to fulfill their vision as a byproduct of hitting their goals and moving towards your organizations' larger vision!
Objectives:
Learn to verify Job Fit and Personal Reports for hiring and recruiting.Master a comprehensive interview process that reduces the guesswork and enables you to thoroughly understand and build relationships with potential talent.Set your new business relationships up for success with expectations that empower.
Build a strong 30/60/90 plan.
Set your new hires up for success.
Create opportunities for your top 20% that will allow them to fulfill their visions.
Audience:
Anyone wanting to build a successful business through other people. The systems and tools in this course are applicable to any hire or recruit.
About Your Instructor:  Kymber Menkiti
Kymber Menkiti is currently serving as the Regional Director of the Keller Williams in the Maryland / DC (MDC) Region and President of Keller Williams Capital Properties (KWCP), a brokerage with eight offices across the DC, Maryland, and Virginia region. In this role, Kymber oversees over 4,500 agents and is the highest-ranking minority female executive in Keller Williams Realty Inc. In addition to her roles within Keller Williams and KWCP, Kymber served as the 2020 President of the DC Association of Realtors and was appointed by DC Mayor, Muriel Bowser, to serve on the District of Columbia Arts Commission. She is also a Board Member of Crittenton Services.
Prior to her roles within KWCP and the Keller Williams MDC Region, Kymber was the President of Sales for The Menkiti Group. Under Kymber's leadership, The Menkiti Group sales team assisted over 2,000 first-time homebuyers and has brokered the sale of over $1B in residential real estate. In 2018, Kymber was recognized by the Washington Business Journal as a 40 Under 40 Honoree.
TERMS AND CONDITIONS:
NO Soliciting
Full priced registrations cancelled before ten (10) days of the event are refundable, less a $35 cancellation fee plus the cost of materials if they can not be re-sold.
Registrations are transferable to another attendee.  Contact the event organizer.
Registrants who do not attend, "No-shows", will not receive a refund.
All refunds and cancellations must be requested in writing to the event organizer.
IN PERSON registration fee includes instruction, material booklets and lunch.
HYBRID registration fee includes instruction and digital materials.
Terms and conditions are subject to change at any time.