A robust 2 1⁄2 day, completely virtual, global event! In real-time from the comfort of your home or office. Save money, no airfare/hotel.
About this event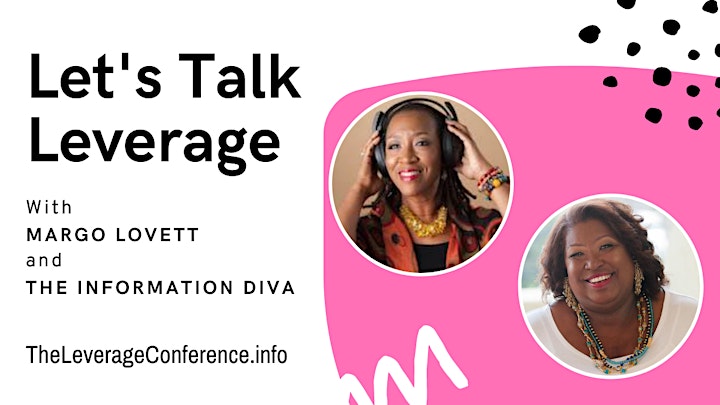 Some people believe
Competition prevents collaboration
Networking is only valuable in large groups
Leverage can only happen with well-established businesses
Our desire is to provide a platform for building our own. As world-renowned entertainment mogul, entrepreneur, and philanthropist Tyler Perry once said:
"While you're fighting for a seat at the table, I'll be down in Atlanta building my own. Because what I know for sure is that if I could just build this table, God will prepare it for me in the presence of my enemies."
Like Tyler Perry, I know where two or more of us are gathered, great and wonderful things will happen.
To that end, the objective of The Leverage Conference for Speakers, Authors, and Entrepreneurs is to empower and encourage women (and some enlightened men) to learn and meet new people through networking, developing collaborative partnerships, and leveraging their talks, books, products, and services.
The Leverage Conference is about creating opportunities. Networking plus collaboration creates and that's LEVERAGE.
THURSDAY features:
The Author Showcase where self-published authors have an opportunity to share their books and experiences
A panel of first-time authors will share their journeys and experiences in becoming an author
The Author Showcase is open to the public, complimentary tickets are available
FRIDAY features:
A full day of speakers sharing information that is valuable to speakers, authors, and entrepreneurs
Happy Hour offers music, dancing, fun, games, and shopping
The Merchant Showcase offers shopping opportunities
The Merchant Showcase is open to the public, complimentary tickets are available
SATURDAY features:
A networking breakfast (yes, breakfast will be served)
Master Classes
Our Thought Leaders' Roundtable will highlight a discussion of the "tough" topics. They will tackle the things we've been taught not to talk about, ie. race, religion, and politics
The Leverage Legends' Luncheon (and lunch will be served) will celebrate and honor women who masterfully connect, collaborate, and create opportunities.
Networking After-party where participants will have an opportunity to meet and greet other participants
About last year's conference
More than 50% of the people who attended last year's conference rated the conference a "10" on a scale of 1 -10, 10 being best.
100% would recommend the conference to their friends and colleagues
14 Fabulous speakers
Jackie Lapin
AnGele Cade
Donna Smith-Bellinger
Margo Lovett
Casey Eberhart
Gina Gardiner
Mary Wu
Jim Packard
George Cambell
Tracey Pirozzi
and of course, The Information Diva
Subject to change without notice
Listen to some of our amazing speakers
12 Amazing Authors
Margo Lovett
Carrie Madrid
Kim Blackwell
Delphyne Lomax Taylor
Beatrice Adonodi
Donna Smith-Bellinger
Juanita Gandara
LaLisa Morgan
Rinette Lagace
Joan Wakeland
Andrea Philips
Kelly Smith
and The Information Diva
Listen to some of our Fabulous Authors
The Leverage Conference is proud to support the following charities.
Tickets
VIP Access Pass - Admittance to all activities, VIP swag, special recognition, and your purchase provides a student ticket for a young entrepreneur
General Access Pass - Admittance to all activities and swag
Student Access Pass - Admittance to The Author Showcase, workshops, and master-classes (Happy Hour and meals are not included)
The Author Showcase - complimentary
Happy Hour/The Merchant Showcase - complimentary
Subject to change without notice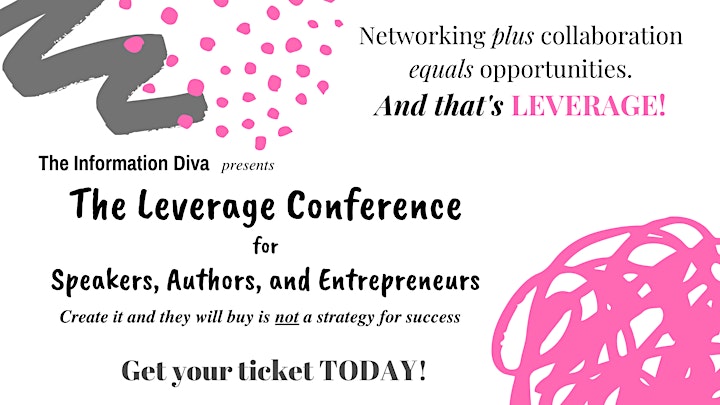 Organizer of The Leverage Conference for Speakers, Authors, and Entrepreneurs