Description
ONCE THE SHOW IS 100% FULL, GUESTS MAY COME TO THE PERFORMANCE SPACE TO BE PUT ON A STANDBY LIST. WE WILL OPEN THE STANDBY LIST AT 7:25PM
The Legacy Show #010
'Reinvention'
Hosted by blogger & motivational speaker Michael Ian Cedar
Want to feel inspired? This quirky take on storytelling events will entertain AND get you thinking about your life in new ways. The performers and presenters are all people who gave a middle finger to the status quo. If you want to leave something great behind, you will want to hear first-hand tales from those who are already making their mark.
The theme for this upcoming show is "Reinvention" – Michael Ian Cedar will give the role-models the opportunity to talk about how they gave their lives and their careers a second chance.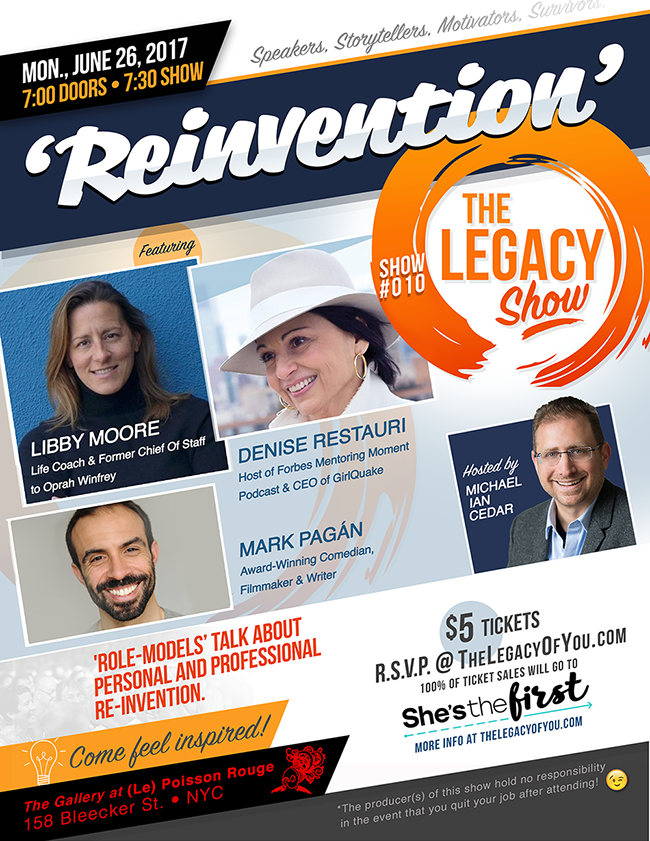 *The producer(s) of this event hold no responsibility in the event that you quit your job after attending this show.
---
Speaker Highlights:
---
Libby Moore
Life Coach & Former Chief Of Staff to Oprah Winfrey
Libby served as Chief Of Staff to Oprah Winfrey for 11 years, through the end of The Oprah Winfrey Show. She also worked as a consulting Producer with the original team that created the Emmy award winning, Super Soul Sunday on OWN, The Oprah Winfrey Network, Prior to her years with Oprah, Libby was an executive assistant to Jann Wenner of Wenner Media, publishers of Rolling Stone, US Weekly, and Men's Journal. It was a position she held for four years. Before the magazine world, Libby collected great stories through two years of random-crazy-NYC-freelance jobs, all while advancing through comedy improv workshops at Gotham City Improv, and performing in the sketch comedy group, Urban Side Effects. Before jumping into the comedy world, Libby was personal assistant to Maury Povich, who she credits for launching her Executive Assistant career, (even though she failed typing in College). Early in her career, Libby worked on Boston's North Shore in radio and print at: WFNX Radio, The Marblehead Reporter, and WNSH Radio. She currently lives a creative and inspired life, splitting her time between sweet spots on both the East and West Coasts as a Certified Life Coach, speaker/story teller, adventurer, and creative connector, who loves inspiring people to reconnect to Possibility in their life and career.
Denise Restauri
Host of Forbes Mentoring Moment Podcast & CEO of GirlQuake
Denise Restauri is a storyteller, speaker, writer and connector. As the founder and CEO of GirlQuake, a Forbes Media contributor and host of the Mentoring Moments podcast (Forbes On PodcastOne network), Denise is amplifying the voices of females from multiple generations and democratizing mentoring. Denise is the author of Their Roaring Thirties: Brutally Honest Career Talk From Women Who Beat The Youth Trap. She was the executive producer of the inaugural Forbes Women's Summit. She has been at start-up, speed-up and stay #1 companies in both digital and traditional media. Denise serves on the boards of female-led organizations She's the First and The Empowerment Plan. She's a guest lecturer at Stanford University and an honorary professor at Glasgow Caledonian University. Denise is a Tribeca Disrupter Foundation Fellow, has been named to numerous people to watch lists and has appeared on NBC Today, CBS Early Show, ABC News, CNN International and NPR.
Mark Pagán
Award-Winning Comedian, Filmmaker & Writer
After over a decade of failed monogamous relationships, Mark Pagán decided to try a new tactic and walk away from passion, desire, and companionship. What he didn't expect was how his trips to the optometrist would lead him back into dating. He is an award-winning comedian, filmmaker, and writer. A Moth Storyslam winner, his work and performances have been shown at festivals and shows worldwide including Slamdance Film Festival, Arizona International Film Festival, North Carolina Comedy Arts Festival, Charleston Comedy Festival, RISK!, The Moth, Upright Citizen's Brigade Theater, Story Collider, Peoples Improv Theater, and Magnet Theater.