Description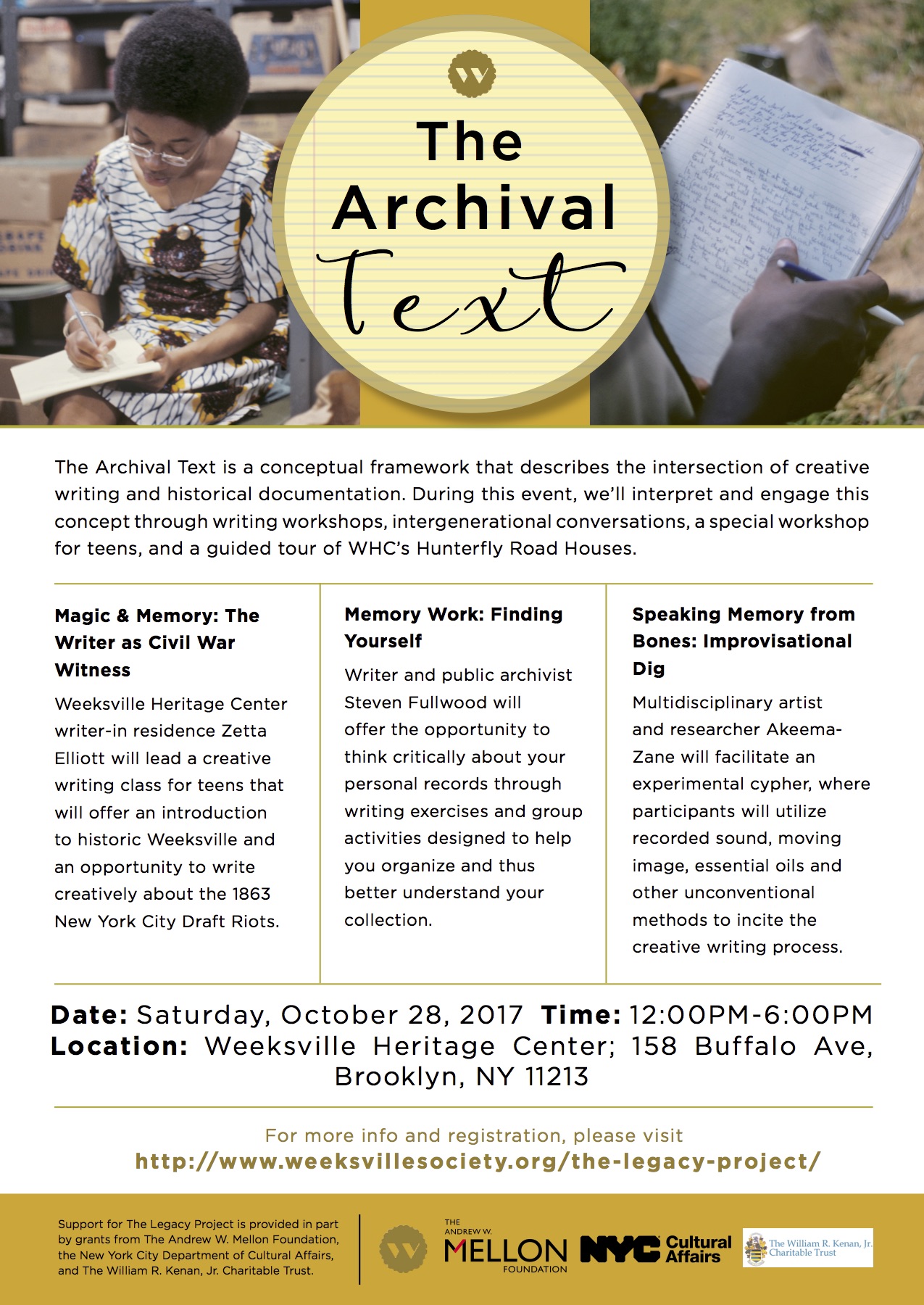 The Archival Text is a conceptual framework that describes the intersection of creative writing and historical documentation. During this event, we'll interpret and engage this concept through writing workshops, intergenerational conversations, a special workshop for teens, and a guided tour of WHC's Hunterfly Road Houses.
Space is limited, so registration is required for all workshops.
Opening - 12:00PM-12:45PM
Featured writers will read excerpts of their work; and Joyce LeeAnn Joseph (archivist, interdisciplinary artist, and Public Programs Manager for TLP) will share grounding remarks and provide an orientation.
Workshops - 1:00PM-2:30PM
Magic & Memory: The Writer as Civil War Witness -

Two-time Weeksville Heritage Center writer-in-residence Zetta Elliott will offer a creative writing class for teens. Designed for beginners, this 90-minute workshop will offer an introduction to historic Weeksville and an opportunity to write creatively about the 1863 New York City Draft Riots. Participants will read teenaged Maritcha Lyons' first-hand account of the riots and consider whether fantasy fiction helps African Americans to remember, reconstruct, and/or recover from the past.
Memory Work: Finding Yourself - Don't know what to do with those boxes of family papers, journals, work records, etc.? Writer and public archivist Steven Fullwood will help you. His workshop will offer you the opportunity to think critically about your personal records through writing exercises and group activities designed to help you organize and thus better understand your collection.
Speaking Memory from Bones: Improvisational Dig -

Multidisciplinary artist and researcher Akeema-Zane will facilitate an experimental cypher where artists can meet to compose. The workshop is concerned with the lyrical form, and participants will see archival excavation as one of infinite ways to evoke a creative writing practice. Centering the sensory and sensational, participants will utilize recorded sound, manuscripts, letters, moving image, essential oils and other unconventional methods to incite this process. Those who are adventurous and/or wishing to break through "writer's block," are especially encouraged to partake.
Lunch - 2:30PM-3:30PM
Informal conversations over a delicious meal catered by Tantz Catering.
Guided Tour of the Historic Hunterfly Road Houses - 3:45PM-4:45PM
Closing - 5:00PM-6:00PM
Collective processing led by Joyce LeeAnn, and participants can share written works and reflections from the day to the larger group.