Needed Now More Than Ever It's Time For A Change. If you keep on doing the same thing you will continue to get THE SAME RESULTS!
About this Event
The Legacy Conference
2020 Theme: Be Relentless
A recent study showed that a majority of Americans have less than $1,000 in savings, and even worse, most are just one paycheck or one illness away from filing bankruptcy or even worse, becoming homeless and having to depend on family, friends or the Government for handouts.
At The Legacy Conference 2020 – "Be Relentless" you will learn from various experts who will share their secrets and strategies on how they did it, and how you can do it too.
WHAT YOU WILL LEARN
• Learn how to build generational wealth for your family.
• Learn how to eliminate debt towards being financially debt free.
• Learn how to evolve dreams into a business, growing the entrepreneur mindset.
• Develop strategies that will enhance your business towards growth.
• Learn how to become an influence and dominate in your market as the expert.
• Gain the tools in being relentless in achieving the goals toward your success.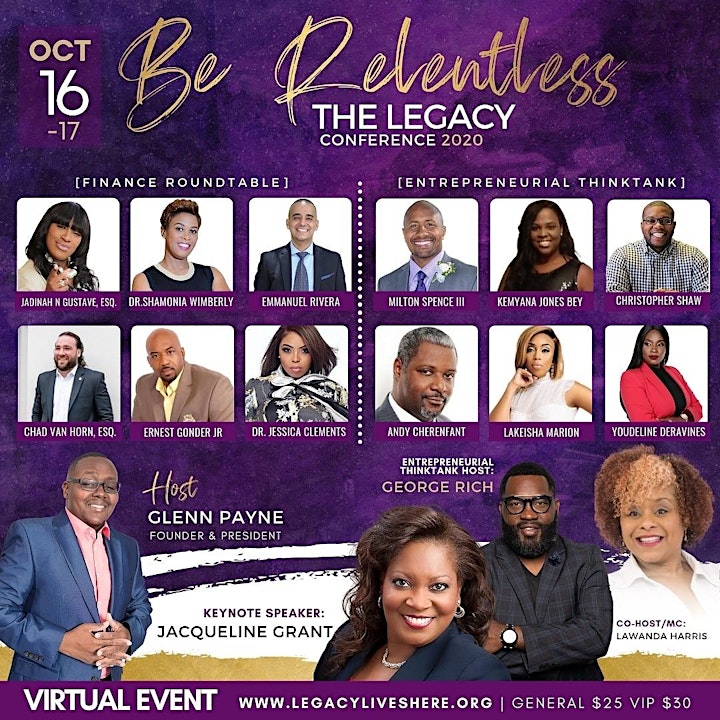 Date and Time
Location
Refund Policy