Description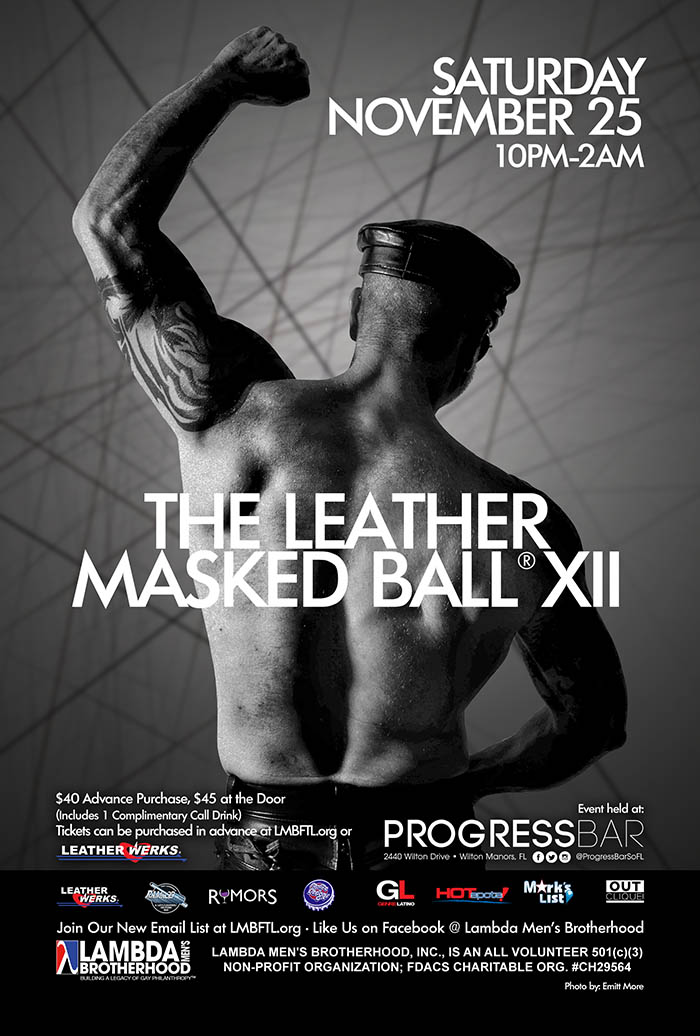 Lambda Men's Brotherhood is proud to present the 12th edition of The Leather Masked Ball®, South Florida's premier annual charity dance party event centered around the leather community. Join us for a night of serious beats, bondage demonstrations by the South Florida Minotaurs, and, of course, a sea of red hot leathermen.
All Access Admission to The Leather Masked Ball® XII includes one complimentary call drink (or domestic beer, wine, water, and other non-alcoholic beverages).
The Silent Auction returns to this year's event, so you'll also have the opportunity to bid on a unique assortment of auction items with proceeds going to our 2017 beneficiaries.
Bring a photo ID or your paper ticket and check in with a crew member at the entry when you arrive.
100% of ticket proceeds will benefit our 2017 grant recipients: Tertium Quid and The Leather Archives & Museum.
Since 2006, The Leather Masked Ball® and related events have raised more than $200,000 for non-profit beneficiaries including Care Resource, Pridelines Youth Services, The Pet Project for Pets, Tuesday's Angels, Stonewall Library & Archives, The Pride Center, Equality Florida, Pulse Victims Fund, and the Leather Archives & Museum in Chicago, & Tertium Quid.
For more information, visit our website, www.lmbftl.org, and be sure to Like us on Facebook. Have a question? Contact us at admin@lmbftl.org.