Actions and Detail Panel
The Learning Economy Summit
Wed, May 3, 2017, 8:00 AM – 4:00 PM CDT
Description
LEARN BETTER CONTENT MARKETING STRATEGIES WITH BRANDED EDUCATION
At the Learning Economy Summit, you'll spend the day connecting with world-class marketers and digital leaders. You'll learn proven content marketing strategies that put education to work for your business.
This exclusive one-day event will teach you how top content marketers produce and market branded education to generate engagement, leads, loyalty and sales while creating real impact on peoples' lives.
Want to use educational content to forge and deepen relationships? The Learning Economy Summit is for you!
---
WHAT YOU'LL BRING BACK TO YOUR TEAMS
How to Design Content That Truly Educates

9 CMO-Approved Ways to Win in the Learning Economy

Emerging Trends Driving the $91B Learning Marketplace

How to Create Societal Impact with Education

Why Learning Experiences Are Data Goldmines

How to Repurpose Learning Content Across Channels and Campaigns

Why Education is Perfect for Leveraging Influencers to Drive Credibility and Reach
---
SPEAKER LINEUP (MORE COMING SOON)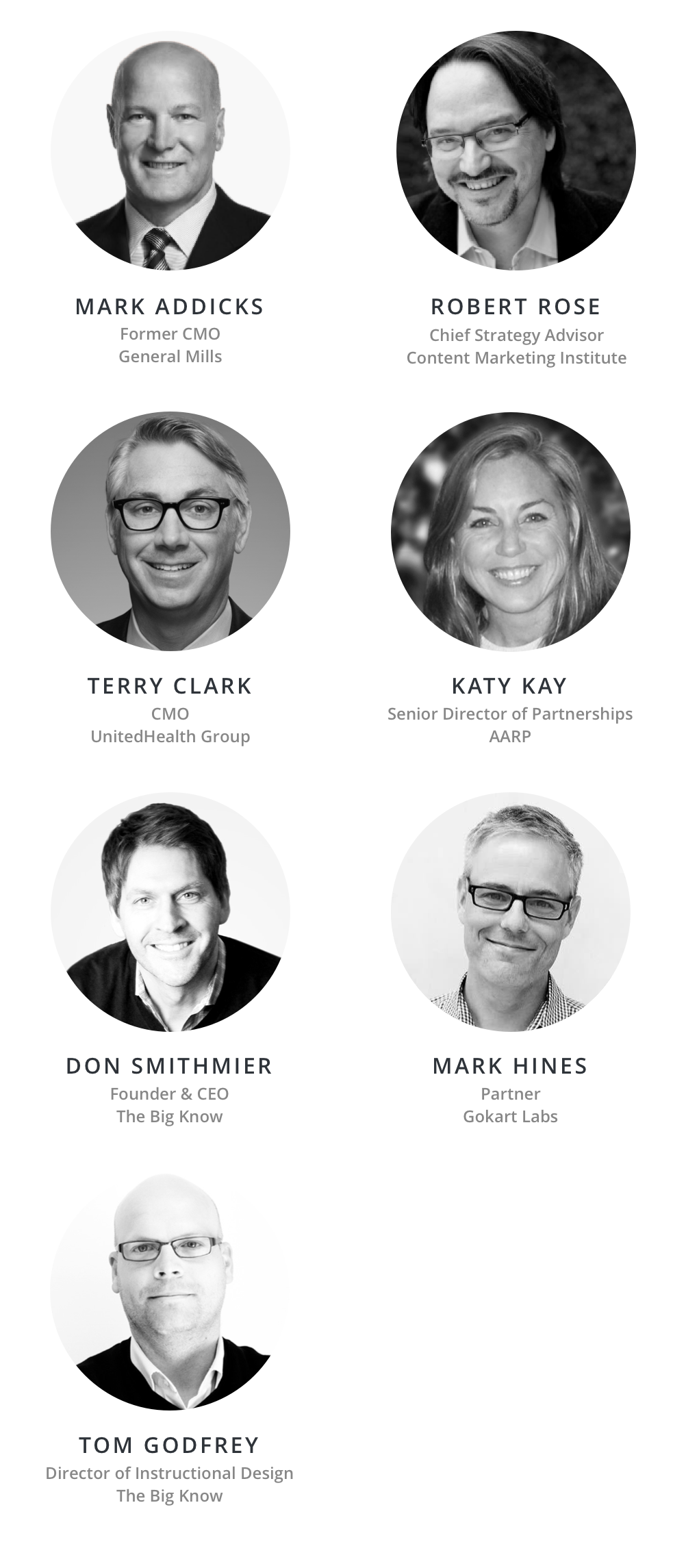 ---


WHAT TO EXPECT
Your ticket includes a full day of speaker presentations, networking, interactive discussion with other leaders, breakfast, lunch, snacks, swag, happy hour, and access to the recordings of each session upon request.
---
WHO SHOULD ATTEND?
LEADERS IN THESE AREAS
Brand Marketing

Content Marketing

Digital Strategy and Innovation

Influencer and Partner Marketing

Member Loyalty or Engagement

Talent Development or Engagement Directors
---


FAQS
WHAT IS THE REFUND POLICY?
Refund requests will be honored with no questions asked until Thursday, April 27, 2017. Please email marine.melin-johnson@thebigknow.com with requests.
DO I NEED TO BRING A PRINTED TICKET TO THE EVENT?
No. Registered attendee names will check in using their name on the morning of the event.
WHAT IS THE SCHEDULE FOR THE DAY?
8-9 Breakfast + Networking
9-9:10 Mark Addicks - Former CMO, General Mills
Welcome to the Summit
9:10-9:45 - Don Smithmier - CEO & Founder, The Big Know
Session One: Winning in the Learning Economy
As consumers find more ways to block ads, that same audience is flocking to online learning and driving a ton of economic activity. The new Learning Economy is creating an attractive white space for forward-thinking brands and marketers to forge and deepen relationships through branded education. In this presentation, Don Smithmier will share consumer insights from his career at the forefront of online education, including the last two years building The Big Know to help leading brands create, market and win with educational content.
9:45-11 - Mark Addicks - Former CMO, General Mills
Session Two: 9 Strategies for Branded Education
How can brands win with education? In this talk, Mark Addicks delivers 9 CMO-approved strategies for leveraging educational content to achieve ROI and foster deeper relationships. Mark will highlight ways to use branded education to power better member programs, enter new categories, extend credibility and reach with influencers and partnerships, underscore your product's value, and modernize market research with always-on insights.
Interactive: Pick Strategies & Co-invent Ideas for Your Business
11-11:15 Coffee & Snack Break
11:15 - 12:15 - Tom Godfrey - Director of Instructional Strategy, The Big Know
Session Three: How to Design Unforgettable Learning: Captivate. Educate. Activate.
The truth is, brand marketers are great at captivating. Grabbing attention ISN'T the problem. Every brand can drive views and clicks. But then what? What if you need minutes or hours of your customer's time? In this session, Tom will teach you a proven learning model called Captivate. Educate. Activate. You will learn how to identify opportunities for what to teach (that your audience will want to binge), then you will learn how a learning expert designs branded learning experiences to effectively balance learning outcomes with business outcomes.
Interactive: Mapping Learner Need States to Your Business
12:15-1:15 Lunch
1:15-2 Terry Clark - CMO, UnitedHealth Group
Session Four: The Evolution of Marketing: Brand as Educator
UnitedHealth Group is a distinctively diversified health and well-being company, and a leader worldwide in helping people live healthier lives. So what role does education play in helping them reach and engage consumers? As a pioneer in branded education, Terry Clark will discuss the evolving role it plays in UnitedHealth Group's marketing mix.
2-3 Robert Rose - Chief Strategy Officer, Content Marketing Institute
Session Five: Return on Audience: Rebooting Content Marketing into a Business Strategy
In this thought-provoking session, Robert Rose will tackle the Content Marketing ROI question and examine how modern companies balance near-term profits while investing for longer-term content marketing success. Through specific stories from leading companies, he'll highlight ways to organize the marketing function to deliver business value through educational content.
3-3:15 Break & Snack
3:15-3:50 Panel discussion
Session Six: The Evolving Role of Brands
Our panel of experts will further examine the evolving role of brand in today's consumer landscape. From the changing face of campaigns to new branded content forms like online courses, podcasts and films, who is succeeding and why? How should brands decide when to invest in or avoid new channels? And how should brands think about partnerships to create and market truly effective educational experiences?
Panelists:
Katy Kay - Director of Partnerships, AARP
Mark Hines - Partner, GoKart Labs
Robert Rose - Chief Strategy Advisor, Content Marketing Institute
350-4pm - Mark Addicks - Closing Thoughts
4pm - 530pm - Happy Hour at 1871