Description
Between the streetcar, Google Fiber, and co-working spaces, where does education fit into the mix?
What: The Lean Lab + #KCedu Third Thursday Meetup: City Innovations + Education Edition
When: Thursday, May 18, 2017 from 5:30-7:30PM
Where: EduHub (4049 Pennsylvania Ave #301, Kansas City, MO 64111)

Where does education fit in Kansas City's innovative future?
KEY FACILITATORS:
Adam Arredondo - As one of the original co-leaders of the Kansas City Startup Village, Adam has lived out his passion for building community over the past five years. As leader of CEED (and soon the Kansas City Startup Foundation), he oversees the MECA Challenge program that has hosted roughly 1,500 students and teachers over the last 18 months. This work has driven him to deeply explore education and changes needed to prepare students for a 21st-century workforce.
Kari Keefe - Executive Director of the Kansas City Social Innovation Center
Drew Solomon - Senior Vice President of Business & Job Development at the Economic Development Corporation of Kansas City
Interested in being a facilitator, demoing a relevant product, or sharing resources with the Lean Lab + #KCedu community? Contact Aditya Voleti (aditya@theleanlab.org)!
********
About The Lean Lab + #KCedu Meetups:
Join #KCedu and the Lean Lab every Third Thursday to network with genius educators, business partners, and other interested folks as you eat and drink, learn and collide!
5:30-6:00: Sign-in, food/drink, networking
6:00-6:15: Introductions and announcements
6:15-7:00: Unconference
7:00-7:30: Closing comments, continued networking

The format is about active small group networking and relationship building, not passive listening. CHOICE and VOICE! You'll be happy you plugged in to KC's vibrant educator network.
About the Organizers:
The Lean Lab is a community of educators, entrepreneurs and innovators who are growing, testing, and launching ideas to build the future of Kansas City education. Their fourth iteration of The Incubator Fellowship (an accelerator program that supports entrepreneurs to launch) begins Fall 2017. Stay up to date with all that they do in KC, and sign up for their newsletter here.
KCedu is a group of educators who know the importance of face to face collisions between educators and city/community friends! KCedu has hosted meetups for over two years, first at Kauffman Foundation and now at EduHub. We're excited to work with The Lean Lab and all the EduHub education organizations to make our meetups impact more educators and ultimately more kids!
Location:
We're networking at EDUHUB, in Westport, behind McCoy's and across the street from Kelly's and the Tivoli Theater. EduHub is on the third floor (Suite 301).
FREE Parking in the Manor Square parking garage or on the street.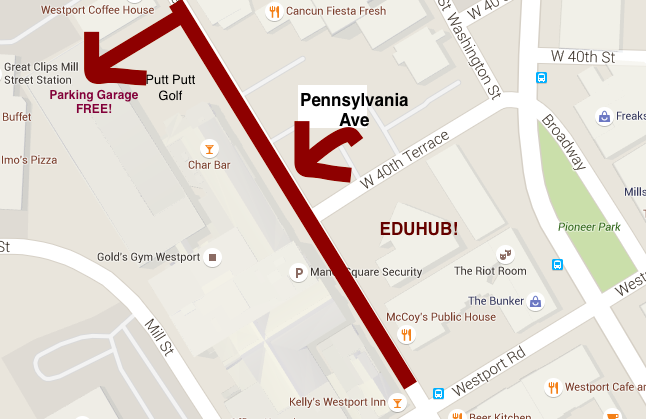 Tips for finding the parking garage: Turn onto Pennsylvania Ave between Kelly's and McCoy's Public House. Go past EduHub (on your right) and look on your left. As soon as you pass a putt-putt golf green you'll see a driveway to the parking garage!! If you miss it, you can drive around Westport Coffeehouse, turn left again, going through the grocery store lot, and you'll see the Mill Street entrance next to Golds Gym. If you enter from the Gold Gym side, look for doors to Tivoli Theater from the parking garage. You can walk out onto Pennsylvania and the building will be right across the street.