Description
The League: The Social Edition
The Inaugural Season begins September 18th 2017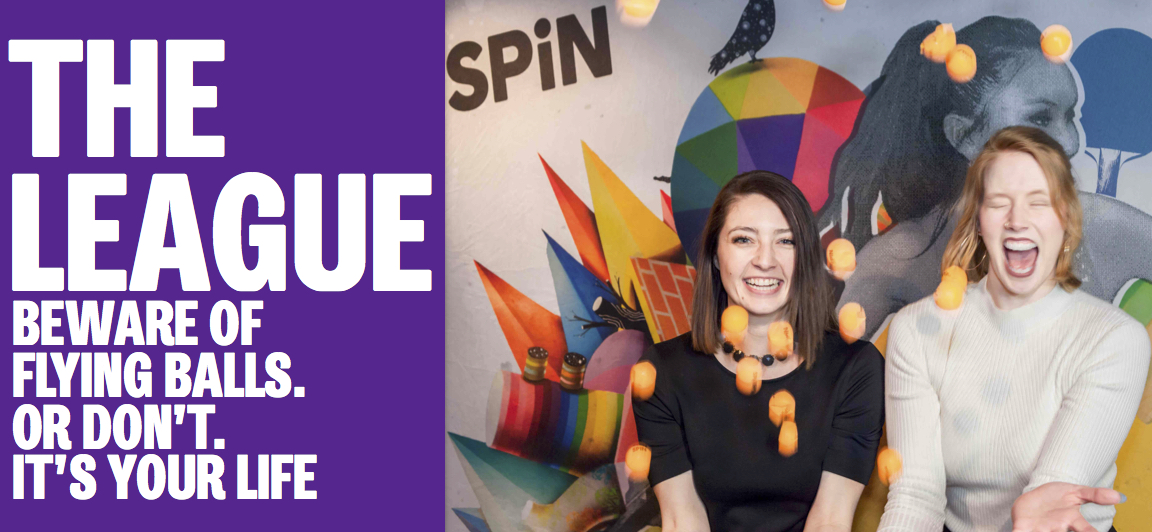 We get it. You might think you aren't the best at ping pong. But you know what you are the best at? Making Monday not feel like a Monday. That is what The League: The Social Edition is all about. Friends, drinks, food, smiles, and some good ol' fashioned competition. Take your stress out on some balls. Talk smack to your opponents. And most importantly, play.
How It Works
Every Monday

6-7PM - Warm Ups

7-9PM - League Play

9-12AM - Happy Hour deals and free table time for or League Members

9 weeks total

8 weeks of Round Robin Play

1 week of Play-offs

The League will be run by a ping pong professional. Feel free to ask for tips from our pro to ensure team domination. We will also have a SPiN host who is mostly there to make fun of your backhand. Be careful, she bites.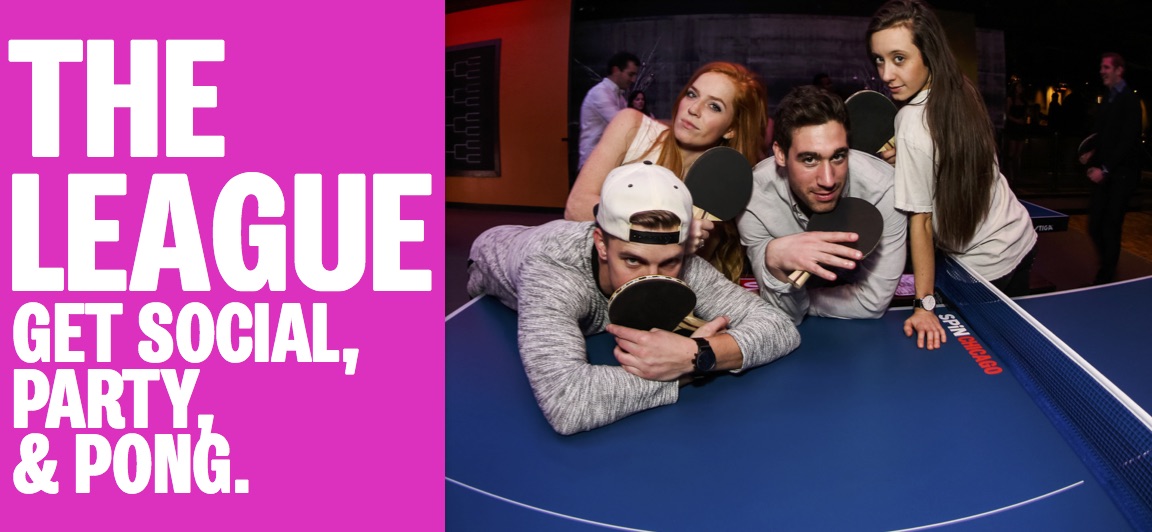 The Bonus Material
Happy Hour pricing after league play for all teams. $3 drinks and $4 food items will keep you going strong.

Free table time after League Play ends until we close the doors. That's a lot of pong.

Live DJs to make you dance

Themed nights. Thats right, you might have to bust out those disco pants from Halloween 7 years ago. Hope they still fit.

Every Sunday, you and your team members can come to SPiN and get free table time. Perfect your backhand or just mess around and enjoy a boozy brunch. Up to you.

Your very own League Card. It might not get you into the fancy country club, but who cares. You are too cool for that anyways.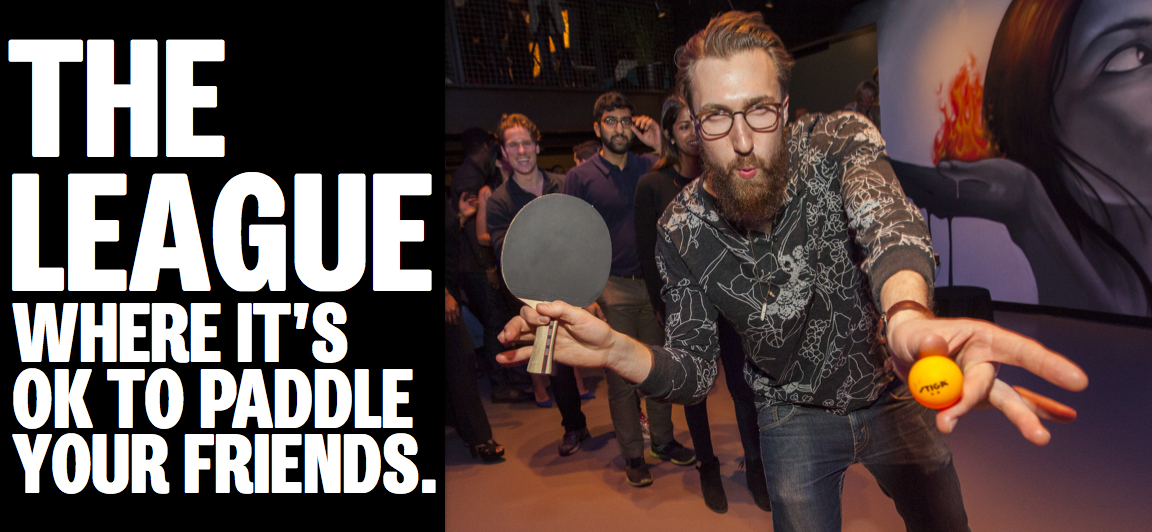 Getting Your Team Together
$600 per team to enter

4 members per team minimum

All teams must have at least 1 female competing every week.

We suggest getting at least 8-10 players total, no limit on how big your team is. It is always good to have back ups for when a few of your teammates decide last minute to take a trip to Iowa to see the worlds largest frying pan. Seriously, that is a thing. It holds 88 lbs. of bacon.

$150 for "Free Agents"

Are you flying solo? Looking to make some new friends? Maybe you don't like your current friends? We've got you covered. Snag the $150 Free Agent ticket and we will hook you up with a team for the season.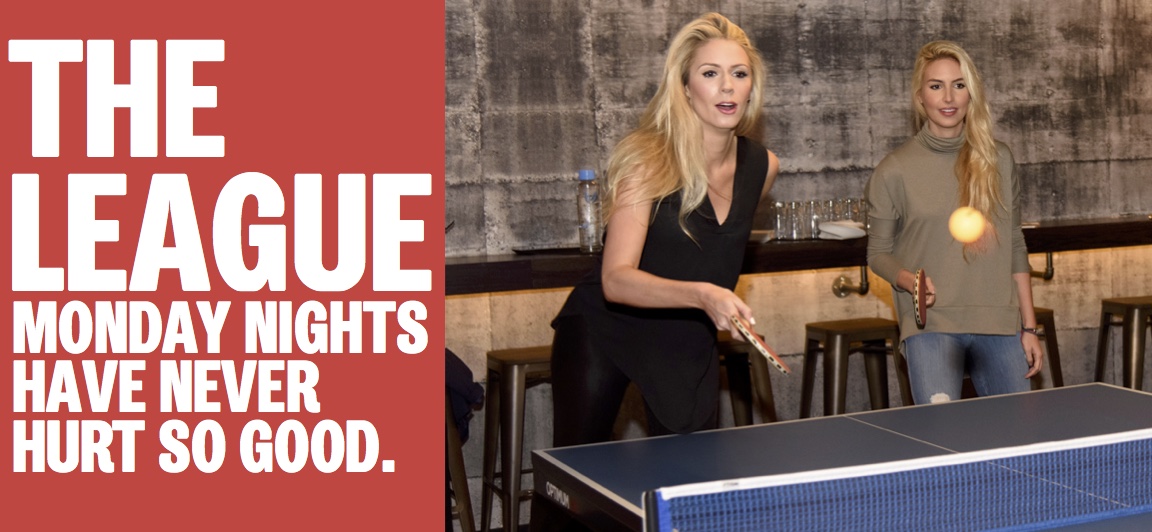 Game Play Format
Each week your team will play 3 different matches against another team. Each match is best of 3 games. Each game is up to 11 points. Service alternates every two points. Here is the kicker: at the beginning of the night, you submit your team's lineup. It's kind of like baseball, once the lineup is submitted you can't change it. After each set of two serves, the next person in your lineup is up.


Match 1: singles play

Match 2: doubles play

Match 3: singles play

After the 3 matches are complete, we move onto the Bonus Round. This is where things get a little weird. We like weird. A selection of different games, some of which are listed below, will be played each week:

The Run Around - nominate 1 team member to play in a musical chairs like pong game. You better be able to run, and fast

No Paddle Ping Pong - your opponent chooses any object that isn't a ping pong paddle for you to play with. Ever play a game of pong with a beer can? It isn't that easy.

Dodge Pong - it's just like dodge ball, only with ping pong paddles and balls. Hit your opponents to get them out. Last person standing gets the glory.

Your team will earn a point for every match you win, and bonus points for winning games in the bonus round.

At the end of the season, the winning team takes home a $500 gift card to SPiN, a very special trophy, a SPiN shirt for each team member, and of course, bragging rights.
*Game Play Format subject to change based off of number of teams and participants*