The Law and Policy of Cybersecurity Symposium
Description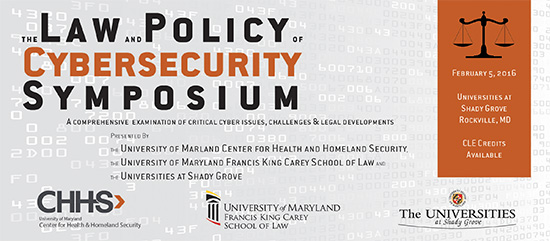 Cybersecurity is one of the top priorities

for government, the private sector, academia, and individuals.

It not only requires technical solutions, but must address critical legal and policy issues as well. Join the University of Maryland Center for Health and Homeland Security (CHHS), along with co-sponsors the University of Maryland Francis King Carey School of Law (Maryland Carey Law) and the Universities at Shady Grove, for this one-day symposium which will provide an introduction and current survey of the issues, challenges, and latest legal developments in the Law and Policy of Cybersecurity.

Speakers and Discussion Points to Include:
Chris Inglis, Former Deputy Director of the National Security Agency delivering the Keynote address

Ira Hoffman, JD, Counsel, Butzel Long on current cyber landscape; major legal and policy issues; emerging issues

Jonathan Litchman and Dan Caprio, CEO and Chairman, The Providence Group, on recent data breach case studies; risk management and response strategies

Matt Barrett, Program Manager Cybersecurity Framework, NIST and Jeff Kosseff, JD, Assistant Professor, US Naval Academy, on executive branch initiatives; NIST Framework walk-though

Nancy Libin, JD, Partner, Jenner & Block, on civil liberties and privacy in cyberspace

Markus Rauschecker, JD, CHHS Cybersecurity Program Manager, on major federal and state legislation; important court decisions
This symposium is designed to meet requirements for self-application for CLE credits in relevant states.
Free parking available | Snow date February 26, 2016 | Registration is open until February 3, 2016 or until space is filled.