The Launching Years: Strategies for Parenting from Senior Year to College...
Description
Community Parent Network, in partnership with the Vernon Area Public Library, presents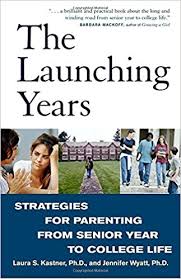 Target Audience: parents of high schoolers.
Please arrive early. SPACE is LIMITED. Seating is first come, first served.
Book signing will follow. The Book Bin will have books for sale before and after the program.
BACK BY POPULAR DEMAND!!

Dr. Laura Kastner is a nationally acclaimed and award-winning adolescent & child psychologist, University of Washington professor, and renowned author of five parenting books. In this evening presentation, Dr. Kastner will provide us with wisdom about important milestones in the lives of both teenagers and their parents.
Children today experience enormous pressure to become academic superstars, social successes, outstanding athletes and gifted performers. Myths abound about college preparation, and families can be negatively influenced by the pressures to produce stellar academic profiles. This presentation will focus on the parenting qualities that best predict emotional, social and academic competence in adolescents, as well as some of the developmental dynamics which makes parenting during these years particularly challenging.
Other questions that will be covered include:
How do parents decide between their child rearing priorities with what seem like competing interests? (e.g. homework, athletics, chores, social life)
With news stories filled with scary statistics about college admissions, how do parents avoid nagging their children about academic achievement?
What are the personal strengths in adolescents that colleges value the most? (which happen to be the ones we should care about the most too!)
How do parents best manage the child who seems to be a late bloomer or a slacker? How about the high-powered child who looks like she might burn out?
How do we handle our parental anxiety about our child's future when the stakes seem so high?
Praise for Dr. Kastner's work:
"Packed with engaging examples, fresh insights, and inventive strategies,
The Launching Years
is a brilliant and practical book about the long and winding road from senior year to college life. I plan to buy it for every college bound family I know." ~ Dr. Barbara Mackoff, author, Growing a Girl