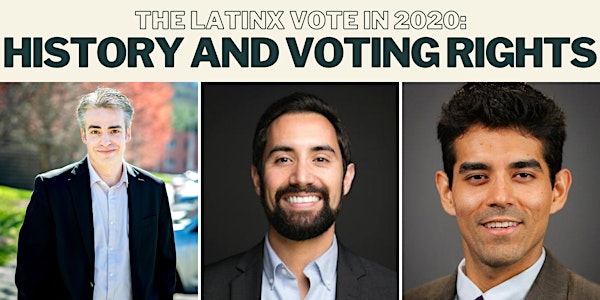 The Latinx Vote in 2020: History and Voting Rights
A conversation about the history of the Latinx vote in the U.S.
About this event
Free and open to the public.
The Center for Latino Research, the Center for Black Diaspora, the Departments of Political Science, Latin American and Latino Studies, African and Black Diaspora Studies, and History, and the Critical Ethnic Studies Program at DePaul University are hosting "The Latino Vote in 2020," a two-part symposium dedicated to the significance of Latinxs on the Presidential Election on November 3rd. This panel is the second installment of "The Latino Vote in 2020."
Historian Benjamin Francis-Fallon and political scientist Bernard L. Fraga will be in conversation with DePaul professor Joe R. Tafoya (Political Science, Latin American and Latino Studies) to discuss coalescence of a Latino voting bloc considering national diversity among Latinxs, as well as the barriers that block the Latinx, Black, and Asian American communities from voting and how to overcome their disenfranchising effects.​
Benjamin Francis-Fallon is a History professor at Western Carolina University and the author of "Rise of the Latino Vote: A History."
Bernard L. Fraga is a Political Science professor at Emory University and author of "The Turnout Gap: Race, Ethnicity, and Political Inequality in A Diversifying America."
Joe R. Tafoya, our moderator for this event, is an Assistant Professor of Political Science and affiliated faculty of the Latin American and Latino Studies Department. He specializes in Latino Politics and political participation.