Description
The Latinista Presents: Work, Travel & Wellness. A discussion with Olga Maria of Dreams in Heels and Latinas Who Travel.
Join The Latinista network on June 29th as we host an intimate discussion with travel expert Olga Maria.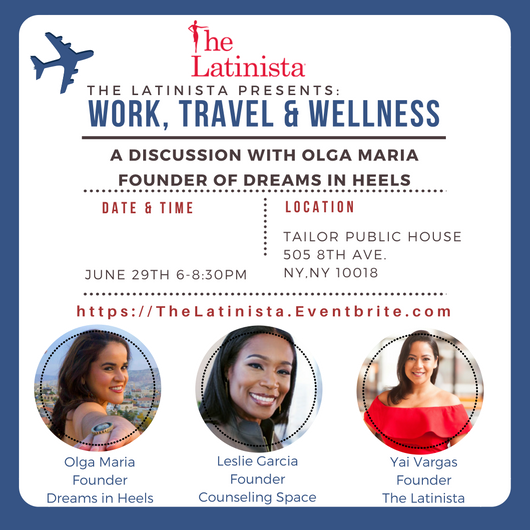 Event Details:
Friday June 29th from 6-8:30pm at The Tailor Public House & Kitchen
Olga Maria is a professional travel writer, storyteller and a full-time digital nomad who runs an award-winning solo female travel & lifestyle blog called Dreams in Heels, featuring travel tips, style, trending destinations, off-the-beaten-path recommendations, for varying lifestyles, to inspire people (especially women) to follow their dreams to live life to the maximum. She is also the founder of the Bilingual (Spanish/English) Travel Community, Latinas Who Travel, a community for Latinas to be encouraged to share their journeys since during her extensive travels around Europe, Asia, Africa, The Middle East, Latin America, The Caribbean, USA and Canada.
Olga will be sharing on:
- The cultral, physical and emotional benefits of traveling
- Travel lessons learned and gathered over the years
- Travel blogging: Best practices & tips
- How to work & travel: Getting paid to do so!
- How to maximize your travel plans: With family, friends or on your own
You'll also hear from Mental Health Educator and Consultant Leslie Garcia who will speak on balancing your work & travel while focusing on your mental health and wellness.

Leslie Garcia, LCSW
Founder of Counseling Space, PC and CEO of Motions, LLC
Leslie is a native New Yorker of Dominican heritage and a Wellness Advisor with over fifteen years of experience in the mental health field. With a passion for mental health and travel, Leslie built her main practice, Counseling Space, as well as CEO Motions Consulting, a wellness consulting boutique, both dedicated to guiding and empowering the women thought-leaders, change-makers, and entrepreneurs of today to lead and live with awareness while at home and abroad. Follow her on Instagram, Twitter, and Facebook @counselingspace and visit www.counselingpc.com or www.ceomotions.com to learn more about her services.
More about Olga & Dreams in Heels:
In addition to DIH blog and LWT community, Olga loves sharing her expertise, tips and story to inspire others, and has been featured in publications and sites such Forbes, Pop Sugar, Matador Network, Huffington Post, Univision, Telemundo, Latina Magazine, and many others. She is also the Travel Editor of Livid Magazine and has a travel video series partnership with Hiplatina.com.
Olga is a free-spirited New Yorker who was born with wanderlust and a passion for food, coffee, and wine. Her goal is to clarify myths and misconceptions about countries/cities around the world to inspire others like you to take the plunge into traveling abroad, by getting out of your comfort zone and experiencing the destination for yourself.

Olga believes that there are good people in every corner of the world and there are many different ways to experience travel, regardless of your budget, whether you're traveling solo, or just simply want to start by exploring your own neighborhood. Traveling can change your life and Olga Maria is dedicated to show you how, and inspire you to get started!
About The Latinista: www.TheLatinista.com
The Latinista was founded in 2012 with the mission of helping women like you invest in their career development through dynamic workshops. Today we offer a series of skill-building, activity driven, hands-on sessions, specifically designed to help you identify and sharpen those career and business skills required to achieve your ultimate goals.
#TheLatinista
Raffle Prizes to be presented throughout the night, Full bar & restaurant menu available to order.