Description
Join us on July 9th as we host a conversation for Women & Finances. All are welcome!
Meet 7 women who've made some significant money moves. They will share their stories and tips on how to develop a strategic financial plan and take advantage of the benefits you receive within your current organization. You'll also learn about the ability to create multiple streams of passive income by creating a simple plan and healthy financial habits. You'll also learn how your career and expertise can be an empowering financial money move.
With each ticket you will receive a signed copy of "Financially Savvy In 20 Minutes" from the International award winning author Natalie Torres-Haddad.

This evening's catering provided by: Salsa Caterers and dessert by Karina Bakes
We hope you'll join us - Hosted at the Financial Gym.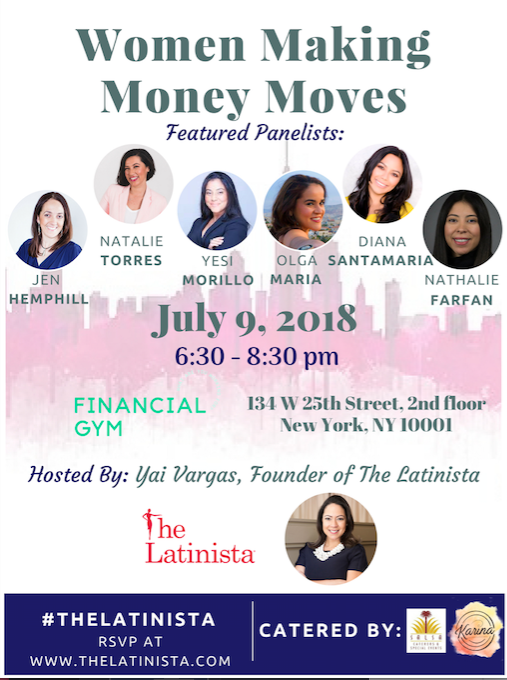 Jen Hemphill, a military spouse & proud bilingual Latina, helps women gain a renewed sense of control, confidence and freedom in their financial life with practical and simple approaches. She is a Money Confidence Coach, an AFC® (Accredited Financial Counselor), author and host of the Her Money Matters®Podcast.
Yesi MorilloGual is a former Wall Street executive and award winning Entrepreneur. She recently held a senior executive role in financial services and manages a nonprofit leadership development organization for women - all while comlletingher fourth degree and raising two teenage sons. A TEDx speaker, author and empowerment expert, Yesi works to empower others to rise up to their full potential.
Diana Lee Santamaria is an Educator and Award-Winning Children's author of a bilingual preschool learning series entitled DLee's World. With a Master's Degree in Early Childhood Education, Diana incorporates preschool common core objectives, diversity, playful verbiage, and developmentally appropriate learning strategies to help increase literacy and learning. The author has been featured on latina.com, El Diario NY, El Reporte Hispano along with many other publications.
Nathalie Farfan is an experienced content producer, fellow bruja, community organizer, and creative director who has worked for companies such as MTV, Complex, ESPN and BET. She's currently focused on disrupting the market by catalyzing an elevated conversation around decolonization of the women's mind through a community she founded called La Brujas Club and a podcast she co-founded called Morado Lens. IG/TW/FB: @moradolens & @labrujasclub
Olga Maria is a professional travel writer, storyteller and a full-time digital nomad who runs an award-winning solo female travel & lifestyle blog called Dreams in Heels, featuring travel tips, style, trending destinations, off-the-beaten-path recommendations, for varying lifestyles, to inspire people (especially women) to follow their dreams to live life to the maximum. She is also the founder of the Bilingual (Spanish/English) Travel Community, Latinas Who Travel, a community for Latinas to be encouraged to share their journeys since during her extensive travels.
Yai Vargas is founder of The Latinista, a national network of women and Latina professionals invested in professional development and career mobility. Today The Latinista offers a series of skill-building, activity driven, hands-on sessions, specifically designed to help identify and sharpen career and business skills required to achieve professional goals. The Latinista has chapters in New York City, Chicago and Miami. #TheLatinista