Description
Join us on October 15th as we host a conversation for Women & Finances.
Meet 5 women who've made some significant finance and money moves. They will share their stories and tips on how to develop a strategic financial plan and take advantage of the benefits you receive within your current organization. You'll also learn about the ability to create multiple streams of passive income by creating a simple plan and healthy financial habits. You'll also learn how your career and expertise can be an empowering financial money move.
With each ticket you will receive a signed copy of "Financially Savvy In 20 Minutes" from the International award winning author Natalie Torres-Haddad.
We hope you'll join us - Hosted at a private estate in Pasadena - exact location to be sent once you register.
All are welcome!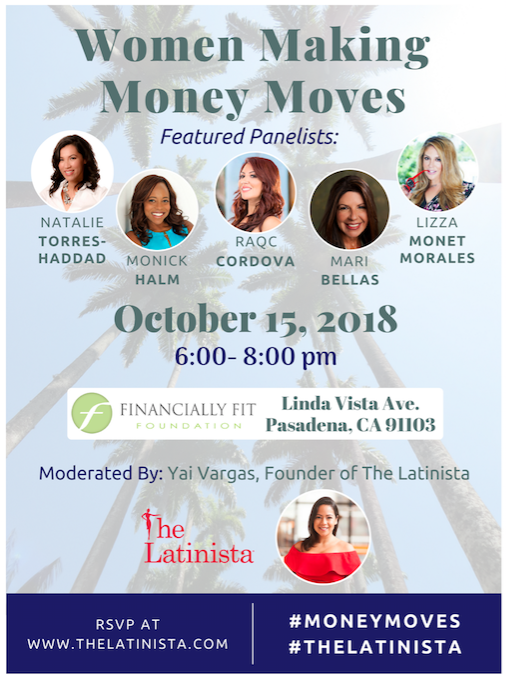 Natalie Torres-Haddad: TEDx Speaker, International Award Winning Author, workshop facilitator and an Real Estate investor. Raised in Inglewood she was surrounded by those facing permanent debt determined to be the exception by age 24 she bought her first rental property. Her mission to advocate for financial literacy and to uplift those feeling overwhelmed by debt.
LinkedIn: https://www.linkedin.com/in/natalie-torres-haddad-a23133118/
Twitter: @finsavvylatina
Instagram: @financiallysavvylatina
Monick Halm: Monick Halm is the founder of Real Estate Investor Goddesses, a community for women investors, a podcast host, and a #1 bestselling author. She's a real estate investor, developer and syndicator with over 13 years of investing experience. With her investors, she owns over 1100 doors across 6 states.
LinkedIn: https://www.linkedin.com/in/monickpaul/
Twitter: @monickpaulhalm and @goddessesrei
IG: @monickhalm and @reigoddesses
RaqC Cordova: Ball of energy, Radio & TV personality, Foodie/Adventurer, Entrepreneur, Author, founder of non-profit, Amigas4MySoul and Brazen By RaqC bilingual clothing and accessory line.
LinkedIn: https://www.linkedin.com/in/raquelcordova/
Twitter: @RaqCsWorld
Instagram: @RaqCsWorld
Mari Bellas: Award-winning author, bilingual/bicultural parenting expert, influencer, writer, and speaker. Over 20 years as the voice of Latino parents with her weekly parenting column, published by La Opinión newspaper in Los Angeles. Published in English and Spanish, was named a 2018 Latina of Influence by Hispanic Style, appearing regularly on Spanish language media, sharing her cultural parenting expertise.
LinkedIn: https://www.linkedin.com/in/maritere-rodriguez-bellas-b31b995a/
Twitter: @maritererbellas
Instagram: @latinaboomermom

Lizza Monet Morales: Actor, tv host, best-selling author and content creator in both English and Spanish. Won Best Live Broadcaster at the TECLA Awards in 2016 and 2017. Featured on the cover of Alegria magazine as one of the top Latina influencers in the U.S. and named by Twitter as one of their global #SheInspires women. Her clients include, but are not limited to, the GRAMMYs, Microsoft, Nike, Ford, Red Bull, Sears, AT&T and CoverGirl. She has also been featured on The Conan O'Brien Show, CNN and NPR.
LinkedIn: https://www.linkedin.com/in/xoxolizza/
Twitter: @xoxolizza
Instagram: @xoxolizza
Yai Vargas: Yai Vargas is founder of The Latinista, a national network of women and Latina professionals invested in professional development and career mobility. Today The Latinista offers a series of skill-building, activity driven, hands-on sessions, specifically designed to help identify and sharpen career and business skills required to achieve professional goals. The Latinista has chapters in New York City, Chicago and Miami. #TheLatinista
LinkedIn: https://www.linkedin.com/in/yaivargas/
Twitter: @the_latinista
Instagram: @the_latinista
About The Latinista: The Latinista is a national network of women and Latina professionals invested in career and leadership development. Join us! www.TheLatinista.com