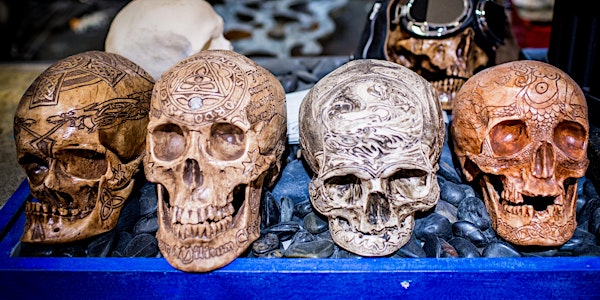 The Late Shift: Memento Mori
When and where
Location
Torpedo Factory Art Center 105 North Union Street Alexandria, VA 22314
Description
Second Fridays through October
The Art Center's signature evening series features eclectic art and activities. In among three floors of open artists' studios, find gallery receptions, stimulating artist talks, pop-up performances, hands-on projects, lively music, and more.
In October, we celebrate the opening of Memento Mori in the Target Gallery. Latin for "remember you must die," Memento Mori explores the concept of death and contemplates how this inevitability impacts us all. Gallery talk is at 8 pm.
Hands-on art projects and visual-striking art installations across the Grand Hall with Lalalu Mexican Art and Events by David Rosa. Body Painting Installation with Rebecca Rose . Interactive project "States of Being Traced" with Claire Brandt. Receptions for Seasonal Art Installations and Site 3. Tarot Readings by Capital Tarot Society. Opening Reception and performance in the Mason Arts Project Studio by Kate Fitzpatrick. Welcome the new Fall 2019 Post-Grad resident Katana Lippart. In Studio 5, The Omi Collective provides rainbow swirls and hands-on projects.
Pre-registration Requested
[zee_button size="lg" type="primary" icon="" url="https://www.eventbrite.com/e/the-late-shift-memento-mori-tickets-64390935020" text="Register Now"]
Exhibitions & Receptions
Target Gallery (Studio 2)
Memento Mori Opening Reception
Juror's Talk: 8 pm
The newest exhibition in Target Gallery explores death and the way it shapes life. Memento Mori, Latin for "remember that you will die," confronts this single most inevitable fact of all human existence. Juried by Laura Roulet, an independent curator and writer, specializing in contemporary and Latin American art.
Post-Grad Studio (Studio 319)
Welcome Katana Lippart
Katana Lippart is a collage artist and printmaker working in the DMV. She graduated from George Mason University with her bachelor's in fine arts in 2018. Katana hopes to be able to share printmaking, book arts, and collage with the surrounding community over the course of this program. These mediums have given her the necessary platform to reflect on both personal and collective narratives relating to home.
Mason Arts Project Studio (Studio 8)
Welcome Kate Fitzpatrick
Performance: 8:45 pm | Talk: 9 pm
Kate performs Wyrd Lot, based on the Norns in Norse mythology. Wyrd, Verdandi, and Skuld, are sisters of fate and caretakers of the tree of life. The three bring order into the human world by weaving the thread of fate for everyone. This performance is a play on the concepts of fate and meaning. Combining language and symbols with the idea of wyrd, points to how language determines identity and forms understanding of the world.
Site 3
Potomac Photography
Photographer Jo Ann Tooley curates an exhibition of photographs that capture the Potomac River as it curls through our region.


Gallery 311

Back & Forth
Paper art and photography by artists Rosa Leff and Sally Canzoneri.


Grand Hall & 3rd Floor
2019 Fall Art Installations Jean Jinho Kim and Katelyn Wood
Artists Jean Jinho Kim and Katelyn Wood are on view the 2019 Fall Art Installations. Curated by Jenny Wu, a D.C. based artist and curator and former 2015 Torpedo Factory Art Center Post-Graduate Resident. Both artists and the curator will be on hand to answer questions about the work and share about upcoming projects.
---
Hands-On Activities
The Omi Collective (Studio 5)
Rainbow Swirls
The Omi Collective will create a night of rainbow swirls of sight, smell, and sound. Swirl through curated color, sound, and aroma--luring you through the mystical heart journey down the rainbow path-a dreamscape filled with Naomi Christianson's Dragons, Unicorns, and Mermaids, Michael Fischerkeller's cosmic truths, and Fierce Sonia's fractal queens. The studio will also host Essential Botany's self love potion station and Sanam Emami's tarot and oracle readings.
Grand Hall Guest Artists
LaLaLu Mexican Art and Events by David Rosa
Inspired by the theme "Memento Mori," the DC-based arts and event teams of Lalalu Mexican Art and Events by David Rosa have teamed up with the Art Center to provide a series of art installations, activities, and a community discussion around Dia de los Muertos/Day of the Dead. This annual event celebrated in Latinx communities to honor the memories of loved ones that have passed on.
Ofrenda – Installation and Altar-Making Workshop


An 8 foot altar styled as a traditional

ofrenda

(offering) will be on display at the base of the spiral staircase in the North Hall. Organizers will lead families in a hands-on project where children and adults are shown how to build their own altars, which they can take home in the tradition of

ofrendas

offered by families during

Dia De Los Muertos.
Trajinera Parade Float – Art Installation
As featured in this year's DC Funk Parade, the

Trajinera

Parade Float will be on display for one night only in the Grand Hall. This larger-than-life art piece is a celebration of both the ephemeral nature of life and the importance of treasuring and uplifting the memories of those we love.

Face Painting
Have your face painted by professional artists. Take a selfie and post using the hashtags #a

rtsALX and #torpedofactory.

Community Coffin Painting Project
Every year, local DMV artists were invited paint a handcrafted wooden coffin. For this evening, one of these handmade objects will be set up in the Grand Hall for visitors to help paint and leave their mark. The finished w

ork will be showcased at

Lalalu

Mexican Art's and Events by David Rosa's November Festival in DC.

Community Discussion – Riverview Room (Studio 208)
7:30 pm and 9:30 pm
Learn a brief history of Dia de los Muertos, as well as the traditions and customs of this holiday as a means to unpack grief, develop safe spaces, and build as a community. Understand a culture that adds to the beautiful tapestry of the Alexandria and DC area, and find out how you can get involved.
Claire Brandt
States of Being Traced
Model strikes a pose for a minute or two while Claire makes a whole body trace. The portraits layer on top of each other, creating an accumulation of figures and a whole, abstract drawing that captures fleeting form and movement.
Rebecca Rose and Marcia Furman

Body Painting & Selfie Station
Inspired by La Calavera Catrina of Dia De Los Muertos and the theme of Memento Mori, watch as Rebecca and Marcia transform two models into living calaveras before your very eyes. Pose between the living sculptures for a selfie that you can share with friends! Remember to use the hashtags #artsALX and #torpedofactory.
The Capital Tarot Society
Tarot Card Readings
Visit the Grand Hall to find tables for a free reading provided by the Capital Tarot Society.
About the Artists
KATE FITZPATRICK
Kate Fitzpatrick is a painter, MFA candidate, and Graduate Lecturer at George Mason University. Her work challenges the viewer to think about the nature of language, symbols, and meaning. Instead of replicating known letters or rearranging words to make new meaning, she uses marks to simultaneously deny transfer of information and invite the viewer to create new meaning. The viewer observes the "postscript" and becomes the foreigner, experiencing a new language for the first time. The unintelligible calligraphy functions as writing and it is our inability to unlock the information contained in those marks which invites a dialogue about the nature of language and meaning. We can enjoy the formal qualities of the letters and how they're put together, but cannot fathom their intent. Because of this, we can appreciate the text as a container but are left with letters that don't function as they should. Fitzpatrick's postscript invites a dialogue about the relationship between symbols and meaning that viewers can use to create a new reality.
The Capital Tarot Society (CTS) is a diverse group of Tarot enthusiasts in the Washington DC area whose members include everyone from hobby practitioners to experienced professionals, and individuals from all industries and parts of the world. CTS hosts monthly meetings and additional events where those interested in tarot can come to learn and share, and also provides free tarot readings at community events in order to educate the public about this beneficial and often misunderstood practice.  If you have any questions about CTS or are interested in membership, reach out to capitaltarot@gmail.com. 
The Omi Collective provides artist-inspired fashion and design products to consumers seeking unique, authentic, and artful items to inspire, and add to, their personal style. They maintain mindful and conscious support for the artists who create them. Stop by Studio 5 for hands-on projects with the artists and see their brand-new mural design on the studio floor.
Claire Brandt's work has been shown in Seattle, Los Angeles, the Bay Area, and Washington D.C.. Brandt has been awarded residencies at the Horse and Art Research Program, Jentel Arts Foundation and the Vermont Studio Center. She received her A.B. in English and American Literature from Harvard and an MFA in painting from the San Francisco Art Institute. She was raised in Bellingham & Tacoma, Washington.
Rebecca Rose is a Washington, DC based artist whose focus is on painting both the human body and the traditional canvas. To Rose, body painting is about self love, self acceptance and being comfortable in the skin you are in. It's a celebration of life.
Marcia Furman is a Washington, D.C. based artist who has 15 years of experience in making art her job. Marcia graduated with a degree in Graphic Design, but her passion and claim to fame has been her surrealist fine art, predominantly done in acrylic. She has recently branched out into watercolor and other media, often focusing on more realistic themes, proving herself to be well-rounded and skilled in a variety of styles and techniques.