The Day of the Girl Benefit 2020 will honor abolitionist leaders who have made a difference in the fight against sex trafficking.
About this Event
About The Last Girl Award
These awards are presented to leaders who are multi-faceted and courageous. They apply their resources around them, their time, and their skills to not only advance us in our struggle to end sex trafficking, but they do so in such creative and exemplary ways. It is so inspiring to watch them transform activism in their respective industries. We must honor them and share this with the world, as they define what it means to be a modern-day abolitionist.
The Last Girl, is the most vulnerable of human beings, the 13-year old in a brothel or the 19-year old shivering at a street corner. She is bought and sold because of her lack of choices. She is poor, female, colored, Black, or of an oppressed caste or ethnicity. These intersecting inequalities cut her off from her basic needs of adequate food, housing, education, and protection from violence. The Last Girl honors those who stand by such girls and champion their cause. Past honorees have included Ashley Judd, Sybil Orr, Rosanna Arquette, Frieda Pinto, Fisk Johnson, Dorchen Leidholdt, Simone Monasebien.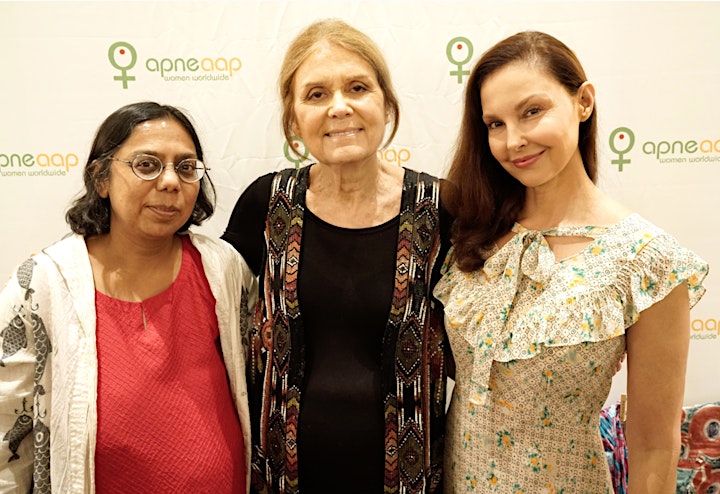 This year our honorees are Gloria Steinem, feminist activist and writer, Ms Kaitlyn Bogyay, UN Ambassador, Cheryl Saban, Philanthropist , Vikas Khanna, Michelin Star chef and humanitarian, T Ortiz, human trafficking survivor and professional orator and the Team of Priya and the Lost Girls comic( Ram Devineni, Dipti Mehta, Syd Fini and Neda Kazemifar)
Event Leaders
CHAIRS
Rosanna Arquette
Ashley Judd
Sybil Orr
HOST COMMITTEE
S. Mona Sinha
Francesca Toscano
Robert Toscano
Ion DelaRiva
Irena Medavoy
Jounghoon Lee
Ruchira Gupta
Neha and Neil Vashi
MT Carney
Nandana Sen
Vinita Belani
About Apne Aap:
Apne Aap is a not-for-profit founded by Emmy-winning journalist, Ruchira Gupta, with the mission to end sex-trafficking. Since its foundation in 2002, it has supported thousands of girls and women exit prostitution systems in India as well as pioneered laws and, policies in the United Nations, India, USA and governments across the world. It has official consultative status with the United Nations. Its work is being archived at Stanford University
To learn more visit: http://www.apneaap.org/
To donate: https://www.apneaap.org/donate