Event Information
Location
Work In Progress Coworking
317
South 6th Street
Las Vegas, NV 89101
Description
RE-OPENED! Feel free to RSVP & show up. There is still room in the workshops! :D
The largest game development event in Las Vegas returns in its second year to bring people together to create videogames over a weekend!
The Las Vegas Summer Game Jam is a two-day education event and competitive "hackathon" for anybody interested in game development. The event features on-going workshops taught by proffesional developers as well as pizza, prizes, and plenty of opportunities to learn from and meet real game developers.
Workshops taught include introductions to Unity, Unreal Engine, 3D Modeling, Animation, Game Monetization, and MORE.
If you're coming, you can start the jam early by collaborating & finding team members on CrowdForge!
https://crowdforge.io/jams/lasvegassummergamejam
Workshops & Classes
---
Event Dates & Times:
August 25th & 26th
Saturday 10am - 10pm | Sunday 10am - 10pm
---


Sponsors & Giveaways
SideFX has provided Houdini Indie licenses for our game jammers to use before, during, and after the game jam
Get your Indie License in Houdini right now here: https://goo.gl/forms/sQBgXXrpAmRNSsm93
This event is free thanks to the generous support of Dotware Games and NeONBRAND.
FAQs
I'm interested in game development, but I'm a begginner. Is this event for me?
This event is especially for you!
Typically, the intermediate to advanced developers who have experience will focus on the competition aspect of the event during Saturday and Sunday, using the time to form teams and begin development on a project for Sunday night's voting, while beginners like you will spend their time in the workshops learning how to make games by proffesional developers.
What are my transportation/parking options for getting to and from the event?
Downtown Las Vegas has lots of paid parking lot options, including a paid lot behind the Work In Progress Building.
What can I bring into the event?
If you plan on participating in the competition, you should bring your own laptop or desktop computer you can setup. The workshops are practical, hands on development, so plan on bringing a laptop to the workshops with the nessessary software installed (which will be emailed out ahead of the event.)
Do I have to bring my printed ticket to the event?
Please bring either a printed or digital ticket from eventbrite (i.e. on your phone) with you to the event once registered so we can sign you in.
---
Workshops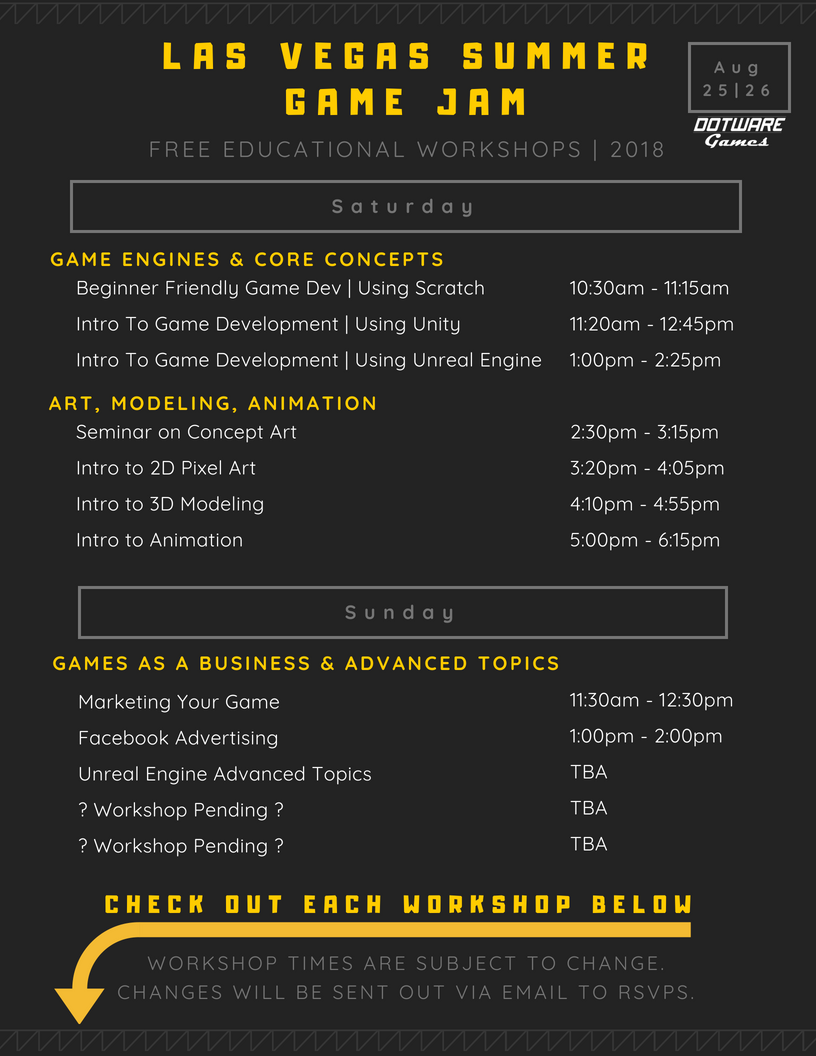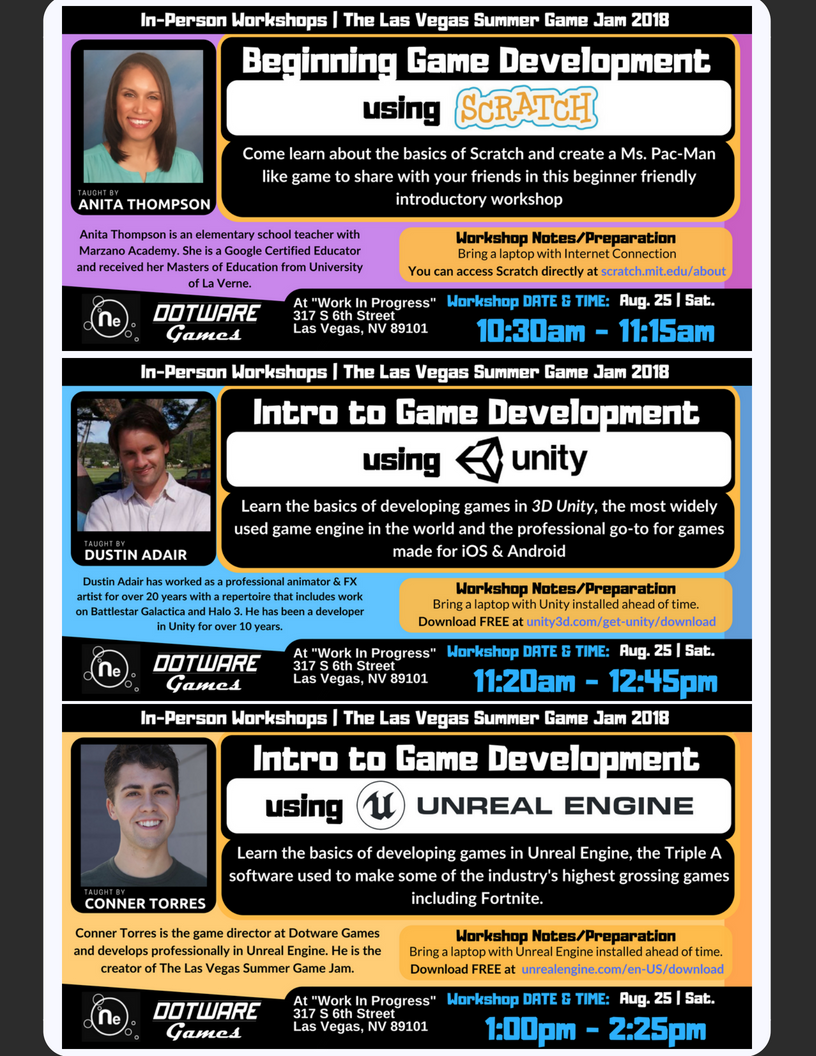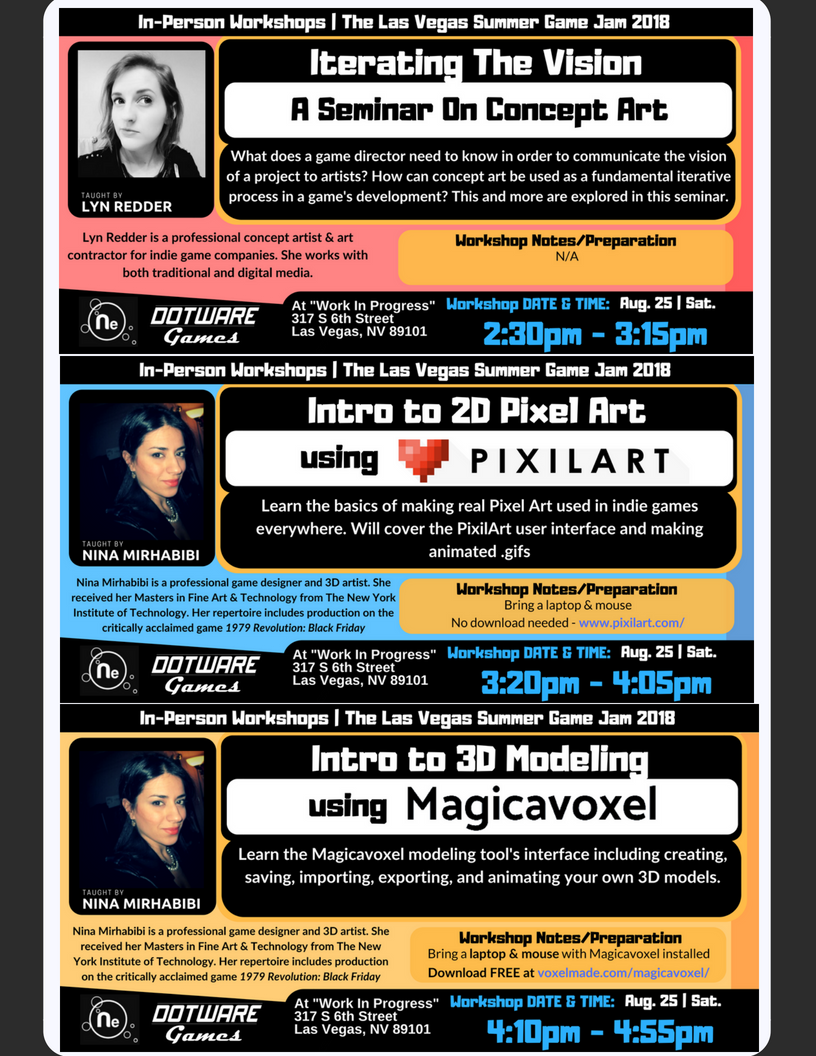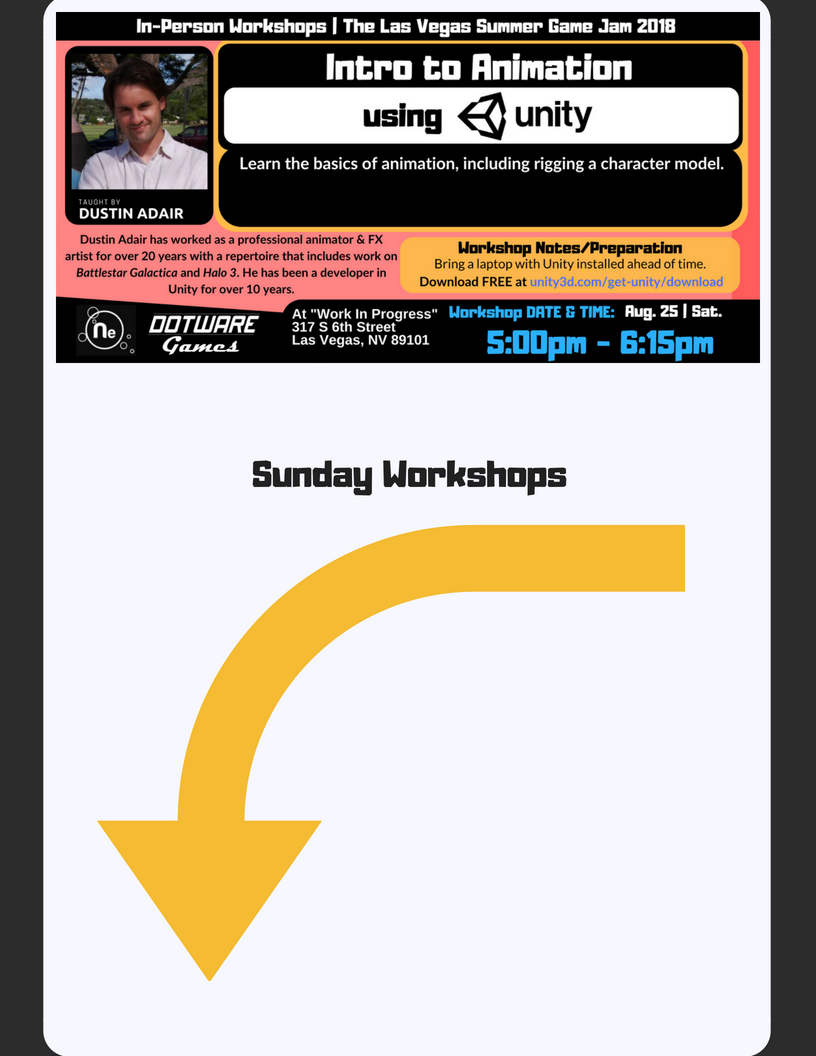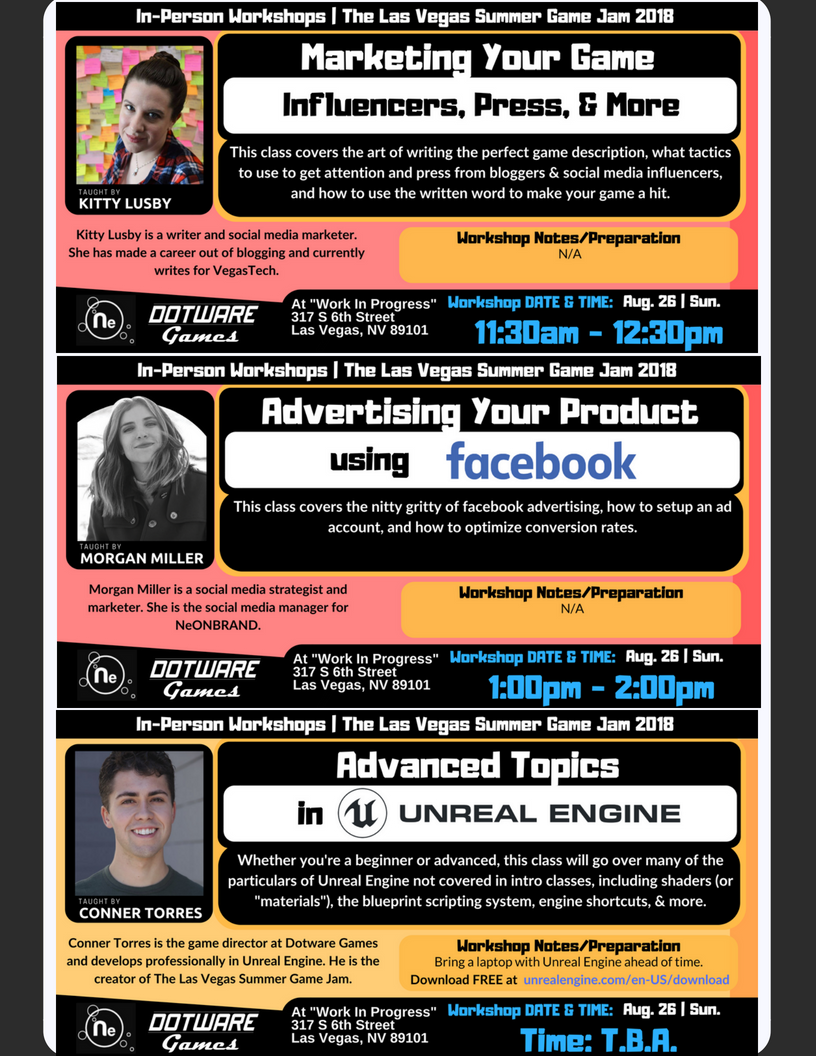 ---
Dotware Games is a games studio run by Conner Torres in Las Vegas, NV and is the creator of the Las Vegas Summer Game Jam and Game Developers' Gallery at NAB SHOW. For more information, visit dotwaregames.com
Date and time
Location
Work In Progress Coworking
317
South 6th Street
Las Vegas, NV 89101