The Largest Online Photo Mosaic

Monday, December 31, 2018 at 11:30 PM

-

Tuesday, December 31, 2019 at 2:30 AM (PST)
Event Details
Join the largest online photo mosaic
This is a once-in-a-lifetime opportunity to participate in an event that will establish a world record. You will leave your footprint in history while honoring your pets. In addition, the pet mosaic will raise funds to build a sustainable veterinary clinic that will provide free pet surgeries and treatment. 
Event organizer Yuriy Seretskiy is inviting everyone to join the largest online photo mosaic, and leave your footprint in history. The pet mosaic will be featured on news broadcasts and will never be removed from the internet. No additional submissions will be accepted once the project is completed. 
"The footprints we leave behind are as important as the path we follow" - Lori R. Lopez, "Dance of the Chupacabras"
One of the most important decisions a pet owner will make is choosing the animal hospital or clinic during a pet health emergency. Every year, 1 in 3 pets need emergency vet care. However, less than 1% of pet parents have pet insurance even though healthcare costs are increasing faster than human healthcare. 
Despite having the best intentions, not all pet owners can afford the high cost of veterinary care. On average, dogs visit a veterinarian almost three times per year. Additionally, 33% of pets need emergency veterinary care, and one-third of dogs get cancer in their lifetimes, with treatments costing over $10,000. No pet insurance company covers a pet's pre-existing condition. 
Recently, pet owners have turned to crowdfunding sites to raise the money needed for their pet's medical needs. Crowdfunding campaigns often provide a thorough description of the pet's medical condition, the treatment procedure, and the costs associated with it. Yuriy understands such concerns. As a pet owner himself, he knows how painful it is to lose a pet from an illness. 
"Don't judge each day by the harvest you reap, but by the seeds you plant" - Robert Louis Stevenson
Yuriy came to the United States 23 years ago with his dog Sindy, who was his constant companion and beloved friend. This project is very personal to Yuriy because of the bond he shared with his dog. With this project, Yuriy aims to help pet owners avoid the painful loss of their pets due to unaffordable medical costs. 
While Yuriy considered funding individual surgeries he discovered on crowdfunding sites, he quickly realized that choosing the pets would be random and that his funds would only help a small number of pets. That was when he thought of this project. 
The world record photo mosaic will raise funds that will enable pet owners to get free medical treatment for their furry family members. Yuriy plans to invest $150,000 in the project which will build an animal hospital that provides free surgical procedures. The venture will also pay the salaries of two full-time veterinary surgeons. The money that will be raised during the campaign period will be added to Yuriy's initial contribution. 
The animal hospitals will be established throughout California and will be open for service once the funding goal is reached. Treatment will be made available to the public, and anyone can receive free medical care for their pet. 
How it works
The sustainable pet hospital's costs are paid by the operational model, not according to the individual medical procedures. The veterinarians are paid to perform surgeries and to provide care. The cost is not passed down to the pet owners. 
Together, two full-time veterinarians can perform approximately ten surgeries per day. If the average surgery cost charged to a pet owner is $10,000, then the total price of those ten surgeries would be $100,000. The estimated monthly cost to pet owners would have been $2 million, and the yearly cost would have been around $24 million. 
Over time, the financial impact of Yuriy's hospital will be exponentially greater than selecting lucky recipients right now with his $150,000, or even the money raised from the world record setting photo mosaic. 
In our model, we can provide free surgery to animals who are in need. There is a GoFundMe category devoted exclusively to raising money for pet care, https://www.gofundme.com/pet-animal-fundraising. Our animal hospital could clear these cases plus many, many others in the years that follow. 
How you can contribute to the project
The sustainable veterinary hospital will be funded by participation in the world record setting sharable and searchable online photo mosaic. It will be featured on news broadcasts throughout the world and will never be removed from the internet. No additional submissions will be added once the mosaic is completed. 
Yuriy organized the current world record photo mosaic, a 2017 event celebrating Kishinev, Moldova's 479th anniversary that contained over 300,000 photos. 
The new world record photo mosaic aims to include at least 1 million user-submitted pet photos. Together, the submissions will make up the following image: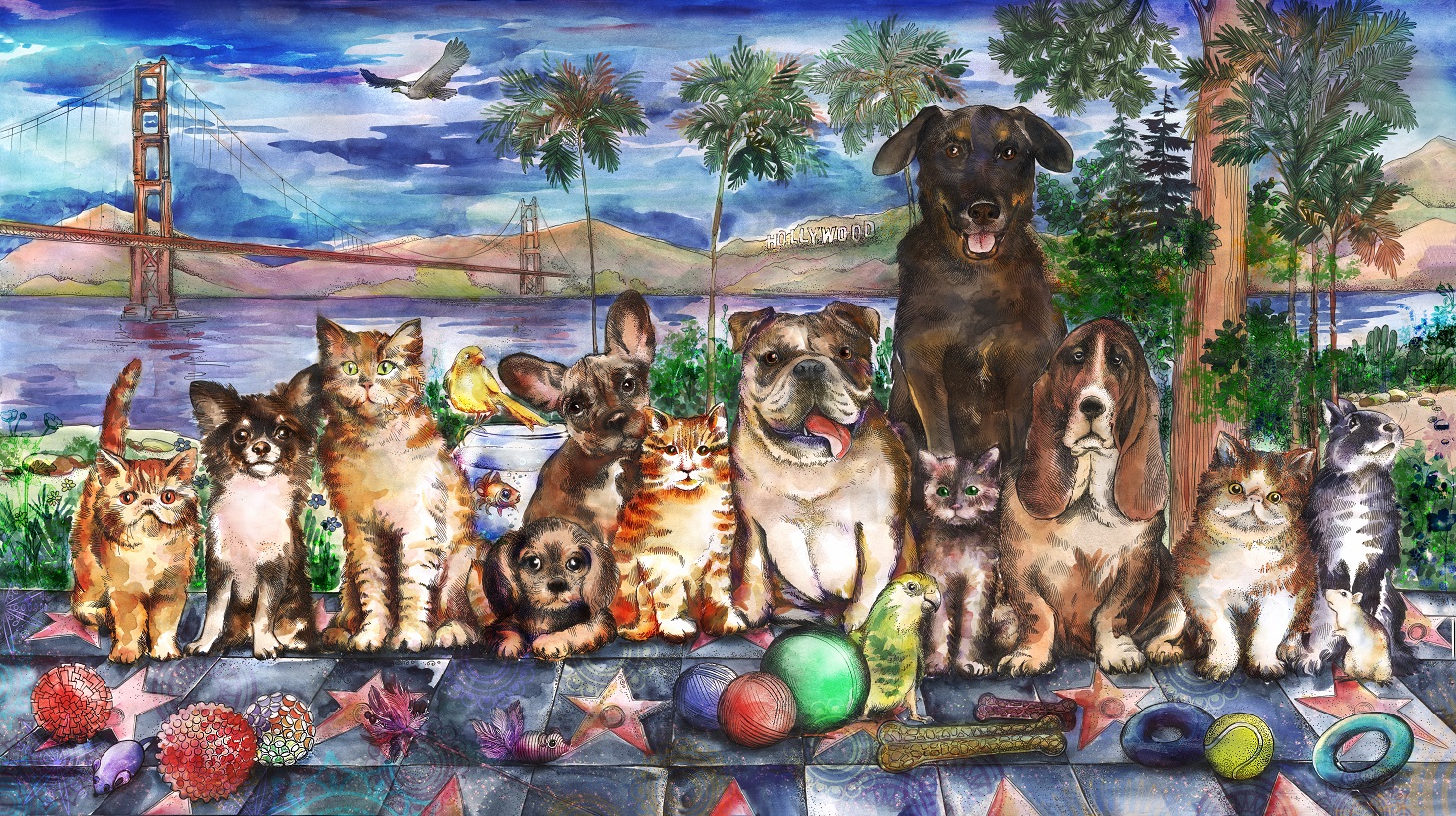 Yuriy has organized numerous world record-setting events, including the Moldova mosaic, the largest reading lesson (set in San Diego), the most people doing push-ups (set in Orange County, California), and many more.

 While some crowdfunding projects reward donors with bumper stickers or shirts, Yuriy wants to give contributors something more unique and meaningful: the peace of mind that comes from knowing that their generosity helped save a pet's life.
FAQ 
Q: Why pets?
     A: Yuriy came to America accompanied by his beloved dog, Sindy. Yuriy has known people who have dealt with the painful loss of their pets following illnesses. He is motivated to effect change in any way that he can to avoid such pain. He would be happy to save one or even a dozen pets, but he knows that he can do so much more by creating a sustainable pet hospital that provides free veterinary care. 
Q: Where is the hospital going to be?
     A: We envision this model being established throughout California. 
Q: When will the hospital open?
     A: We will provide a loose timeline once we hit our funding goal. 
Q: Can anyone come into the hospital for surgery? 
    A: Yes. These surgeries will be provided for free and made available to the public.
When
Monday, December 31, 2018 at 11:30 PM

-

Tuesday, December 31, 2019 at 2:30 AM (PST)
Add to my calendar
Organizer
Yuriy Seretskiy – Philanthropist and event organizer
Yuriy has organized numerous public events and has set nearly 40 world records. His events have been featured in local media and were covered on the internet. Yuriy organized the current world record for the most participants in a photo mosaic. He organized and publicized the 2017 event where over 300,000 photographs were included in a mosaic honoring the 479th anniversary of Kishinev, Moldova.