About this Event
The Lanes Coffee Festival is designed to be a celebration highlighting Brisbane's Specialty Coffee Community. All the best Coffee Suppliers, Cafes and pop-up bars will be scattered around the lanes to make an amazing caffeine infused Saturday. Stalls will be full of unique coffee experiences, through to espresso martinis and drinks in the evening, with music and events happening throughout the day on the main stages.
__
WHO'LL BE THERE?
The New Black
The Black Lab Coffee Co
TheMonday
Slide Coffee
Coffee Supreme
DoughLord
Cakes and Shit
Reverends Fine Coffee
King Tiki Bar
Archer Specialty Coffee
Single O
Hospopreneaurs Podcast
Wolff Roasters
Fonzie Abbott
Grinders Woollongabba
The Bowery Bar
Padre Coffee
Ezicaf Solutions
Bear Bones Coffee
Native Supply Co
Nitro Brew
Told You So
No.5 Cafe
Ltd Expresso + Brew Bar
Giardinetto
The Stand
Cravve Chocolatiers
Neighbourhood Coffee Roasters
Raw and Rice
TSO Lounge & Dining
__
EVENTS + MASTERCLASSES
3PM - 5PM Latte Art Smackdown at The Lanes Coffee Festival 2019 | California Lane Main Stage - apply here
[Sold Out] Masterclass | How to Make Coffee Cocktails at Home - The Bowery
[Sold Out] Masterclass | How to Make Cold Brew - Ltd Espresso + Brew Bar
[Sold Out] Masterclass | How to Make a Pourover Coffee - Reverends Fine Coffee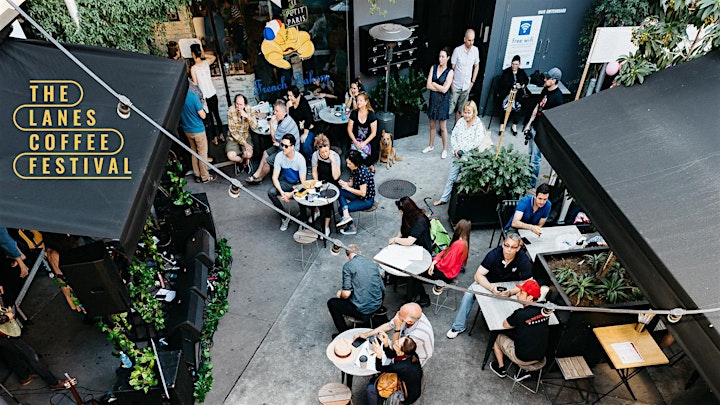 Tote Bags [sold out] - Pre-register your free tote ticket today to receive a limited edition tote bag as you arrive at the festival (to be picked up from California Lane entry). [now sold out]
TheMonday Tours [sold out] - If you'd like the VIP experience ensure you grab a ticket for TheMonday Coffee tours which will be held across the day. These will give you access to exclusive experiences.
See you there!
Saturday July 27th, 2019
10am to 10pm
California Lane / Bakery Lane / Winn Lane