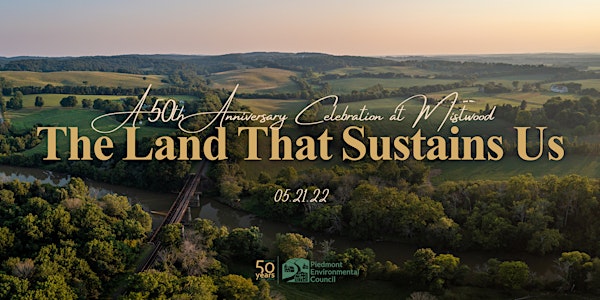 The Land That Sustains Us – Featuring Keynote by Terry Tempest Williams
Location
Mistwood
6154 Mistwood Lane
Rapidan, VA 22733
United States
Refund policy
Contact the organizer to request a refund.
Eventbrite's fee is nonrefundable.
Join The Piedmont Environmental Council for a celebratory event marking PEC's 50th anniversary.
About this event
UPDATE: Ticketing has closed. Please contact Nora Seilheimer at nseilheimer@pecva.org or 434-977-2033 x7008 for more information.
--
Come visit Mistwood, a stunning conserved property along the Rapidan River in Orange County, for a celebratory event marking PEC's 50th anniversary. Start the day with a short workshop, followed by a delicious tasting menu showcasing locally grown, harvested and produced ingredients. After lunch, hear from PEC President Chris Miller as he reflects on PEC's half-century milestone and looks toward the future. Then, enjoy a keynote address by renowned American author, environmentalist, and activist Terry Tempest Williams, who will share her perspective on conservation, restoration and generational change.
Keynote Speaker: Terry Tempest Williams
Currently writer-in-residence at Harvard Divinity School, Terry Tempest Williams' books include the environmental literature classic, Refuge: An Unnatural History of Family and Place, and most recently, The Moon Is Behind Us, an intimate correspondence of letters and photographs between Williams and photographer Fazal Sheikh, two leading political artists at a time of crisis. The Hour of Land: A Personal Topography of America's National Parks, published during the centennial of the National Park Service, was a New York Times bestseller and winner of the Mountains & Plains Independent Booksellers Association 2016 Reading the West Book Award.
She is a naturalist and fierce advocate for freedom of speech, she has consistently shown us how environmental issues are social issues that ultimately become matters of justice.
Williams' writings have also appeared in The New Yorker, The New York Times, Orion Magazine, and numerous anthologies worldwide as a crucial voice for ecological consciousness and social change.

Agenda
10:30 AM | Check-in / Meet & Greet
11:15 AM | Workshops (description below)
12:30 PM | Demonstrations & Displays, Food & Conversation
2:00 PM | Welcome & Thanks
2:15 PM | Remarks by Christopher G. Miller, PEC President
2:45 PM | Keynote Address by Terry Tempest Williams: "The Open Space of Democracy"
3:45 PM | Reception & Toast to Conservation
4:30 PM | Depart
Workshops
Blue Ridge to the Bay: Accelerating Land Conservation in the Upper Rappahannock Watershed
The Piedmont Environmental Council is taking bold steps to catalyze strategic landscape-scale conservation in the Upper Rappahannock River watershed by pursuing meaningful partnerships and leveraging a combination of public, private and philanthropic funding sources. This watershed is home to some of Virginia's most productive farmland, numerous historic sites, expansive forests, important wildlife habitat and beautiful places to recreate. While surrounding areas are witnessing increased development, this region remains largely intact. PEC's Maggi Blomstrom and Peter Hujik will speak about our holistic approach to keeping this area intact through innovative land and water conservation efforts and increasing public access to outdoor recreation.
Stemming the Tide of Grassland Bird Decline
The Piedmont Environmental Council and the Smithsonian's Virginia Working Landscapes recently launched the Piedmont Grassland Bird Initiative (PGBI) to address grassland bird declines on working lands in the Virginia Piedmont. PEC's Wildlife Habitat Restoration Coordinator October Greenfield will introduce this new partnership and our collaborative work with producers to reduce grassland bird decline, improve the resiliency of working landscapes and positively impact the livelihoods that depend upon those lands.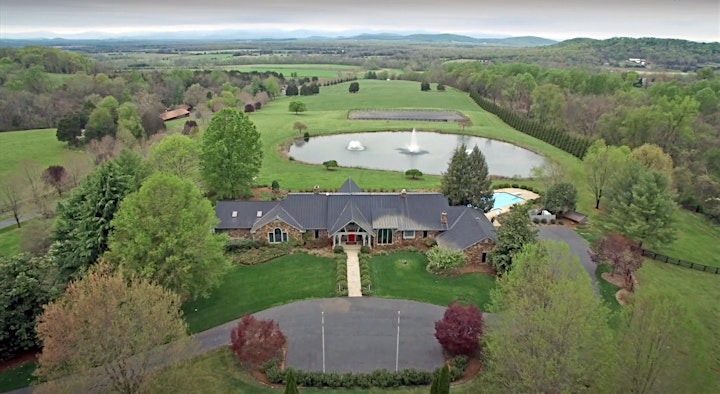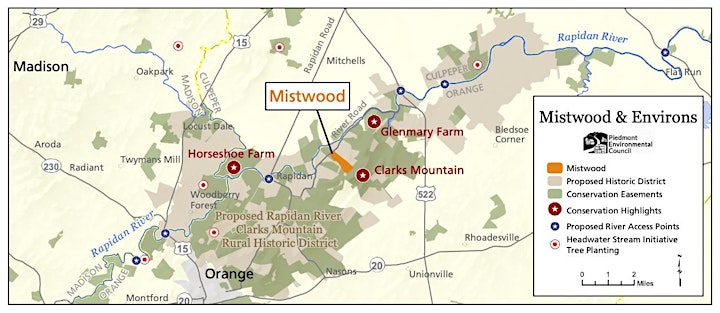 Thank You to Our Generous Sponsors!
A number of generous individual sponsors have contributed to make this event possible. In addition, we are grateful to have the support of the following corporate sponsors: