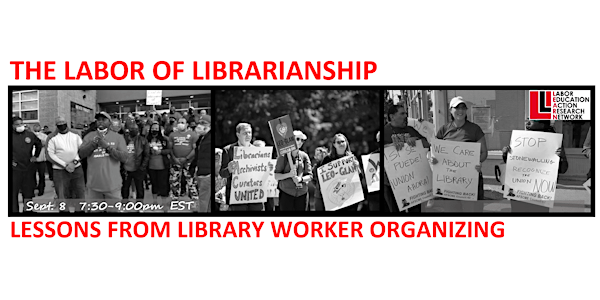 THE LABOR OF LIBRARIANSHIP: LESSONS FROM LIBRARY WORKER ORGANIZING
JOIN HERE: https://rutgers.zoom.us/j/94049200091
About this event
THE LABOR OF LIBRARIANSHIP: LESSONS FROM LIBRARY WORKER ORGANIZING (webinar)
Thursday, September 8, 2022 @7:30pm EST
As with other industries and occupations, unions play an important role in libraries all across the country. Being able to use a collective voice to bring about positive change has empowered library workers to not only improve their wages, hours, and working conditions but to be stronger advocates for defending, improving, and expanding one of the most democratic institutions in the the US – the library. This work has become even more crucial in recent years.
Please join unionized library workers, organizers, activists, and scholars for a discussion of what the future of organized labor in libraries might look like, and what the movement to organize library workers seeks to accomplish.
Moderated by Michelle Chen
Michelle Chen is a contributing writer for The Nation and In These Times. She is also a contributing editor at Dissent magazine and a co-producer of the Asia Pacific Forum podcast and Dissent's Belabored podcast. She is a postdoctoral fellow in Labor History at Cornell University's School of Industrial and Labor Relations.
Panelists
Meredith Kahn, LEO-GLAM, AFT-MI Local 6244, University of Michigan libraries
Andrea Lemoins, founder of Concerned Black Workers at the Free Library of Philadelphia, AFSCME DC47 Local 2187
Michael Torres, AFSCME DC962 Local 3395, Indy Public Library