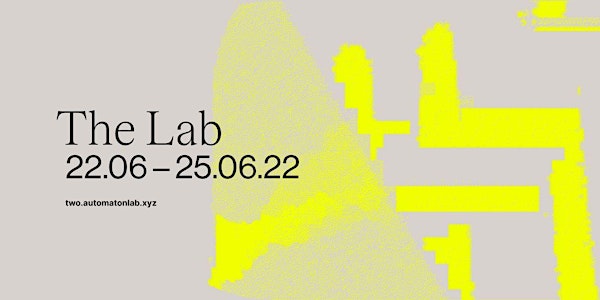 Location
Diedenhofer Straße
Diedenhofer Straße
im park
10405 Berlin
Germany
The Lab is the event series of Automaton, featuring exhbitions, workshops and concerts engaging with our ambiguous relation to technology.
About this event
Exhibition
The Lab features a selection of works articulated around our ambiguous relationship to technology.
Part magic, part function, technology both stems from specific worlds, and shapes new worlds in return.
Through this back and forth, The Lab allows for open-ended, on-going research processes to be exhibited as works-in-progress.
Opening times:
- Wed 12:00 - 22:00
- Thu 12:00 - 22:00
- Fri 13:00 - 19:00
- Sat 13:00 - 19:00
An exhibition ticket allows to come visit the show on any of the above dates.
Concerts
Concerts will take place on Friday 24.06 and Saturday 25.06, from 20:00-22:00 and will consist of pairing sound and visual artists, performing in the center of the Wasserspeicher.
24.06
20:00 Time Points & VanTa
Time Points, the newest release from Quanta Records will join forces with VanTa
21:00 Aron Ottignon & Helin Ulas
Aron Ottignon and Helin Ulas presenting a variation of their XJazz performance
25.06
20:00 Anton Filatov & Geso AV
Anton Filatov will deploy acousmatic performance with multi-channeled saxophone in conjunction with Geso's visual Light Disruption.
21:00 Gina Lo's modular performance with hydrophone and field recordings matched by Alma Steinfeld's shading techniques.
Workshop: Composing with sound spatialization
Sound diffusion across multiple speakers is an art form, especially where real-time control is concerned. This workshop by Juan Duarte Regino will focus on live sound spatialization techniques using Ambisonics and parametric-procedural diffusion methods.
Participants will bring to the workshop an existing sound piece that is suitable for diffusion across 4-8 channels.
At the end of the workshop, participants will setup their multichannel sound piece to be presented during The Lab in the unique sonic environment of the Kleiner Wasserspeicher.
Maximum limit: 7 participants.
Hours: 18:00-22:00 on each day.
Location: School of Machines, Making and Make-Believe, Veteranenstraße 21, 10119 Berlin.
Required materials: laptop with Reaper installed, headphones.
Note about ticket prices
We operate on a sliding scale model.
Reduced tickets are intended for students and seniors.
Regular tickets are intended to help us pay off the space and equipment rental.
Supporter tickets allow us to pay the artists and the production team.