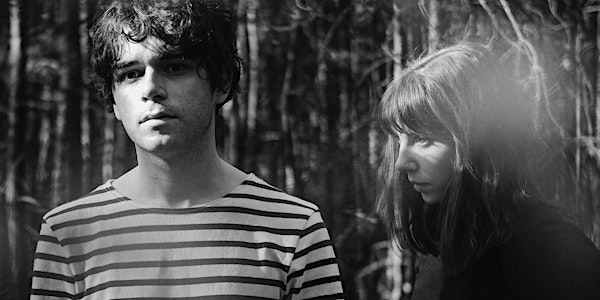 The KVB, Split Diopter, Stranded
Ages 18+
presented by Speakeasy and Triple Ds
The KVB play 529 on October 5 w/ Split Diopter, Stranded
When and where
Location
529 529 Flat Shoals Ave SE Atlanta, GA 30316
Performers
Headliners
More Performers
About this event
"There's a strong sense of moving forward on this album," says KVB's Nicholas Wood. "We wanted it to be expansive - and bolder than anything we'd done before."
Movement - and lack of movement - is a crucial backdrop to the latest album from the audio-visual duo of Wood and Kat Day. The seeds of the album were sown in demo form in Spain, shortly followed by a move from Berlin back to the UK before enforced restrictions soon stalled their huge touring plans as lockdown kicked in.
"It was written while we were moving countries into a kind of unknown future," says Wood. "So I was looking at themes like aspiration, modern alienation and utopian and dystopian futures." Duality and architecture are also key to this record, with the latter giving birth to some central thematic ideas. "A key point of inspiration was in Spain," says Day. "We were surrounded by all these half built luxury villas, still unfinished from the crash in 2008. There was something eerie and beautiful about the desolate landscapes and concrete in the sunshine - these buildings left as modern relics of the failed capitalists of the era."
Sun-soaked crumbling concrete ended up being an apt description for a record as deeply textural as Unity. The opening 'Sunrise Over Concrete' perfectly marries glistening synth-laced soundscapes with an underlying tone of dread, capturing the dichotomy of beauty amidst collapse. The track 'Ideal Living' is the one that opened up the album to some of these themes and ideas. The track, which weaves from immersive atmospherics to propulsive beats, set the tone for an album that explores a variety of worlds, from the one we live in, to the one we are promised and to imagined ones. "Our original sessions started out as a concept around 'Ideal Living', says Day. "And that's where the themes of architecture, alienation, mis-sold dreams, utopian and dystopian futures began and then that fed into the other tracks."
The album is not a concept record but more one with multiple underlying themes, which also includes unity and duality. Day and Wood have been in a creative and romantic partnership for a decade. This is the band's 7th studio album since starting in 2010 – and their third on Invada - capturing a trajectory that has seen them traverse as many genres (EBM, krautrock, shoegaze, post-punk, ambient, electronica, indie rock) as they have countries they've toured in all over the world, including festivals and events such as Primavera Festival, Green Man and Robert Smith's Meltdown Festival.
During lockdown their bond was further cemented when they got married, and this life milestone is also reflected in the music and artwork. Musically, the pair shares dual lead vocals for the first time, as their voices float around one another, sometimes interconnecting and other times gently brushing past one another. The album artwork, two interlocked stone circles, also further bolsters this theme "I like it as a refined coming together of two entities - a unity. We didn't want this to be a wedding album but it kind of is - it's our life."
The visual symbolism expressed via the artwork is not simply a neat add-on but one deeply embedded into the duo's core creative ethos. "We are predominantly an audio visual band," says Day. "Visuals are really important to us. I'm interested in architecture and anything haptic and tactile. I use a variety of older technology with new technology to give things that sort of texture where your eyes can almost stroke the image. I wanted to use the two interlocking circles as a theme throughout and as a symbol for the album."
Another step forward on this album was working with a producer for the first time, Andy Savours, who brought out a new dynamic in the pair's approach. "I think we definitely took the drum and percussion a lot further than we had before with Andy's input," says Wood. "He helped us really tap into those beats."
These beats can be heard across the album, on tracks such as 'Unité' - "a homage to our time living in Berlin, with the pounding kick drum and grinding electronics" - through to 'Future', which perfectly aligns the dark and light sensibilities of the album by lyrically referencing "consumerism, social media façade, and the feeling of hopelessness when the pandemic hit, coupled with Brexit" with a euphoric and rave-tinged groove.
Another instance of the band playing with juxtapositions can be heard on 'World on Fire', an infectiously melodic track that became strangely prescient. "It was written in late 2019 and at its core it's about duality and how a phrase like "set the world on fire" which sounds so destructive, is also about doing something remarkable," says Day. "Over time we have all become desensitised to bad news and horrific events through television and social media. It feels like we've all become more obsessed with watching the world on fire. We wanted it to be a phrase that is deliberately open to interpretation."
Whereas the album's closing moment, the beautiful and gently sweeping 'Omni', captures a moment of positivity and optimism at the end of an album that explores uncertainties, confusion, disruption and the highs and lows of modern life. "We wanted to end the album on a high," says Wood. "This one is a dystopian anthem that's taken on new meaning since the events of 2020. Despite all the uncertainty in the world, we still have the certainty of each other. It's both apocalyptic and romantic - imagining walking into the sunset away from the destruction and towards an unknown future."