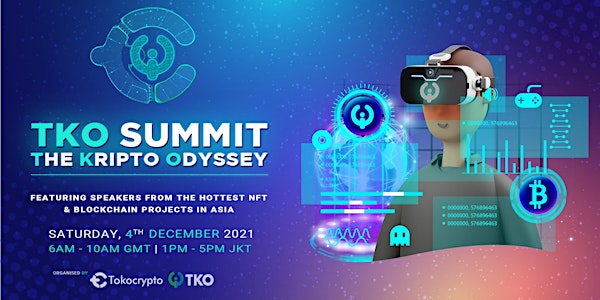 The Kripto Odyssey (T.K.O) Summit 2021
An Exploratory Voyage of Cryptocurrency and Its Blockchain Technological Foundation
About this event
The Kripto Odyssey (T.K.O) Summit 2021 would be providing a 360° overview of the crypto landscape by covering the trending topics which are currently the talk of the crypto town namely the role of cryptocurrency as a disruptive force, the potential for DeFi to be harnessed for long term personal wealth building, the macroeconomic structure of GameFi as well as the manner in which the NFT Metaverse is transforming into the promised land for asset tokenization.
Besides that, T.K.O Summit 2021 would also be covering the technological foundation of cryptocurrency i.e. blockchain which has long been touted as the technology which will drive humanity towards Industrial Revolution 4.0 though the jury is still out as to the extent to which blockchain has lived up to its hype thus far. In this regard, T.K.O Summit 2021 will be exploring the distinctive features and characteristics of blockchain as well as the notable financial and non-financial use cases of the technology in addition to discussing about the manner in which blockchain has facilitated humanity's battle against the Covid-19 pandemic.
Last but not certainly not least, there will be quarterly updates about the star of the show i.e. Toko Token (TKO) including the things that TKO holders can be looking forward to in the months ahead. With so much in store, T.K.O Summit 2021 is certainly a momentous event not to be missed by all crypto enthusiasts.
Event Rundown (GMT)
13.00 - 13.10: Opening and Introduction
13.10 - 13.30: Opening speech by Pang Xue Kai (CEO & Co-founder of Tokocrypto)
13.30 - 13.45: Tokocrypto quarterly update by TK Harmanda(COO of Tokocrypto) and Pang Xue Kai
13.45 - 14.00: Toko Token (TKO) Roadmap Updates by Nanda Ivens (CMO of Tokocrypto)
14.00 - 14.45: Panel 1 Discussion
" Blockchain: The Technological Enabler for Industrial Revolution 4.0"
Topic 1: A Primer on Blockchain: What Sets Blockchain Apart from Other Technologies? by Chia Hock Lai ( Co-Chairman Blockchain Association Singapore)
Topic 2: Commercial Applications of Blockchain: Notable Industry Use Cases by Juan Otero (CEO & Co-founder of Travala)
Topic 3: Blockchain for Covid-19: The Technological Savior of Humanity by Teguh Harmanda (COO of Tokocrypto)
14.45 - 15.00: Break
15.00 - 15.15: Tokomall Quarterly Update by Chung Ying Lai (CSO of Tokocrypto)
15.15 - 15.30: Toko Launchpad Official Announcement by Tigran Adiwirya (Head of Launchpad)
15.30 - 16.15: Panel 2 Discussion
"Cryptocurrency: A 360° Overview of the Landscape"
Topic 1: Levelling the DeFi Playing Field: Evening the Odds for Retail Investors by Darius Sit (Co-founder of QCP Capital)
Topic 2: DeFi for Long Term Personal Wealth Building: Leveraging Crypto Rocket Fuel to Go the Distance by Weso (Developer at Beefy Finance)
Topic 3: Macroeconomics of GameFi: Understanding the In-Game Economies of Play-to-Earn Games by Irene (Co-founder of Yield Guild Games)
Topic 4: Asset Tokenization: All Roads Lead to the NFT Metaverse by Oscar Franklin Tan(CFO of Enjin)
16.15 - 16.30: Toko Token (TKO) Future development by Omar Rozak (Head of Toko Token)
16.30 - 16.45: Q&A by C4 and MC
16.45 - 16.55: Lucky Draw Winner Announcement
16.55 - 17.05: Closing
*Event will be streamed LIVE on:
Visit our event website: https://www.indonesiablockchainweek.com/