Description
Hide. RUN! Krampus is KOMING!
You have not run far enough. Nor have you run fast enough. Krampus (the Christmas devil) is displeased.
Pay penance to Krampus on Sun, 12/8 and you will not be visited by the cloven hooved devil contracted by Santa to deal with those who have been naughty!
Krampus is hosting his chip timed, cross country 5K & 10K on the beautiful Presidio Trails in San Francisco.
Where: Ecology Trail Head @ the end of Barnard Avenue.

When: 10K starts at 8AM. 5K starts at 8:15AM

Course Maps:

Krampus Cross Country 5K Course Map

Krampus Cross Country 10K Course Map

The Swag:

All participants receive an epic chip-timed 5K or 10K trail race in the Presidio, a short sleeve technical shirt, an AWESOME race medal, and access to the pre-race brewfest on Friday, 12/6 from 5-9PM at A Runner's Mind in San Francisco!
The Treasure Hunt:

Krampus will be scattering numerous special woodallions/medals along the course. Find one or more and bring them back to the finish line to score a prize or two!
The Aftermath:

All runners will receive post run drinks and refreshments from Hint Water, Bark Thins, Beanitos and more at the finish line!
The Krampus BREWFEST/shopping party/bib&shirt pickup on Friday, 12/6 from 5-9PM at A Runner's Mind (3575 Sacramento Street)!

Registration for the Krampus Cross Country 5K/10K ALSO includes a pre-race Krampus brewfest on Friday, 12/6 from 5-9PM at A Runner's Mind!
Upon arrival, You will receive a kustom Krampus beer taster that can be used to sample some of the finest local microbrews for two hours! *NOTE-One can register for the Krampus Microbrewfest separately for $10.
Additionally, you can pick up your bib/shirt and take advantage of a 15% shopping discount at A Runner's Mind!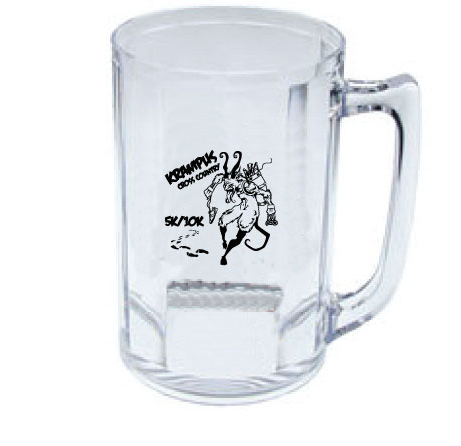 Other Krampus Cross Country 5K/10K Details...
*NOTE- You can pickup your bib/shirt on race morning between 6:30-8AM on race morning (Sun, 12/9).

A Sasquatch Racing Production..

The Krampus Kross Kountry 5K & 10K is created and produced by Sasquatch Racing.
For more details about Sasquatch Racing, go to WWW.SASQUATCHRACING.COM