The Koffa DG: Basic Sewing: Class Registration for 2016

Sunday, December 18, 2016 at 1:00 PM (PST)
Event Details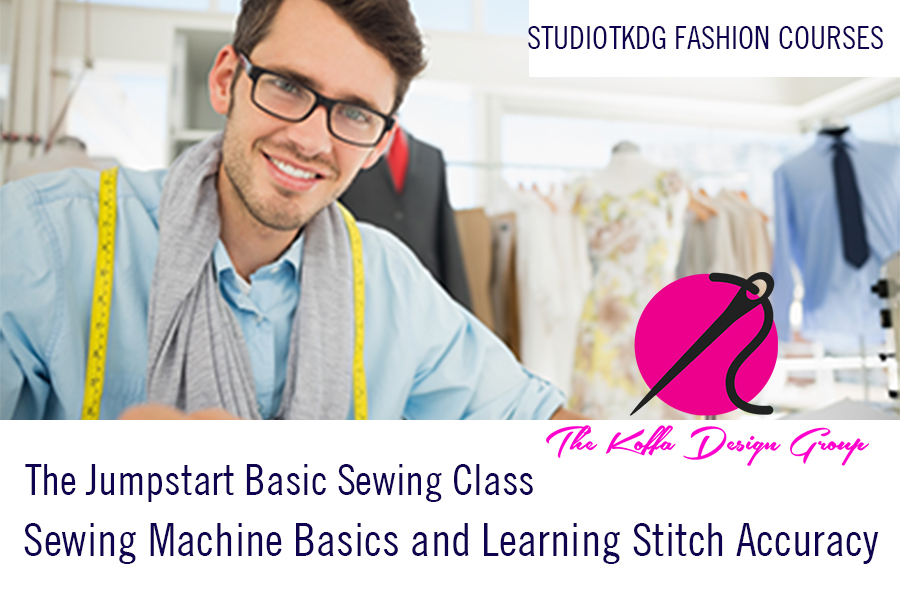 Please read the full details below as there is great information about the course. Due to Class fluation in size the class can last between 1.5 hours to the full 3 hours depending on enrollment and student skill level.


Your instructor for your upcoming Sewing Class will be one of our staff here at The Koffa Design Group.
The Koffa Design Group
Our Class Lesson Plan for the
The Jumpstart Basic Sewing Class
1. Introductions (10 mins)

2. How to Thread the Sewing Machine (25 mins)

3. Gaining Control and the Parts of the Machine (15 mins)

   -What is a Bobbin?
   -The Foot
   -The Pedal
   -The Reverse Button or Tab
   -Stitch Option
   -Bobbin Turner
   -The Hand wheel

4. Sewing Straight Lines (25 mins)
   -Why Sewing Straight Lines is important
   - Fabric Placing during Sewing
   - Students to Create Straight stitches and decorative stitches on Sample on sample swatch of provided fabric

5. Seamlines and Measurements

   -The C-Thru Ruler and Tailors Chalk (15 mins)

   -Seam Allowance (1/2" Seam Allowance for Regular Seams, Seams Used for Hems, etc)
6. Sample Stitches: The French Seam, Two Hem Samples: The Baby Hem (seen on blouses and men's tailored shirts) and A Machine Hem (Measurement changes from style to design, most hems can start from 3/4" to 1 1/2" finished)
7. Sample Sewing Project: Our Project Changes from month to month, incorporating the lesson plan to insure students understand sewing and how to operate a machine)
After taking the class, the key to getting better at sewing is practice as this class is the first step to taking you towards you sewing journey.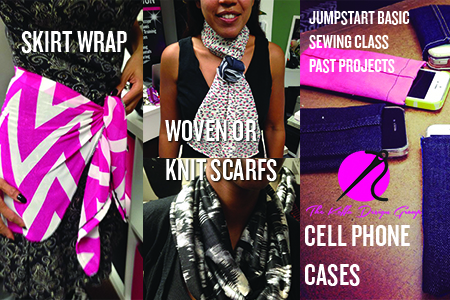 Please read this message in full, because it has some great information ;-)
We are excited to teach you how to use and sew on a sewing machine.
We are located in a business park in the Central Sector Pasadena (East of Pasadena City College and North of the Huntington Library) Make sure to plan your trip according if you happen to be traveling outside of the San Gabriel Valley Area. Our Building is (sign free) and all entrances are open during the day but for safety of office staff and guest front door automatically locks after 5pm on weekdays, and 1pm on weekends (so if you have class scheduled at these times please use our back entrance or call us and a staff will open the door

To enter we are located on the Back side Entrance of Building

We like start our classes

on time

so all students can get the best and most out of the class so please arrive on time or the earist you can arrive 10 to 15 mins early to check in an set up if needed.

Note: This is only one of our classes that includes materials for students to use. For thsi class, Students do not need to bring anything to the class but if you have a sewing a machine and you would like to ask questions about it,  you are welcome to bring it so I can help you learn how to use it during class.

Additional information for students would like to use and bring their own sewing machine make sure that you have all parts to use your machines and bringing a thread for your machine in recommend so you can go home with a threaded machine.;-)



For students who do not have a sewing machines: If you do not have a sewing machine, we have machines in class that you will learn on with thread.





Supplies for all to use:

We have scissors and fabric for you to use in class as well for all students!!!



About the course and fabric distribution:

This three hours course is fully dedicated to sewing (as sewing can be a difficult task for beginners) because students use the entire 3 hours and we supply the fabric, all designs are pre-cut. It is important for each student, since this class focuses on the topic of basic sewing to get as much sewing practice on the machine, which includes threading, measuring and sewing correct seam measurements, and stitching straight lines.

We forward to working with all you this weekend.
Note to Students taking the Class on Sunday: Our Building door is locked on the Alta Dena entry on Sunday and Saturday evening. It will be open 15 mins prior to the class start and will close once class starts. If you come to the door and it is not open, please call or text and I will open the door for you.
To all students please enter on the side rear of the building. The front door is locked on the weekends and the rear door is right by our Suite 101 (first suite on the right). If door is locked please knock and the instructor will open the door.

Have an amazing day!!!

40 North Alta Dena Dr. Suite 101
Pasadena, CA 91107
Please use the side rear entrance of the building.




There is lot parking that may be limited.


Note to Street parking: And some street parking is not timed (please read the fine print on signs to insure you are parking correctly as this your responsibilty.)

If you need help finding us once you arrive, you can call 626-552-8944. If students call during class, we may not answer.
Refund Policy: Refunds can be given to customers at date of purchase (and they mujst contact us directly) or two weeks before class date (15 business days). Because supplies are purchased for the class, refunds will not be offered to students who would like to cancell the week prior the their class date or 7 business days.


40 North Alta Dena, Suite 101
Pasadena, CA 91107

1-408-47-KOFFA or 1-408-475-6332
Save
When & Where

The Koffa Design Group
40 North Altadena Drive
Suite 101
Pasadena, CA 91107


Sunday, December 18, 2016 at 1:00 PM (PST)
Add to my calendar
Organizer
Course driven studio that offers fashion courses for individuals who have a passion for learning fashion design and fashion business techniques.
As of June 20th, 2016, The Koffa Design Group is Located at 40 North Alta Dena Suite 101, Pasadena, CA 91107