Walk in your IDENTITY. Make an IMPACT. Build your LEGACY.
About this event
In 2019 we focused on being hidden and what it meant to embrace your secret place in God. However, in 2020 we believe that God wants us to focus on what it means to be KNOWN:
1.) KNOWN by God
For I know the plans I have for you," declares the LORD, "plans to prosper you and not to harm you, plans to give you hope and a future. - Jeremiah 29:11
2.) KNOWN by others.
In Joppa there was a disciple named Tabitha, which in Greek is Dorcas. She was known for her good actions and acts of charity that she was always doing. -Acts 9:36
3.) To KNOW God
Now this is eternal life: that they know you, the only true God, and Jesus Christ, whom you have sent. - John 17:3
We will focus on those main 3 areas and their influence on our IDENTITY, LEGACY, and IMPACT in the world.
For nothing is hidden that will not be made manifest, nor is anything secret that will not be known and come to light. - Luke 8:17
The conference will begin on Friday, August 21st at 7PM with our Girls Night In at Aloft Hotel. It will be an opportunity for us to get to KNOW one another with the intent of doing purpose together.
The conference will conclude on Saturday, August 22nd at Verona Villa in Frisco. If you attended our Girl, Get Up conference you know that this venue is gorgeous!! Saturday we will begin promptly at 9:30AM.
Please note that all ticket sales go toward the planning and executive of our conference. Therefore, all sales are final. Thank you for understanding.
For additional questions please email EbonyKing@TabithasTEAParty.org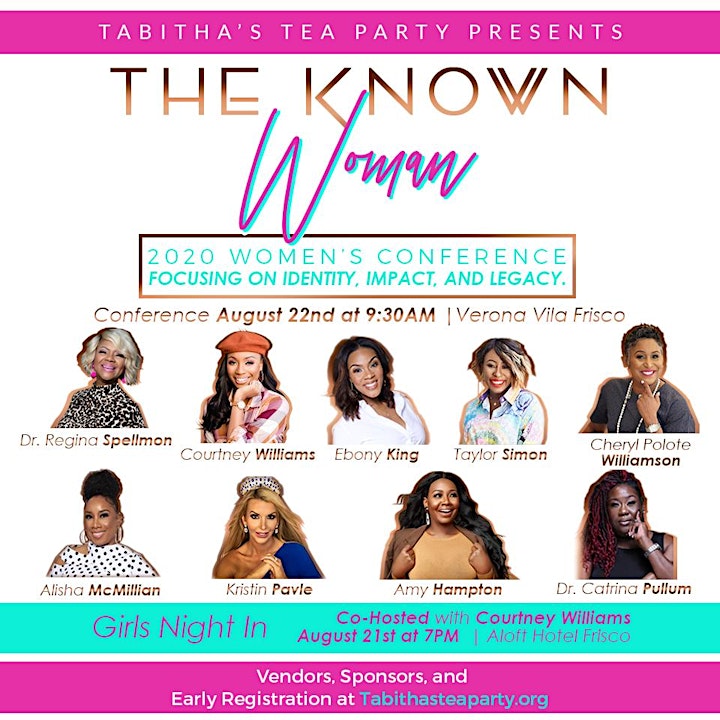 Organizer of The Known Woman: Women's Conference 2020