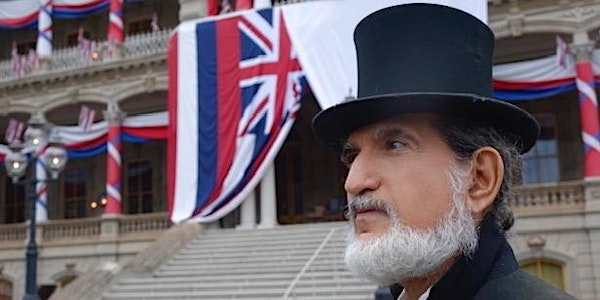 The King's Dream - May 21, 2023
The King's Dream - May 21, 2023
By The ARTS at Marks Garage
Date and time
Starts on Sunday, May 21 · 2pm HST
Location
The Arts At Marks Garage 1159 Nuuanu Ave Honolulu, HI 96817
About this event
**This listing is for the performance on May 21, 2023. See additional listing for other performances.**
The King's Dream
Created and performed by Michael Schuster
Music by Rachel Saul
This intimate 19th century style performance is based on the historical interactions between Hawaii's monarch, King Kalakaua and Elias Abraham Rosenberg, an eastern European Jewish emigrant during the tumultuous years of 1886 and 1887. Rosenberg is not a well-known figure in the Hawaiian community, but in 1887 he became King Kalakaua's official soothsayer. Rosenberg is described by some as a charlatan and by others as a mystic. The performance explores the connections between history, genealogy, and folklore; highlighting issues of colonialism, racism, antisemitism, and cultural identity. A unique handcrafted storytelling cabinet is used to dramatize the late 19th century worlds of Kalakaua and Rosenberg. The cabinet contains large-scale photographs of images originally taken during Kalakaua's reign, contemporary photographs and documents that recreate historic events, and Jewish ritual objects. The audience experiences the unlikely encounter between Hawaiian culture and Jewish culture through images, storytelling, puppetry, and acting. The story is enriched and layered with references to the biblical story of Joseph, the Pharaoh's soothsayer. The performance is accompanied by live music featuring Hawaiian art song from the 19th century, Hebraic chant, and Yiddish klezmer. Michael Schuster has been a puppeteer and storyteller for the past 45 years. He trained in traditional puppetry in Indonesia, India, and Burma. He holds a doctorate in Asian Theatre from the University of Hawaii at Manoa. He is a founding member of the Train theater in Jerusalem which was founded in 1981 and has performed in North America, Asia, and Europe. He was the curator of the East-West Center Gallery from 2004-2019.
Violinist Rachel Saul is a member of the Hawaiʻi Symphony Orchestra, and has performed and recorded with Jack Johnson, Eminem, Ron Artis II, Makana, Mike Love, Paula Fuga and more. When not performing, Rachel is a passionate educator for the youth in Hawai'i. She founded the After-School Strings Program at Mid-Pacific Institute, worked with underprivileged youth with Kalikolehua – El Sistema Hawai'i, maintains an active private violin studio, and teaches Chamber Music at Punahou Music School.
Photography: Gayle Goodman, Marina George, Shayne Hasegawa, Leilani Ng, Alan Seiden: Hawaiian Legacy Archive, Hunter Kaye, Michael Schuster
Seating is limited. All sales are final. There are no refunds and/or exchanges.
About the organizer
The ARTS at Marks Garage has been in operation since 2001 as an artist-run, nonprofit community arts center that attracts over 45,000 annual visitors to performances, lectures, screenings, and workshops.
It is an incubator for over a dozen performance and visual arts groups, and offers creative classes for the neighborhood youth. The ARTS is a primary sponsor of the creative revitalization of the downtown-Chinatown area through neighborhood relations, street festivals, neighborhood maps, First Friday Honolulu, and other community celebrations.