'A Northern California Cannabis Experience!'
About this event
Join us for the 2021 Kind Bud CampOut for a
'Northern California Cannabis Experience!'
Located at the Hog Farm's famous Black Oak Ranch in Mendocino County,
We'll bring together the best outdoor grown cannabis flowers and cannabis products from Northern California, while enjoying TWO FULL DAYS of LIVE MUSIC.
Wake (and bake) to ganja yoga in the morning and attend workshops and speaker panels to learn about Cannabis and Wellness both days. Live music will be heard throughout the festival, variety shows, and performances will entertain you as you make long lasting memories.
We are all so excited to be social again, and we are taking extra precautions to make sure that we can gather safely and with respect to everyone's needs and desires.
Make this Labor Day a weekend to relax, make new friends, and maybe even find your time to shine in our late night open mic!
Tickets Are On Sale !
*Early Bird Tickets available until July 15.
**Limited Amount of Friday Only & Saturday Only tickets are available.
Friday's Main Stage Music Lineup - Etana, The Fully Fullwood Band, Junior Toots, Bobby Hustle, Blue Luke, Clan Dyken, DJ Green B, 420 Welcoming Ceremony
Saturday's Main Stage Music Lineup - Kind Bud and the Joints, Midnight North, Rosebud, The Real Sarahs, Eddie Esler, Object Heavy, Joe Rut and Kind Bud Legends Award honoring Elvy Musikka
For information about business and community sponsor packages, contact us at info@kindbudcampout.com
21+ to attend. No Dogs/Pets!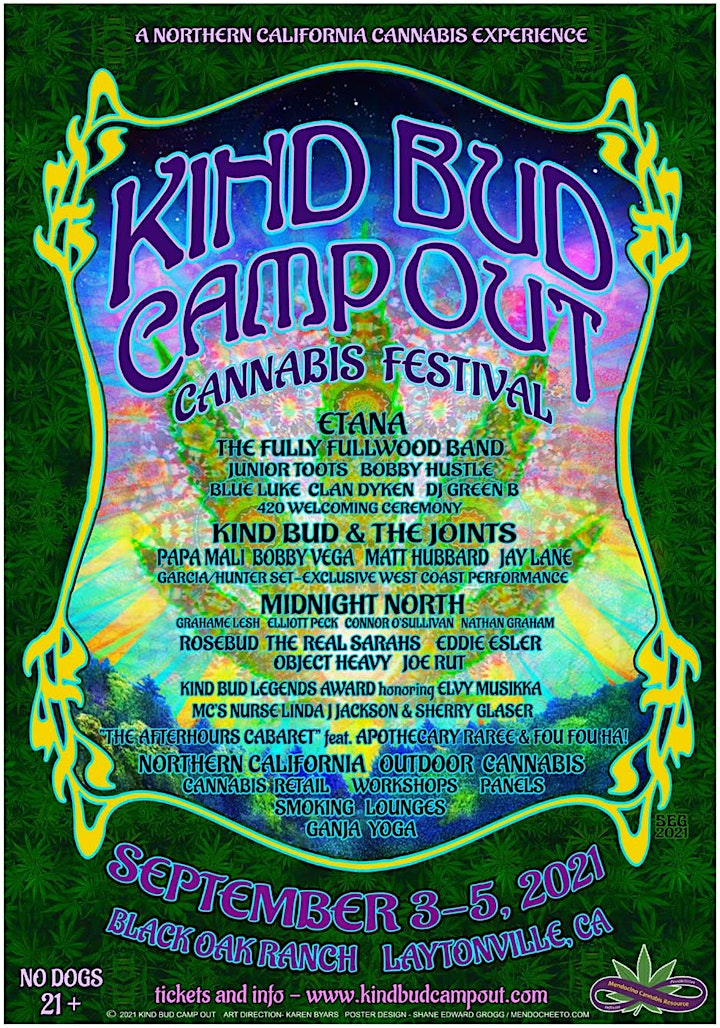 The 2021 KBCO is presented by:
Mendocino Cannabis Resource Events (MCREvents)
Formed in 2016 to support cannabis farmers and entrepreneurs as they transition from the medical and traditional markets into the regulated market.
From August 2016 to March 2019, MCRE hosted 11 CannaBusiness Development Workshops, 3 Resume Workshops, 2 Cannabis Job Fairs & 3, 2-Day Cannabis Conferences, for a total 19 Events in 3 years.
In the Summer of 2019 we provided a CA permitted recreational cannabis space at the Kate Wolf Music Festival called 'The Kind Bud Lounge'.
In 2020 we were scheduled to produce a recreational cannabis space at the Hog Farm Hideaway festival and to launch the Kind Bud Campout, but due to COVID those were postponed.
Now it's 2021 and we are thrilled to be finally getting back to work!
For more information www.kindbudcampout.com