Description
THE KICK BACK SNEAKER EXPO VIII
---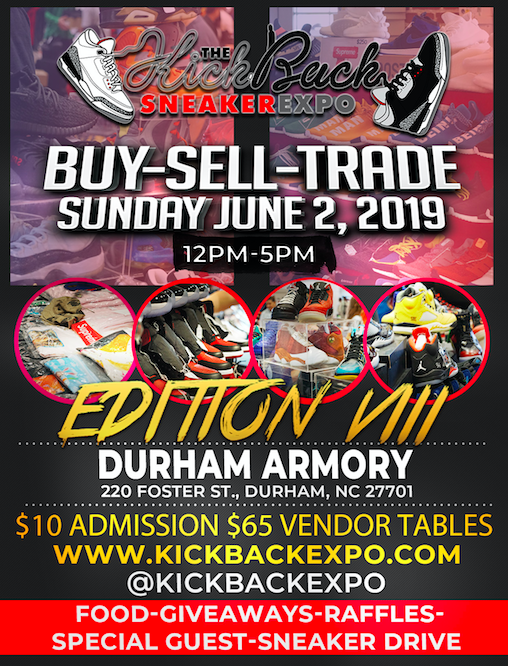 The Kick Back Sneaker Expo is a Buy-Sell-Trade sneaker expo/convention in Durham, North Carolina. The convention brings vendors from all over the state and neighboring states to showcase, sell, buy and trade the hottest and rarest sneakers on the planet! There will be over 60 vendors, with over 5,000+ pairs of sneakers all under one roof. Clothing, accessories, sneaker restoration, art and customization vendors will also be in the building. Visit www.kickbackexpo.com for more information about the event and follow @kickbackexpo on Instagram for daily updates!
There will be:
Free giveaways

Raffles

Key Master Machine

Food (Fried chicken and fish dinners, sweet tea, lemonade, desserts and more!)

Live DJ

Sneaker Drive: Bring lightly used pairs of sneakers to receive afree raffle tickets for a chance to enter to win a gift card

And Much more!
---
FAQs
How much are tickets at the door the day of the event?
Tickets will be sold at the door the day of the event as well for $10 cash only
Will children need a ticket?
Children 5 and under are free
How many pairs of shoes am I allowed to bring to sell or trade?
Each person is allowed to bring up to 5 pairs of shoes
Will the event still be held if it rains?
Yes, the event will be held rain or shine
What time can attendees start lining up to get into the event?
11:00am
Will vendor tables be available for purchase the day of the event?
No, all vendor tables must be purchased in advance.
Is there an ATM located in the building?
No, we encourage all attendees to stop at the bank/ATM before they arrive at the event