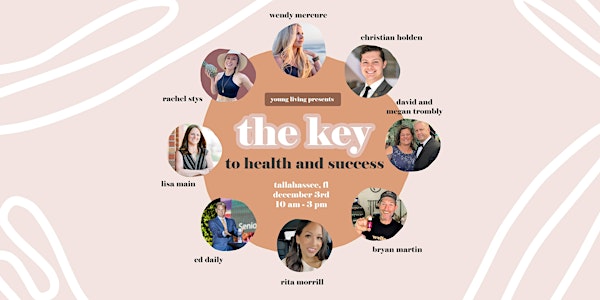 The Key to your health, wellness, and success! YL comes to Tallahassee!
Young Living corporate and local leaders will be sharing the keys to health, wellness & success. We have a lineup you don't want to miss!
When and where
Location
Capital City Country Club 1601 Golf Terrace Drive Tallahassee, FL 32301
About this event
We would love for YOU to join us for a FUN power-packed half-day conference with Young Living leaders and Corporate speakers and learn the keys to your own personal health, wellness, purpose, and success. There will be an abundance of content, giveaways, Ningxia Red, and light snacks.
You'll learn the keys to basic foundational nutrition by Rachel Stys, NTP, CTP.
LtCol David Trombly, USMC (Ret) - Our very own "grounded" fighter pilot, author, and YL Diamond leader who DEFEATED cancer will share his incredible story and keys to advocating for your own health and success.
Bryan Martin (aka "Sea Lion Bryan"), Marine Biologist, best-selling author, digital creator, YL Gold leader - Bryan will be sharing keys to success as a digital creator as well as the keys to positivity and inclusivity. There will be dancing - you know that!
Ed Dailey, RN, RNPA - Ed is Director of Holistic Health and will be teaching us key foundational information on the gut-brain axis and much more!!
Lisa Main, Spiritual Health Coach and Silver YL leader, will share the keys to a positive mindset and emotional processing.
We have other incredible speakers as well as a leadership panel, so bring your questions!