Description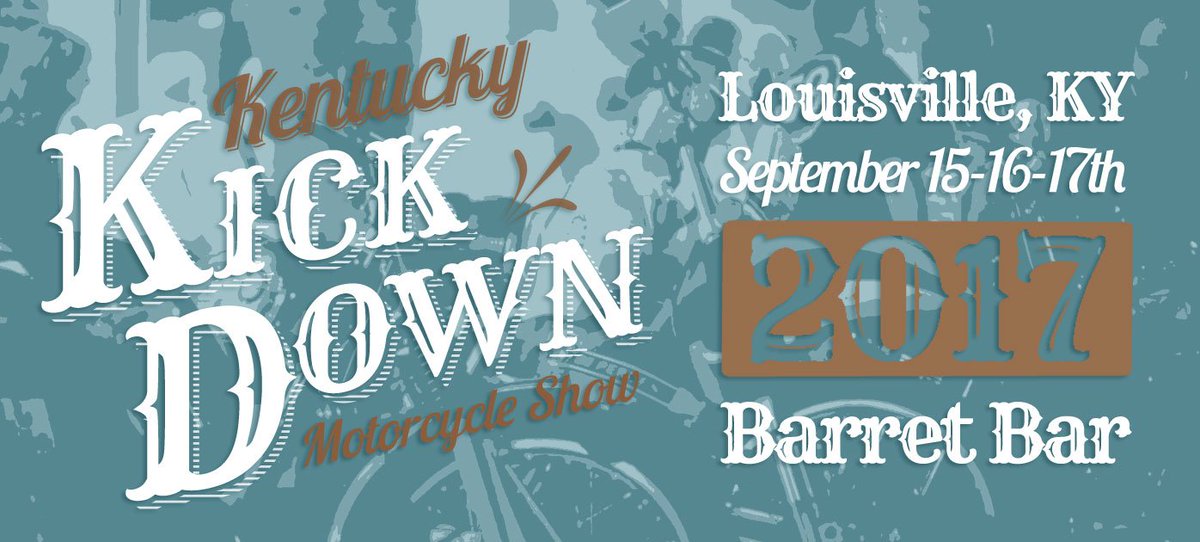 About The Kentucky Kick Down Motorcycle Show
The mission of the Kentucky Kick Down is to gather vintage two-wheeled enthusiasts as a community to celebrate, educate and further bike culture.
Intro
Kentucky Kick Down is a 3-day vintage motorcycle festival. There's a gathering Friday evening at The Barret Bar with live music and libations. Saturday starts with the Big Sid Memorial Ride, followed by the Kick Down from noon to 10pm, including live music, vendors, food trucks, Miss KKD contest, pool tourney, pit bike stunt show and of course the bike show at The Barret Bar and surrounding streets in the historic Highlands neighborhood. Sunday morning meet up at H Garage and Retrowrench vintage motorcycle shop for coffee and doughnuts, socializing and rides before heading home. Our goal is to welcome all walks of motorcyclists to Louisville, KY every third weekend in September to celebrate the culture of seeing things via two wheels.
The bike show is open to all makes of bikes that are twenty-five years and older. Admission is $5.00 for adults. Children 12 and under are free and must be accompanied by an adult. Motorcycles of all makes and years are absolutely welcome, but show judging will be limited to vintage motorcycles only. There will be motorcycle parking for non-show bikes this again year for $15 which includes your admission to the show. The show is Rain or Shine and Judges will have the final decision in all classes of judging and their word is final.
Your Hosts
Scott Halbleib and the Louisville Vintage Motorworks staff
Founder and organizer of Kentucky KickDown, owner of H Garage, a custom motorcycle shop, and member and Administrator of Louisville Vintage Motorworks, a group of over 2500 members that strives to keep the vintage motorcycle culture and machines rolling. He has attended shows around the country including Mods vs. Rockers & Motoblot in Chicago, Indy Rockers Reunion, Mid-Ohio Vintage Bike Days, The One Show in Portland, Handbuilt in Austin, and Barber Motorsports Vintage Festival. In addition to being an avid motorcycle enthusiast of all varieties, he rides as often as possible and has ridden all over the country.
But it's the camaraderie and devotion of the local Louisville Vintage Motorworks members that this show was built around, and it would not be possible without them coming together to support, promote and staff the event. We've made some significant changes this year and we're going to do our best to reach out to everyone and welcome them to Louisville this and every third Saturay in September.
The Locations
Barret Bar
1012 Barret Avenue, Louisville KY.
The Barret Bar is a large pool hall with full bar and kitchen, and an amazing patio. They will provide food and drink along with hosting the art show, pool tournament, pit bike stunt show and various bands throughout the day. In addition we will have food trucks and numerous vendors in attendance throughout the day
H Garage & Retrowrench
1212 South 7th Street, Louisville KY.
H Garage and Retrowrench now share a 100+ year old, 4000 sq. ft. shop in "Old Louisville," in downtown Louisville, Ky. A short jaunt down the brick alley off 7th just past Oak Street, the building was once a paper mill/printing house, and a bumper repair and exchange. On Sunday after KickDown we will open the doors for a tour, doughnuts and coffee. Stay as long as you like, we'll be unwinding from a long couple weeks of planning and preparing. Come take a load off.
Kentucky Kick Down is a vintage motorcycle festival celebrating all things two-wheeled, and the culture and camaraderie that bonds us all together. Join us for a welcoming weekend including a pre-party, memorial ride, bike show, live music, vendors, stunt show, food trucks, Miss KickDown contest and coffee and doughnuts Sunday morning before you ride out.
Show Schedule
Friday Night KickOff, September 15th, 2017
Kentucky KickDown and The Barret Bar are throwing the KickOff Party
On the eve of the Kentucky Kick Down, The Barret Bar, will host a pre-party giving us all a chance to mix and mingle with fellow bikers and preview some bikes that will be in the show the following day. Live music, and full service bar in the historic Highlands neighborhood in Louisville. No cover. More Info
Saturday, September 16th, 2017
Start your morning off with The Big Sid Memorial Ride
It's a great way to start the day, with a beautiful ride out scenic River Road - one of Sid's favorite routes. Details available here.
Show Time - Kentucky KickDown begins at Noon
Admission is $5.00 for adults. Children 12 and under are free and must be accompanied by an adult.
The show will take place from Noon until 10:00pm, but the bar doesn't close until 2am. Gates will open early to get bikes and vendors in place.
12:00 Show begins!
2:00 - Pool Tournament begins inside The Barret Bar
2:30 - Pit bike stunt show begins in the cage
3:00 - Live Music
3:45 - Miss Kentucky Kick Down begins
4:20 - RevUp - Everyone fires their bikes
5:00 - Live Music
6:00 - Award Presentation
7:00 - Live Music
10:00 - Barret Bar will be open until 2:00am.
Kentucky Kick Down is rain or shine.
Times subject to change without notice
Sunday morning KickIt at H Garage and Retrowrench, September 17th, 2017
Coffee, doughnuts and ride out at H Garage and Retrowrench
Get your bearings before you make the trip home or just come relax, rehydrate and talk motorcycles at the home of H Garage and Retrowrench, Louisville's vintage motorcycle shop. Gathering starts at 10am, winds down around 3pm. More Info