Description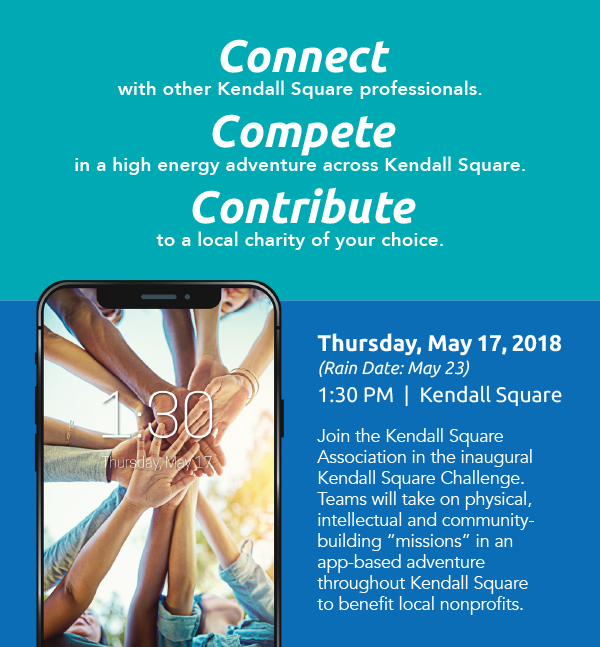 TEAM REGISTRATION HAS CLOSED AT THIS TIME. IF YOU HAVE ADDITIONAL TEAM MEMBERS WHO NEED TO REGISTER, PLEASE VISIT THE REGISTRATION TABLE AT THE OPENING CEREMONY ON THURSDAY, BEGINNING AT 1:30PM.

EVENT KICK OFF + SCHEDULE
Wed, May 9 | Captain's Breakfast
Thurs, May 17 | Kendall Square Challenge!
1:30pm Opening Ceremony on the Technology Square lawn
2:00-4:00pm Challenge throughout the Square
4:00pm BBQ and Awards Ceremony in the Marriott plaza
Weds, May 23 | Rain Date
NONPROFIT PARTNERS

When you sign up, you'll be asked to choose one of our six local nonprofits as your Challenge partner. This year, the nonprofits are: Breakthrough Greater Boston, CASPAR, Charles River Conservancy, Food For Free, InnerCity Weightlifting, and Just-A-Start.

The winning team will get to give a $3,000 grant to their nonprofit at the post-Challenge BBQ in the Marriott plaza. The Awards Ceremony will also feature 2nd- and 3rd-place grants. Not to fear, each nonprofit will get a $500 donation!