The Kalb Report – Writing History: Bob Woodward, Carl Bernstein and Journalism's Finest Hour

Monday, October 20, 2014 from 8:00 PM to 9:30 PM (EDT)
Event Details

Writing History:
Bob Woodward, Carl Bernstein
and Journalism's Finest Hour
Monday, October 20, 2014
About the Program: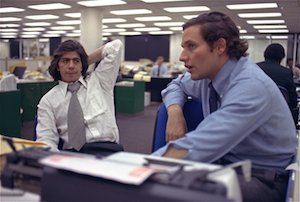 On June 17, 1972 a simple botched break-in at the Democratic National Committee Headquarters in Washington, DC captured the attention of two intrepid reporters who uncovered a trail of corruption that led all the way up to our Commander-in-Chief.
On the next edition of The Kalb Report, Pulitzer Prize winning reporters Bob Woodward and Carl Bernstein join journalist/scholar Marvin Kalb to recount their coverage of the Watergate scandal and the groundbreaking reporting that ultimately resulted in the resignation of President Richard M. Nixon 40 years ago.
The Kalb Report series is funded by a grant from Ethics and Excellence in Journalism Foundation. It is produced jointly by The National Press Club Journalism Institute, the George Washington University School of Media and Public Affairs, Harvard University's Shorenstein Center, University of Maryland University College and the Philip Merrill College of Journalism at the University of Maryland.
Location:
The Kalb Report is produced before a live studio audience in the main ballroom of the National Press Club, located on the 13th floor of the National Press Building, 14th and F streets, NW, Washington, D.C.
Seating:
Doors open at 7:00 p.m. Guests are advised to arrive by 7:30 p.m. and must be seated by 7:40 p.m. The program begins at 8:00 p.m. Seating is first come, first seated.
Have questions about The Kalb Report – Writing History: Bob Woodward, Carl Bernstein and Journalism's Finest Hour?
Contact the organizer
The Kalb Report – Writing History: Bob Woodward, Carl Bernstein and Journalism's Finest Hour